PayPal partners with Apple, downgrades guidance in Q3
PayPal came in ahead of revenue expectations for Q3, recording an 11% increase to $6.85bn YoY. Despite some good wins for the quarter, including a partnership with Apple to streamline sales for US merchants, the payments giant has lowered its guidance for Q4 amidst challenging macroeconomic conditions.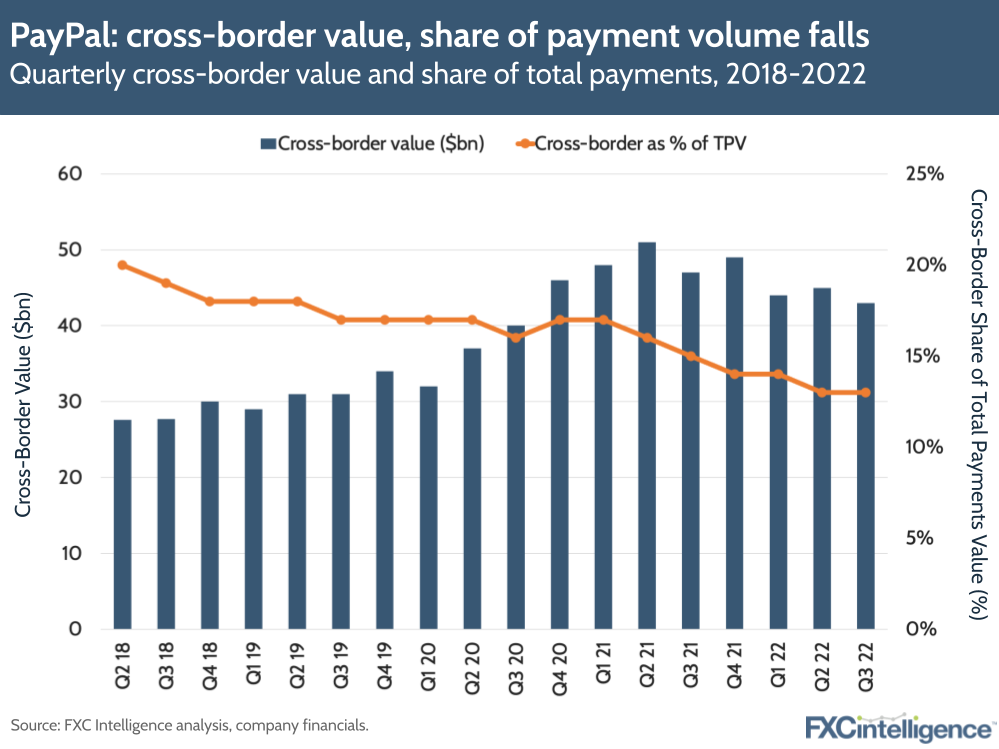 Here are our key takeaways from PayPal's Q3 earnings:
Total payment volume (TPV) was $337bn, growing 9% at spot rate and 14% on a foreign currency neutral (FXN) basis, with ongoing dollar strength and volatility being a headwind during the quarter.
PayPal's Q3 operating margin was 22.4%, down 140 bps from Q3 2021. However, the company expects to save around $900m in operating expenses this year and create further cost savings of at least $1.3bn in 2023.
The value of PayPal's cross-border trade fell 9% YoY, while its percentage of total payment volume remained level at 13%. Cross-border TPV was down 1% on a FXN basis due to softness across EU-UK and US-China corridors, although this was partly offset by intra-European corridors.
PayPal downgraded its FY22 revenue guidance due to the ongoing macro environment. It now expects revenue growth of ~8.5%, including an expected decline of $775m due to eBay cutting ties with the platform, and ~8.5% TPV growth.
Executives said that the US market for ecommerce was outperforming the international market, with weaker performance in the UK, its second largest market. The company expects an impact from inflation and rising energy costs, with less money being spent on a discretionary basis.
PayPal struck up a new deal with Apple, under which US merchants will be able to accept contactless payments on their iPhones through PayPal or Venmo, while Apple Pay will be added as an option to PayPal's checkout flows on merchant platforms. The PayPal app will also support Apple's 'Passkey', its replacement for passwords that generates unique codes for users, to reduce friction at checkout.
The company added 2.9 million net new active accounts (NNAs), growing total active accounts by 4% to 342 million, and saw 50.1 payment transactions per active account – a 13% YoY increase. PayPal expects to add around 8 to 10 million NNAs by the end of the year, lower than the 15 to 20 million it forecast earlier in 2021.
PayPal's BNPL services have been used approximately 150 million times and by more than 25 million consumers since launch, and 280,000 merchants are now displaying PayPal's BNPL service on their product pages.
How are ecommerce companies competing on cross-border pricing?