Merchants drive Fiserv revenue boost in Q2 22
Payment processor Fiserv's Q2 22 results highlight continued success from the company's merchant acceptance segment, with total revenues seeing a 10% YoY increase to $4.23bn. The payment processor has seen its profitability affected by inflation and increased investment in services and acquisitions, but believes the latter will yield fruit in later quarters.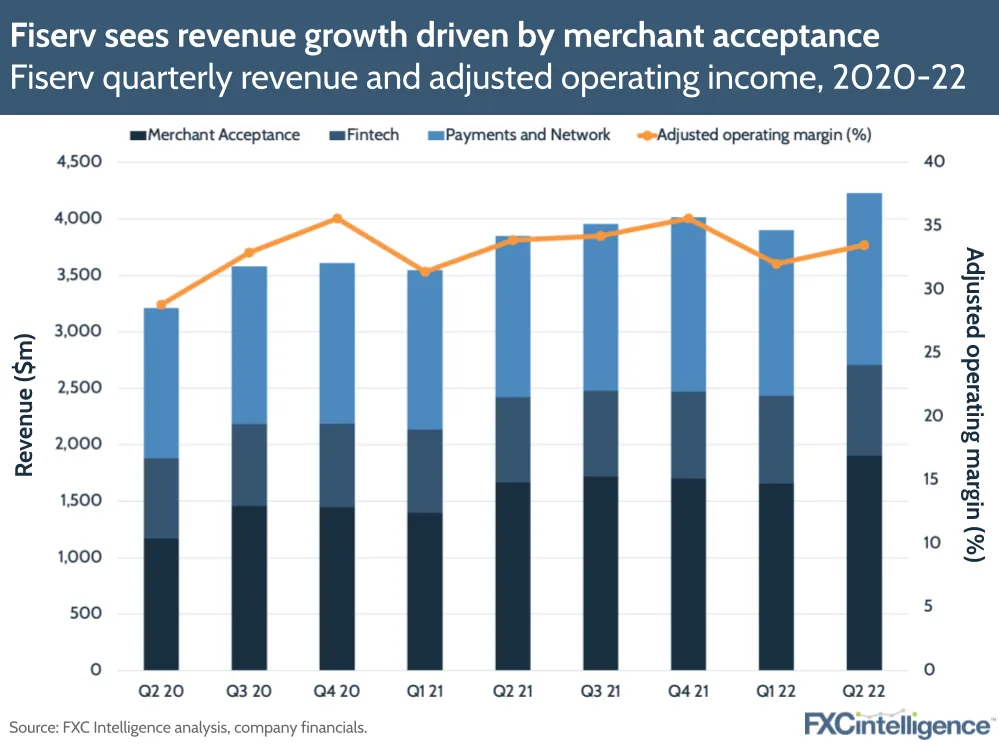 Organic revenue growth was 12% in Q2, led by 17% growth in the merchant acceptance segment, 7% growth in fintech and 8% growth in payments. For merchant acceptance, the company's Clover POS system was a key contributor to segment growth, seeing a 24% revenue increase.
Fiserv's adjusted operating margin slipped to 33.5% from 33.9% a year earlier, which the company said was due to investments, inflation and acquisitions such as Finxact, a cloud banking platform. Executives said inflation had affected profitability (such as through increased cost of labour and materials) but expects this to subside as the year continues.
Strong growth in the US was driven by SMBs, especially restaurants, hospitality and retail. Fiserv is continuing to pursue this sector, having expanded its partnership with Walmart and signed a new contract to supply services to leading convenience store chain Wawa. Executives said they had seen increased spending in the APAC region due to a "strong rebound in economic activity".
In the earnings call, executives said that in the event of a recession, it could see a meaningful downturn affecting its merchants segment first, then payments followed by fintech. However, they added that the company was 'resilient', pointing to revenue recovery during the pandemic as an example of this.
Nevertheless, Fiserv believes its revenue growth is "sustainable" and has increased its 2022 organic revenue outlook to 9-11% from 7-9% previously. Moving forward, it will focus on attracting new merchant business, growing existing partnerships and expanding its presence in Mexico, Colombia and Argentina.