Intermex eyes European expansion in Q3 23
LatAm-focused remittances player Intermex continued its growth run in Q3 23 with a 22.5% revenue rise to $172.4m, driven by core growth and its acquisitions of La Nacional as well as Spain-based money transfer company I-Transfer. The company's adjusted EBITDA rose 14% to a record $31.7m, which put the company's EBITDA margin at 18.4%.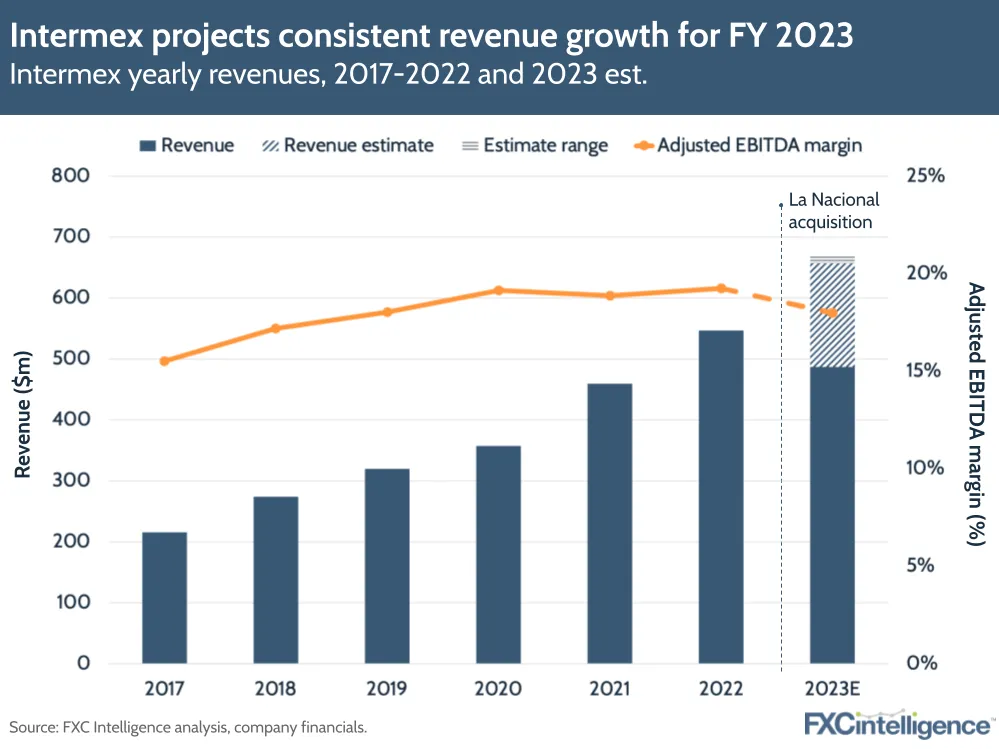 The company did not update its FY guidance directly, but did say that in Q4 23 revenues would rise 10-17% to between $170m and $181m, with adjusted EBITDA of $31.4m-33.4m. If these results come to pass, the company could see total revenues this year in the range of $657m-668m, with an adjusted EBITDA of $118.1m-120.1m.
Intermex key revenue drivers in Q3 2023
Intermex marked a 35.1% YoY rise in unique active customers to four million, though this figure was down by around 200,000 since the last quarter. Altogether, customers made 15.4 million money transfers, up by 25.7% YoY – faster than growth in Q3 22, which was at 16%.
Intermex continues to promote an omnichannel approach, comprising physical retail and digital transactions, but continues to promote the benefits of digital to the business. The company saw a 62.9% growth in digital transactions, which helped drive a 19.8% rise in principal transferred to $6.6bn. Digitally sent/received transactions made up 33.2% of money transfers for Intermex, up from 28.1% in Q3 2022. 
Digital growth is seeing a boost from Intermex's prepaid and payroll cards for businesses, reporting that digital remittance transactions settled using payroll cards increased fivefold in Q3. Intermex believes its European activities will drive up digital growth, due to higher numbers of senders owning bank accounts.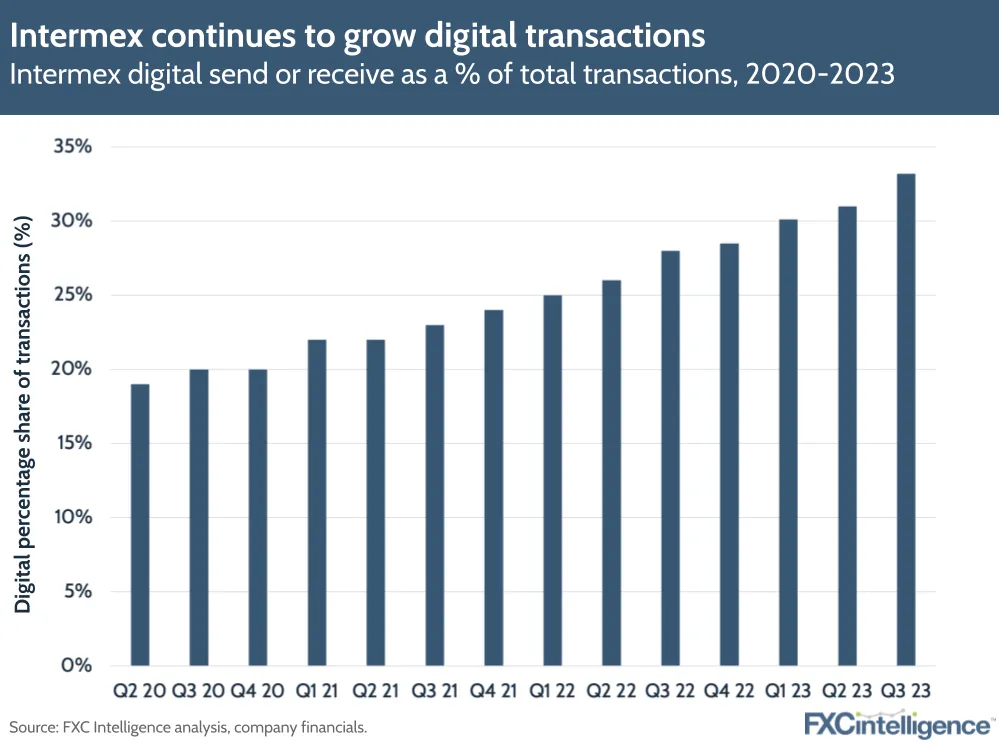 Acquisitions helping to drive global expansion
During the call, Intermex mentioned the growing contribution made by two recent acquisitions – La Nacional and I-Transfer – that also helped drive the rise in principal. While specific revenue figures weren't broken out for La Nacional in Q3, the company did note that revenue growth in its core business excluding the acquisitions was at 5.8%.
The company said that it had made 'significant progress' in restructuring La Nacional's US operations, and that it would 'likely contribute significantly' to the business over time. I-Transfer, meanwhile, saw business grow by 15% during the quarter and continues to 'exceed expectations'. Intermex wants to expand the service into several European markets, including Spain, Italy, Germany, France and the UK.
Intermex also mentioned a recent partnership with Visa that will allow it to expand its digital services to 20 additional countries worldwide, including Jamaica, India, the Philippines and Vietnam.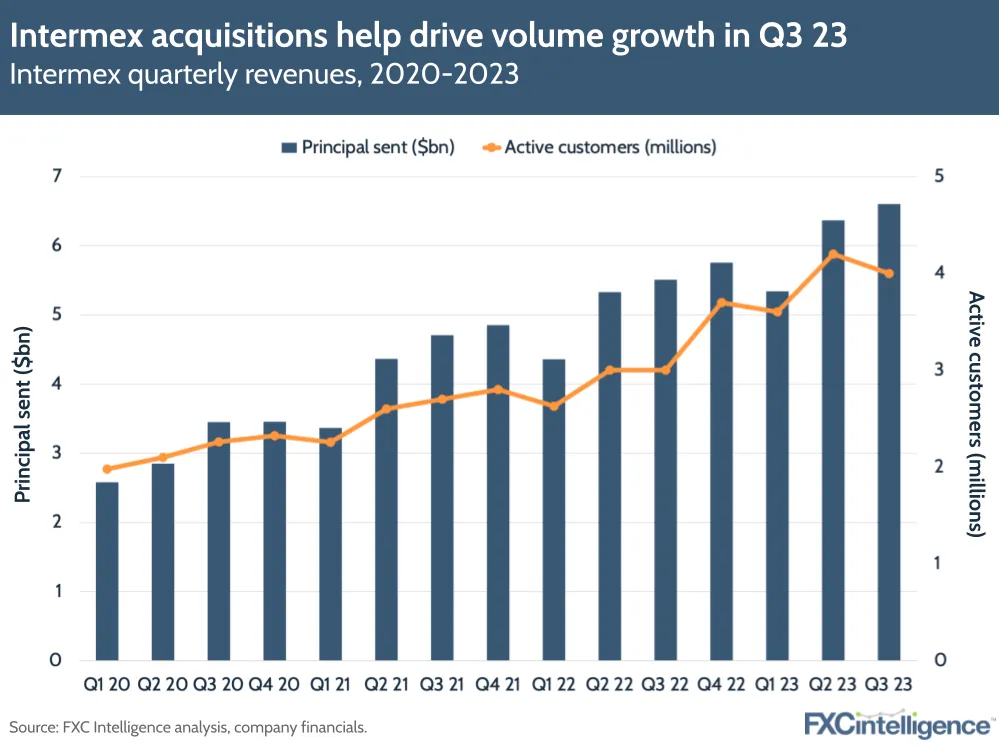 Combating pricing pressures in Latin America
Regarding its core market focus of LatAm, the company's share in the top five US to LatAm remittance markets – including Mexico, Guatemala, El Salvador, Honduras and the Dominican Republic – has crept up to 21.8% from 20.6% last year.
Last quarter, Intermex discussed various pricing pressures in Latin American countries, where the company is competing with discounters. It also noted that Mexico's markets had seen slower growth due to the growing value of the Mexican peso against the US dollar, which in turn led to smaller principal amounts being sent to the country.
Intermex CEO Bob Lisy said that the company has introduced 'alternative pricing' in some areas, but overall was staying consistent with high margins, while targeting areas where discounters are trying to compete so that it can maintain its profits compared to other digital players and feed this back into investment.
Intermex also mentioned it will have an Investor Day in February, where it will go through more year end results and give a broader picture of strategy for 2024.