Increasing minority access to banking
Off the back of some of the horrific abuse this past week of some of the black footballers in the England football team, we thought we'd shine a light on some of the fintechs addressing the needs of minorities. The rise of digital banks has seen a host of challengers taking on the traditional banking system and we are now seeing a growing number catering to minority communities.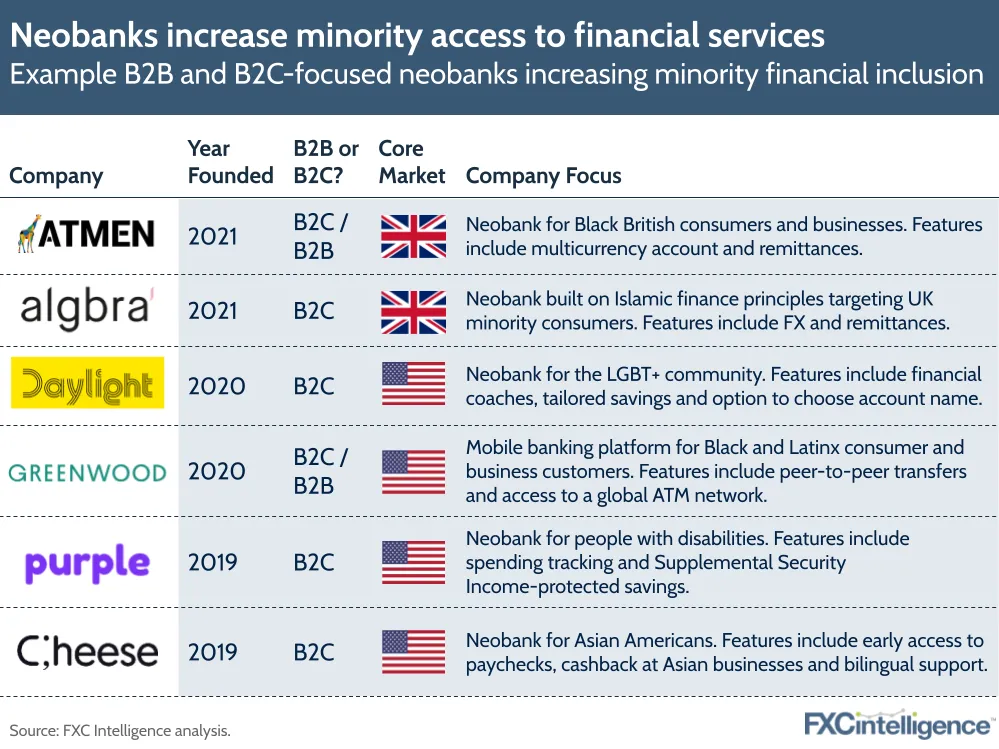 In the last few years, both the UK and US have seen the launch of several neobanks catering specifically to minorities. These have been in launched in part due to historic inequalities in the banking systems that have seen minorities struggle to access some financial services or pay higher fees than other groups.
However, they also provide a range of products and services specifically tailored to the needs of those groups, such as the focus on remittances found among UK-based Atmen's offering, or the option to use a chosen name on LGBT-focused Daylight's accounts.
This emergence of such neobanks comes at a time when there is increased focus on the treatment and inclusion of minorities, but it is also enabled by the increased digital capabilities of the financial system.
Also playing a role is the increased enthusiasm from investors to fund fintechs founded by minorities. For example, the FinRise incubator launched in January by Plaid specifically targets Black, Indigenous and People of Colour founders. Other fintechs such as PayPal have committed significant funds to backing Black and Latinx founders.
However, these are early efforts to change a system that still has much inequality, and far more will need to be done globally. We'll be covering future efforts as they develop.
Sign up to our newsletter to stay up to date on cross-border payments