This has been a tough year for publicly traded companies, with rising inflation, increased energy prices and supply chain challenges all creating increased headwinds. However, in the second half of the year, most companies relevant to the cross-border payments space have seen their share prices start to bounce back.
What's more, those who engage with us as part of our Post-Earnings Call series are outperforming, adding c.$6bn of value since 1 July. Correlation does not mean causation, but the scoreboard does look good…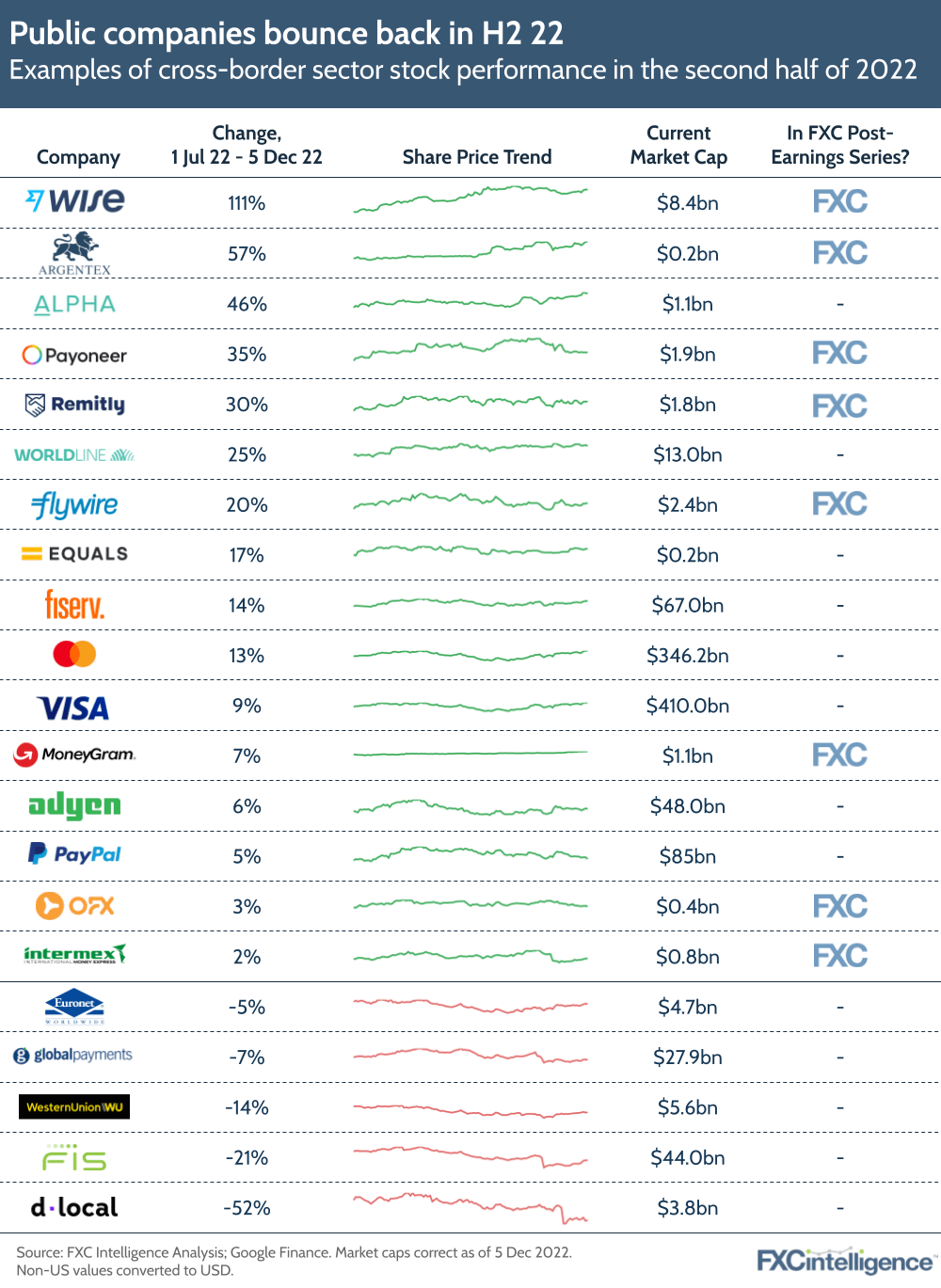 Wise has had the best performance by far over the past few months, seeing its share price more than double since the start of July, which echoes the company's impressive growth run in its most recent results.
However, many others have also seen favourable rises over the same period, particularly in the B2B space (including Argentex, Alpha and Flywire), as well as payments processors – including Worldline, Fiserv and Adyen – and money transfers players, including Remitly, MoneyGram and Intermex.
The full reports explaining what is driving each company's performance can all be found on our website.
Looking to 2023, we want to continue to talk to:
Public companies relevant to cross-border (as part of our Post-Earnings Call series).
Private companies successfully scaling up (who may be on the path to an IPO).
Banks – from transaction banking, to fintech and financial institution products, to retail. You are the backbone of the industry – don't be shy.
Regional or use case specialists who have significant market traction.
Some guidance for the Post-Earnings Call series and our newsletter in general:
We intentionally do not seek to commercialise our content to remain independent. We will politely decline any offers of sponsorship or paid inclusion and we can never promise coverage.
Some companies we cover are clients of our data business (how we generate our revenue), others are not. But all companies we cover have built relationships with us.
We cover companies that are interesting and relevant to the major trends in the sector. We are analysts and we skew to companies that are willing to share new insights and data with us as that's what our readers and followers want.
If you have an interesting story to tell and you don't currently talk to us, please reach out.
We have an interesting story to tell – let's start talking