FIS eyes SMBs to build on FY 2021 ecommerce growth
Payment processor FIS delivered what it called "historic operating performance" in FY 2021, with revenue growing 11% for both Q4 and the full year, to just below $14bn for the twelve-month period.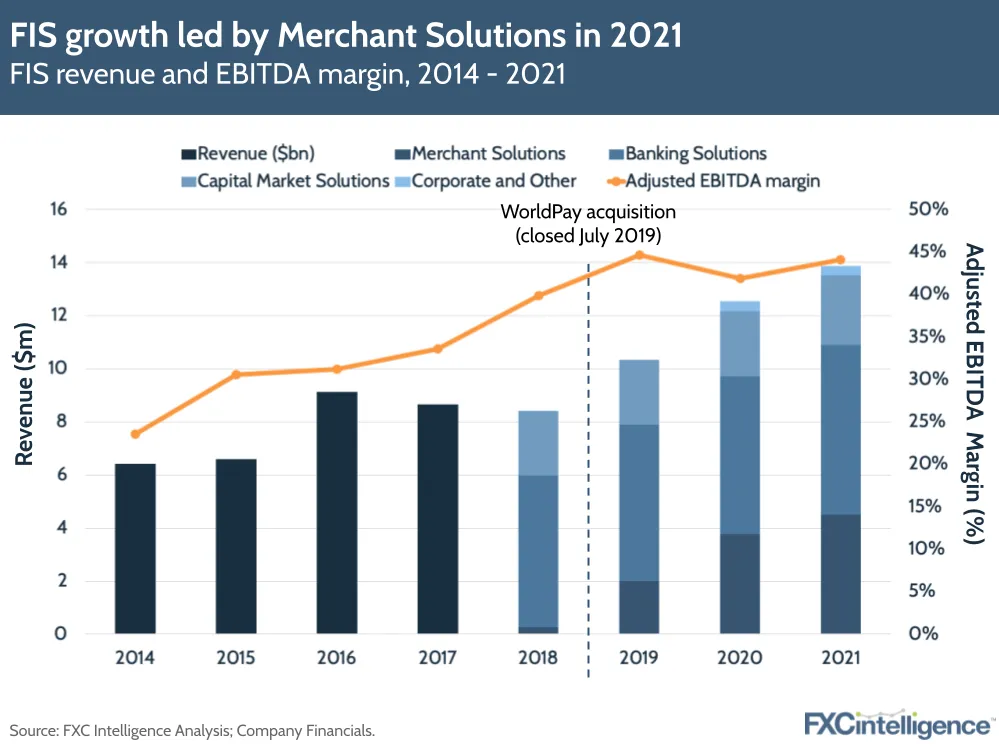 Key takeaways from FIS's FY and Q4 2021 earnings call:
Banking Solutions remains FIS's biggest segment, although its Merchant Solutions division is gaining ground. It grew 19% year-on year, despite softer-than-expected performance due to the Omicron variant, compared to Banking's 8% increase. This brought global ecommerce revenue to $1.2bn for 2021, with Q4 revenue growth excluding travel and airlines increasing by 31%.
FIS is in the process of expanding its ecommerce proposition. At present it focuses on enterprise clients but is "aggressively" pursuing opportunities to expand its total addressable market, with its acquisition of embedded finance player Paytrix, announced the day before, it is able to increase its focus to the rapidly growing SMB space.
FIS is finding success in the crypto space, and now serves 80% of the top five cryptocurrency exchanges, with card-to-crypto total payment volume in excess of $20bn for the year. It also provides 14 crypto payment methods across 46 markets and was the first to offer Apple Pay support for crypto. The company is also launching direct settlement with Circle's stablecoin USDC, and now powers a number of major NFT companies through its Worldpay brand.
There was no mention of cross-border payments or FIS's RealNET offering in the latest results. That product is now launched, and we await further developments.
The company expects to continue its growth in Q1 2022, with its adjusted EBITDA margin expected to climb 50 basis points to 41%, and revenue growth to be around 7-8%. FY 2022 is anticipated to produce a revenue increase of 7-9% and an adjusted EBITDA margin of 45%.