2020 was quite a year for Travelex's parent company Finablr, and with its sale, 2021 promises further developments.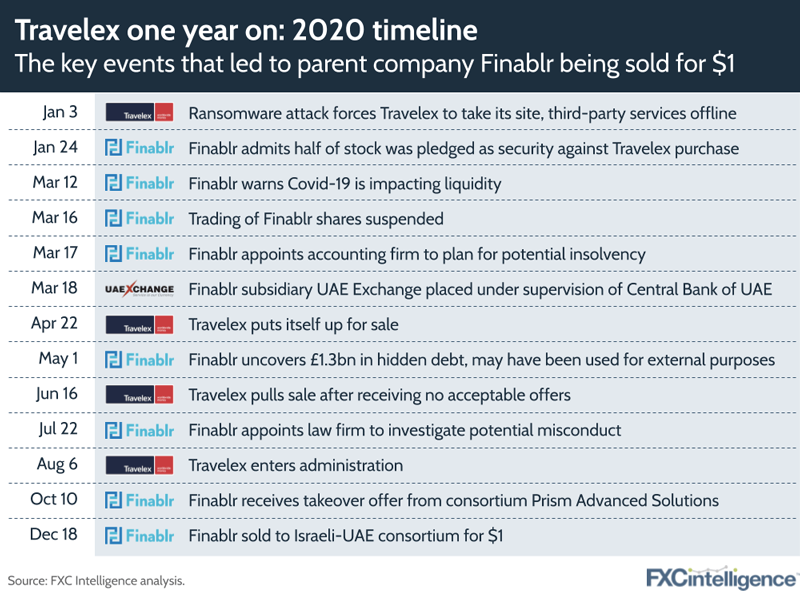 This time last year the cross-border industry was watching Travelex grapple with a devastating ransomware attack that took the Finablr-owned company offline. In the months that followed, we saw the company's woes compounded by Covid-19, fraud allegations and over £1bn in hidden debt. A stock market delisting and administration followed.
Finally, as many of us were packing up for the holidays on December 18, it found a buyer in the form of Israeli-UAE consortium Global Fintech Investments Holding who purchased the company for the princely sum of $1.
The purchase sees the consortium, an affiliate of Prism Group and Royal Strategic Partners with involvement from former Israeli Prime Minister Ehud Olmert, provide working capital to the business and its operations. If it can recover funds related to the fraud, it may end up paying up to $190m for Finablr – a long way from the company's 2019 IPO valuation of $1.59bn.
What's next, however, remains to be seen, and certainly on the Travelex side, there is little chance of a recovery until the pandemic subsides.