Ebix grows on travel, faces dollar headwinds in FY 2022
Ecommerce provider Ebix's stock price fell by around 20% after it released its FY 2022 results, which showed revenues had declined 4% in Q4 to $255m, but rose 6% across 2022 to pass $1bn for the first time. Growth was not nearly as high in 2022 for EbixCash – the company's India-based subsidiary offering travel money, gift card, mobile wallets and remittances – but it remains the core driver for the company.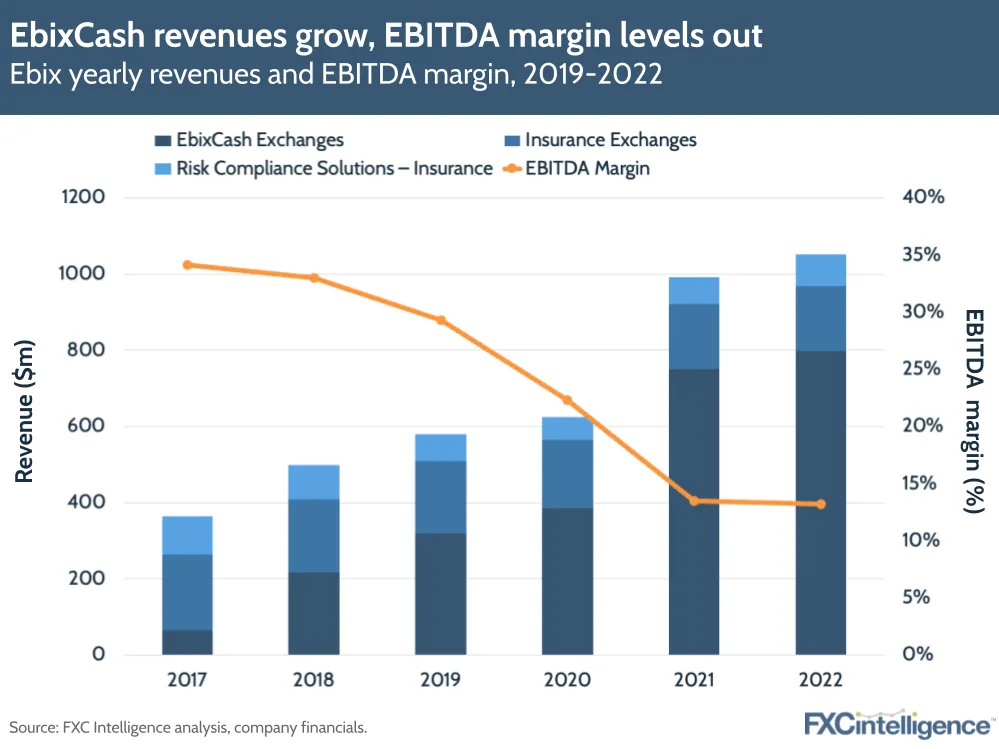 Ebix saw the worst impacts it has seen from FX headwinds in the last five years, with growth mainly offset by US dollar strength. On a constant currency basis, Q4 revenues grew 5% to $279m, while 2022 revenues grew 11% to $1.1bn. There were also declines in EbixCash's prepaid card business, as well as the company's health-focused exchange businesses.
On the other hand, the company saw growth in its FX and travel business; outsourced services in India; and its e-learning and fintech segments. Of the three segments tracked in the graphic, Ebix's risk compliance segment grew by the greatest amount this year – at 10%. In other good news, the company recently became the first in India to launch Unified Payments Interface transactions for foreign nationals visiting the country.
While operating income saw a slight increase, Ebix's net income declined due to higher interest expenses in 2022, as well as fees associated with its ongoing refinancing and extension process. The company expects its upcoming EbixCash IPO to significantly reduce interest costs, but didn't comment on how close its IPO is to being approved.
Looking forward, the company hopes that growth will return to pre-Covid-19 quarterly operating levels by the end of 2023, though it noted some of the worst affected business lines remain 25% below these levels.