Ebix share price falls after Q2 2023 earnings reporting change
Ebix, which owns India-based FX and remittances services brand EbixCash, has seen investors respond negatively to its Q2 23 earnings report, in which it significantly changed the way it reports prepaid card revenues compared to last quarter.
The company has now begun presenting revenues for EbixCash prepaid cards on a net basis, while periods preceding Q2 23 reflect these revenues on a gross basis, with the change reportedly being for contractual reasons.
This means that against revenue numbers prior to 1 April, revenues in Q2 2023 seemingly fell 53% to $118.4m, with the company's EBITDA accounting for a much higher margin of revenues at 28.7%. However, the reclassification, the company says, means that this comparison (shown in the graphic below) isn't technically correct.
In its report for Q2 23, Ebix said it had "normalised" its numbers for Q2 22 (i.e. changed them to the same reporting system for this year). In this case, it said that revenues had risen across its exchanges and risk compliance solutions by 3% to $118.4m.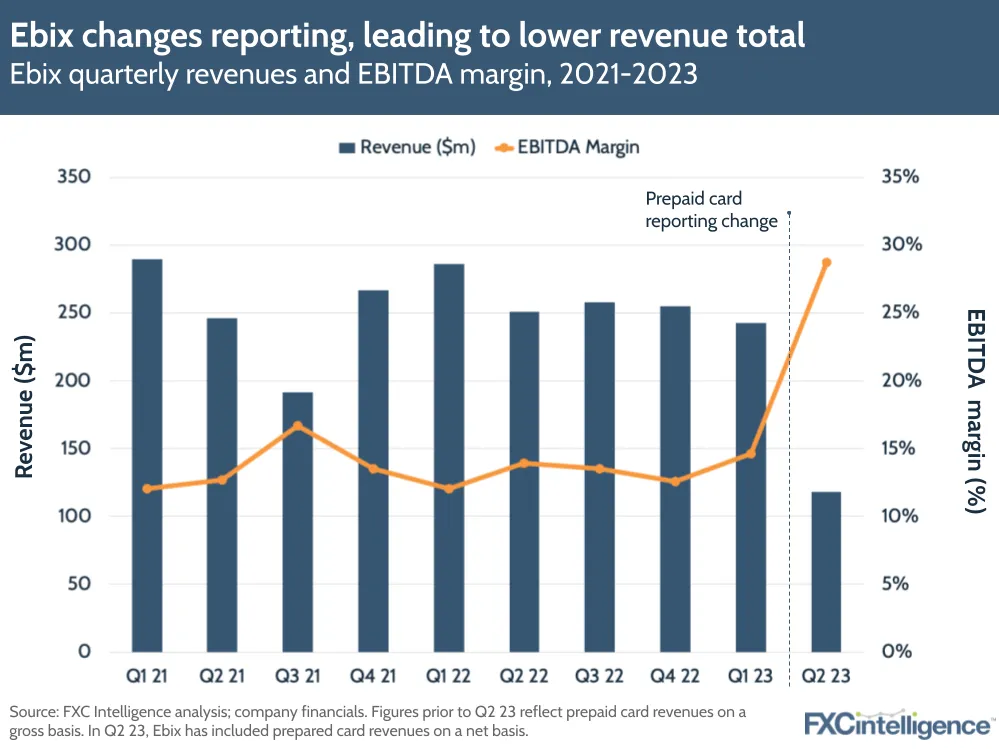 Changes to Ebix's revenue reporting
Ebix said that exchanges, including financial and insurance exchanges (such as EbixCash), accounted for 83% of Q2 23 revenues overall.
Notably, revenues from EbixCash exchanges and insurance exchanges have been merged as part of the company's normalised revenues. As part of this, the 'Exchanges' segment grew by 3% to $98m in Q2 23. If we combine EbixCash and insurance revenues from Q2 2022 (prior to the reporting change), this amounts to $231m, around 58% higher than the Q2 23 figure Ebix has given, which shows the impact of reclassifying Ebix's card revenues.
According to an earlier press release, co-branded prepaid cards accounted for 65% of EbixCash's consolidated revenue from operations for fiscal 2023 on a gross basis, but for reporting going forward this would be cut to less than 3% on a net basis.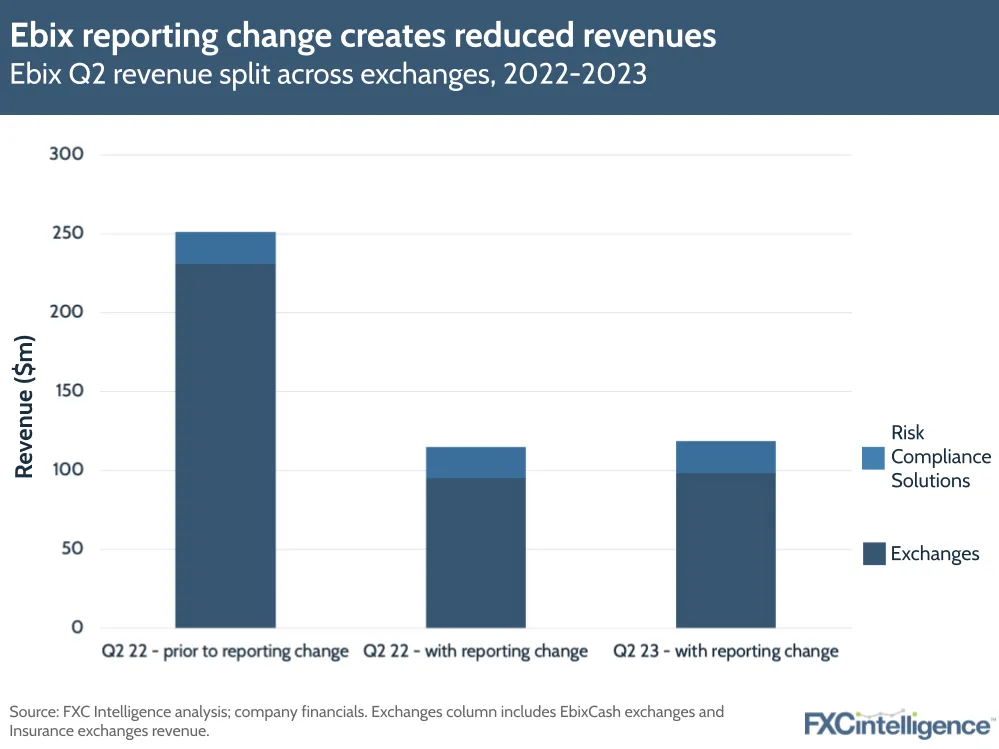 EbixCash IPO and clearing debt obligations
There was no further update on an IPO date for EbixCash, but the company had said in July that it is 'progressing forward diligently' with its plans in accordance with the directions of Indian regulators, and intends to announce a listing date as soon as it has approvals.
Debt-related expenses continued to have an impact on the company's results, with GAAP operating income declining 3.3% YoY to $29.1m (though non-GAAP income increased by 1.8%). However, Ebix has also said previously that it is currently in the midst of a 'part-asset sale exercise' with the aim of repaying its existing bank debts (the company's current liabilities amount to $819m). It reiterated that it is committed to achieving a 'debt-free Ebix' this financial year.