​​dLocal grows across emerging markets in Q1 23
Uruguay-based payment processor dLocal had a solid Q1, with revenues rising 57% to $137.3m and adjusted EBITDA up 38% to $45.5m. The company did see YoY declines in its EBITDA margin and take rate, though at 3.84% the latter remains relatively high compared to some other processors.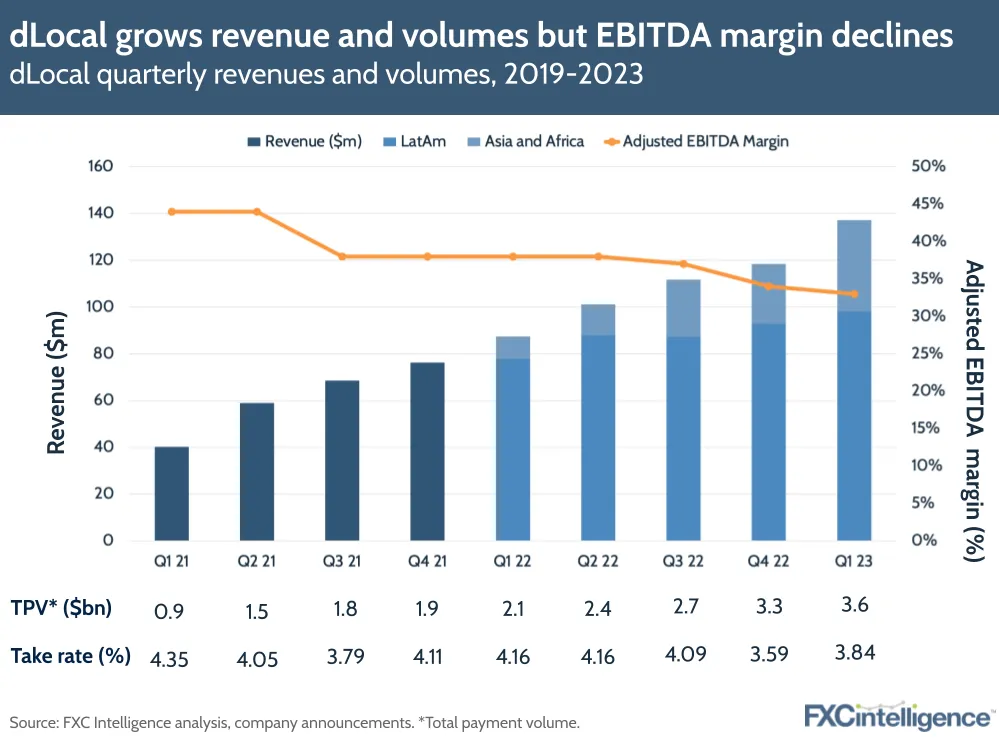 Revenues were driven by a 70% rise in total payments volume, to $3.6bn, with pay-ins (where merchants receive payments from customers) accounting for 70% of this total. Cross-border volumes once again made up a lower share of overall volume this quarter at 55%, compared to 62% in Q1 22, as the company continues to target local-to-local merchant payments.
LatAm revenues were up 27% to $98.2m, which accounted for 72% of revenues overall. However, the company is still seeing its fastest growth in Africa and Asia, where revenues climbed 297% YoY to $39m, following dLocal's recent expansion efforts in the region. Existing client revenues accounted for $128.3m, while revenue from new merchants was $8.9m.
Aside from EBITDA, the company saw gross profit rise 42% to $61.8m and a positive net financial result of $1.4m – compared to a $3.1m loss last year. dLocal said that profits were due to higher interest income and reduced exposure to hedging costs. Amidst growing profits, the company continued to invest in personnel, boosting its headcount by 36% to 763 employees.
Having beaten revenue expectations, dLocal's share price remained relatively steady in the wake of its earnings reveal, after dropping significantly last year in the wake of a critical report of the company's auditing practices from short seller Muddy Waters.