Cross-border players with a public parent company
Cambridge Global Payments is not alone in being part of a larger payments conglomerate. More and more companies in the sector are being acquired by publicly listed players.
What are the benefits and the downsides?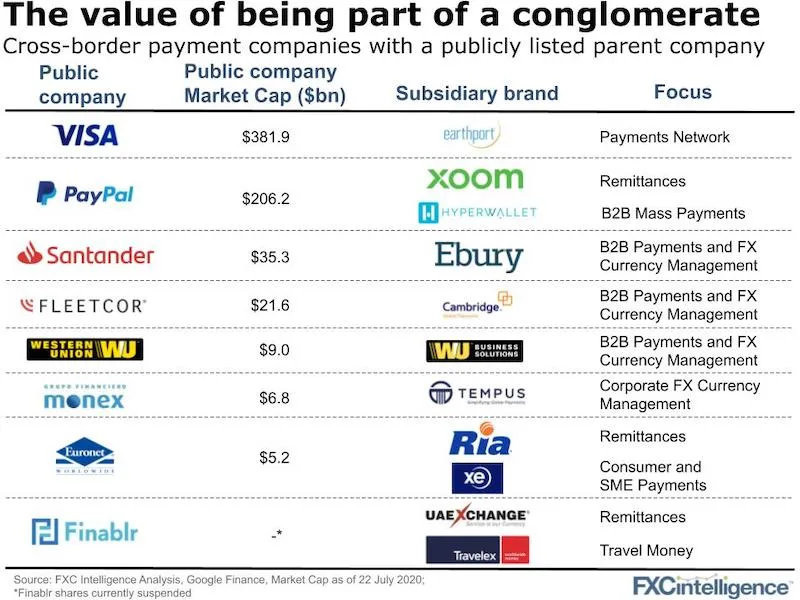 The benefits:
Financial stability and cheaper access to capital and liquidity
Shared central resources
Ability to cross-sell within the group and offer combined products
Leverage existing infrastructure
Access to an existing customer base, often in new markets
The downsides:
Well, you don't want to become a forgotten child – it took PayPal a few years to remember it owned Xoom and, by then, many fintechs had already grabbed plenty of market share (Xoom has since picked up its pace). And you'll lose some of that independent company nimbleness too.
The performance to date of the companies bought by publicly listed groups is mixed. For some of them, like Earthport, which was acquired by Visa in mid-2019, it is just too early to tell. With Ant Financial (owner of WorldFirst) planning to IPO too, that will add another one to this list to assess.
Which means, as of now, there seems to be no straight forward recipe for success when it comes to growth.