Cross-border growth slows for Visa and Mastercard in Q2 23
Cross-border volumes continued to drive revenue growth for Visa and Mastercard in calendar Q2 23 (Q3 23 for Visa) on the back of resilient spending and continued appetite for travel. However, YoY volumes grew at a slower rate this year, mainly as a result of a more difficult comparison to last year's post-Covid travel boom.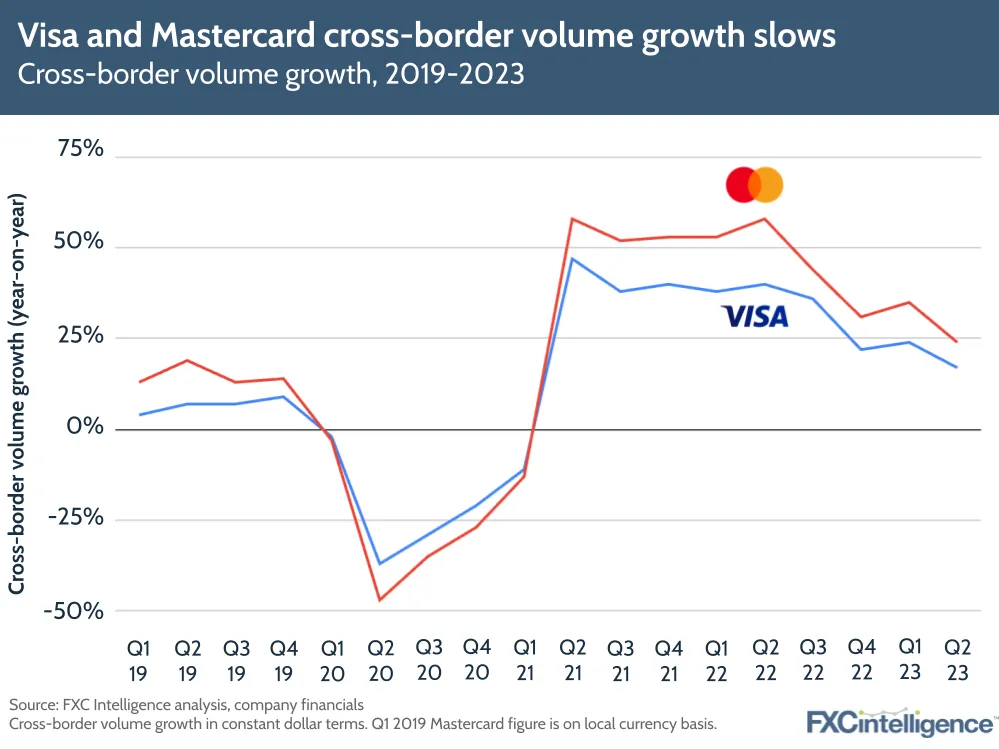 Below are some of the highlights from the call, as well as an update on the companies' cross-border growth in calendar Q2 23.
Visa Q3 2023 highlights
Revenues increased by 12% to $8.1bn, largely on the back of YoY growth in payments volume (9%), cross-border volume (17%, though excluding intra-Europe growth was 22%) and processed transactions (10% to 54 billion).
International transaction revenues increased by 14%, significantly slower growth than last year.
Visa made one of the largest acquisitions in the space this year, buying Brazilian payments provider Pismo for $1bn.
Mastercard Q2 2023 highlights
Revenues increased by 14% to $6.3bn. Payment network net revenues increased 13%, partly driven by a 24% increase in cross-border volumes.
Cross-border assessments in Q2 23 increased by 29% on a currency-neutral basis.
Mastercard is seeing faster growth across payment card volumes from the rest of the world (16% growth) than in the US (6% growth).
Key drivers of cross-border volume growth
Both Visa and Mastercard said that volume growth was driven by resilient consumer spending and the impact of travel – a major boon to cross-border card transactions in the immediate wake of Covid-19.
Visa's travel-related cross-border volumes were up 41% compared to the same period four years ago. Cross-border volume (excluding Europe transactions) was up 22% YoY and 49% versus four years ago. On cross-border ecommerce, growth was in low-double digits, in line with pre-Covid growth rates.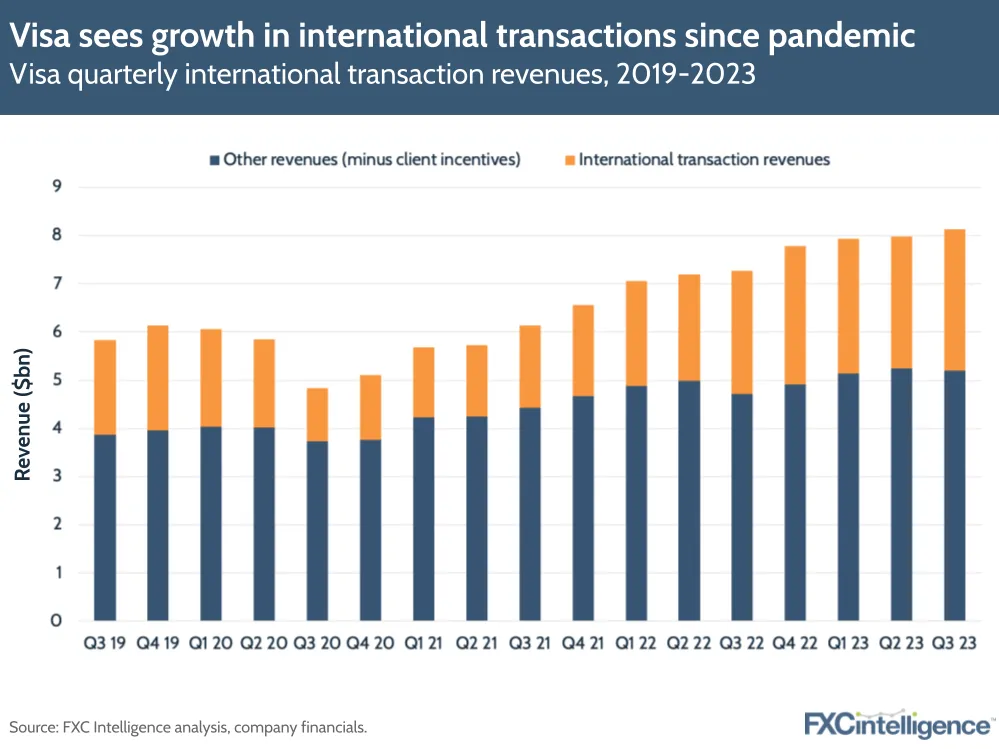 Visa's international transaction revenues rose by 14%, substantially lower than the 48% growth seen last year during the post-Covid travel recovery boom. It should be noted though that revenues from international transaction revenues did make up a substantially larger piece of Visa's revenues than pre-pandemic.
CEO Ryan McInerney said that the travel recovery trend has been "generally in line with expectations" for FY23, with travel into and out of mainland China expected to lend a further boost in the next quarter. Visa also gave an update on Visa Direct, its real-time global payments network, which saw Q3 transactions grow by 20% and amount to $1.8bn.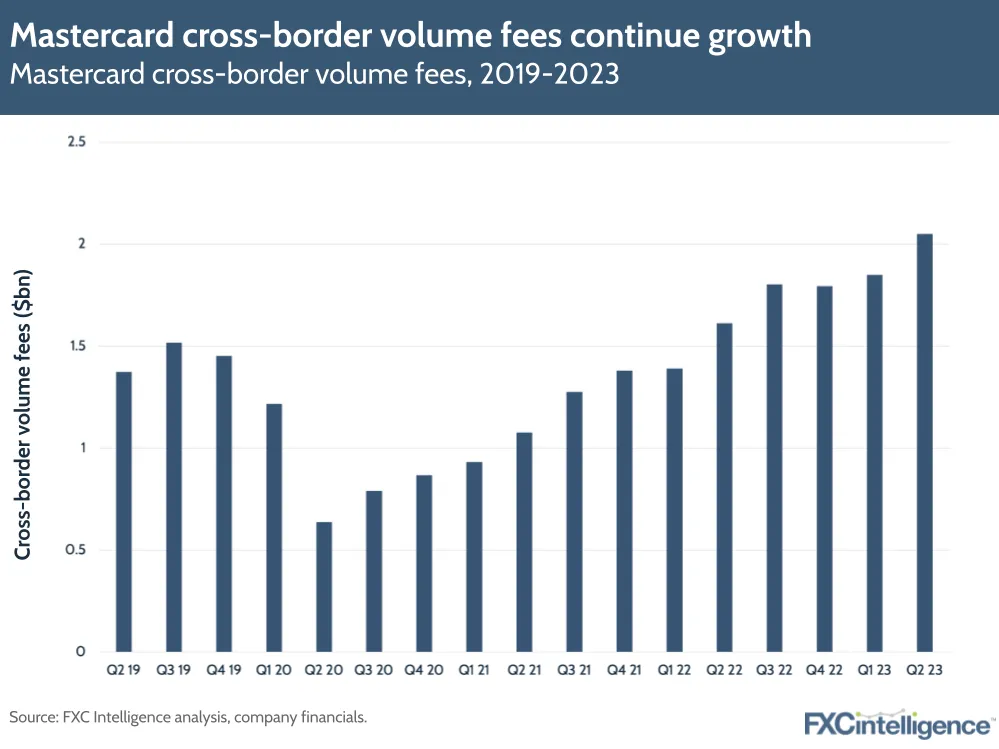 For Mastercard, revenue growth of 14% was driven by a 24% increase in cross-border volume as travel spending increased – a higher growth rate than Visa's but slower than last year. Cross-border assessments (charges based on cross-border transactions) increased 29% and have seen fairly consistent growth since the pandemic.
On Mastercard Send – Mastercard's competitor to Visa Direct that also enables fast money transfers to cards – the company has formed a new partnership with Qatar-based remittances player Al Fardan Exchange. It has also expanded the service to three new markets in H1: Chile, Bahrain and Slovakia.
The companies also gave updates on their B2B offerings for the quarter. While Visa didn't give a specific update on B2B Connect – its platform specifically for cross-border business transactions – executives said that the company was 'scratching the surface' with regards to the commercial TAM, which they estimated was around $1.5tn of payments volume. Visa also mentioned a new partnership with Alchemy Pay in Mexico, which will enable cross-border B2B payments for thousands of businesses in the country.
Meanwhile, Mastercard expanded the capabilities of its B2B offering – Mastercard Cross-Border Services – with the launch of Mastercard Cross-Border Services Express, which is designed to speed up the onboarding of new customers to the service.
Expanding into LatAm and APAC
Visa and Mastercard are both eyeing opportunities for expansion in LatAm and APAC regions, both of which have seen growing payment activity this year.
In June, Visa agreed a $1bn deal to buy Pismo, a cloud-native issuer processing and core banking platform with operations in Latin America, Asia Pacific and Europe. Meanwhile, Mastercard has become Santander's exclusive partner in Brazil while also expanding its partnership with Standard Chartered and HSBC in the APAC region.
In terms of debit and credit card volumes, Latin America and the Caribbean has been one of the fastest growing regions for Visa, rising 13% in constant currency terms to $341bn, while the APAC region saw slower growth at 6% – to $595bn. For Mastercard, gross dollar volumes across all of its credit and debit card programmes rose 18% in Latin America to $181bn, but just 3% to $572bn in Asia-Pacific, Middle East and Africa.
In another interesting story from earlier this month, Alipay and WeChat Pay recently allowed international travellers to easily link their Visa and Mastercard debit and credit card accounts to Alipay or WeChat wallets. This will make it significantly easier for Western travellers to spend through these platforms, and Mastercard said it would be 'valuable' as inbound cross-border travel to China continues to improve (this was still at 50% of 2019 levels in Q2 23).
Could the FedNow instant payment system be a competitor?
The recent launch of FedNow – the US's federal instant payments system, which is currently domestic but could have cross-border implications – has led to speculation about whether Mastercard and Visa's payments offering will face increasing competition in the US in coming years.
Mastercard CEO Michael Miebach said that it's still early days for the system with regards to adoption, and at the moment the company has "a better solution on the market" with regards to its payment services. However, he did note that the company has stayed close to these systems in other countries worldwide and ended up forming partnerships with most of them.
Visa didn't mention FedNow in its most recent earnings call, but did say last quarter that it hadn't seen much (if any) impact on Visa Debit in the UK, where the Faster Payments system has been implemented for over a decade. However, it will continue to track development of the project, which launched in July with 35 US banks and could see adoption from more in the future.
Full year 2023 outlook for Visa and Mastercard
Going forward, Visa has said that it remains focused on accelerating growth across consumer payments, new flows and value-added services. The company has said that it aims to deliver low double-digit net revenue growth in 2023.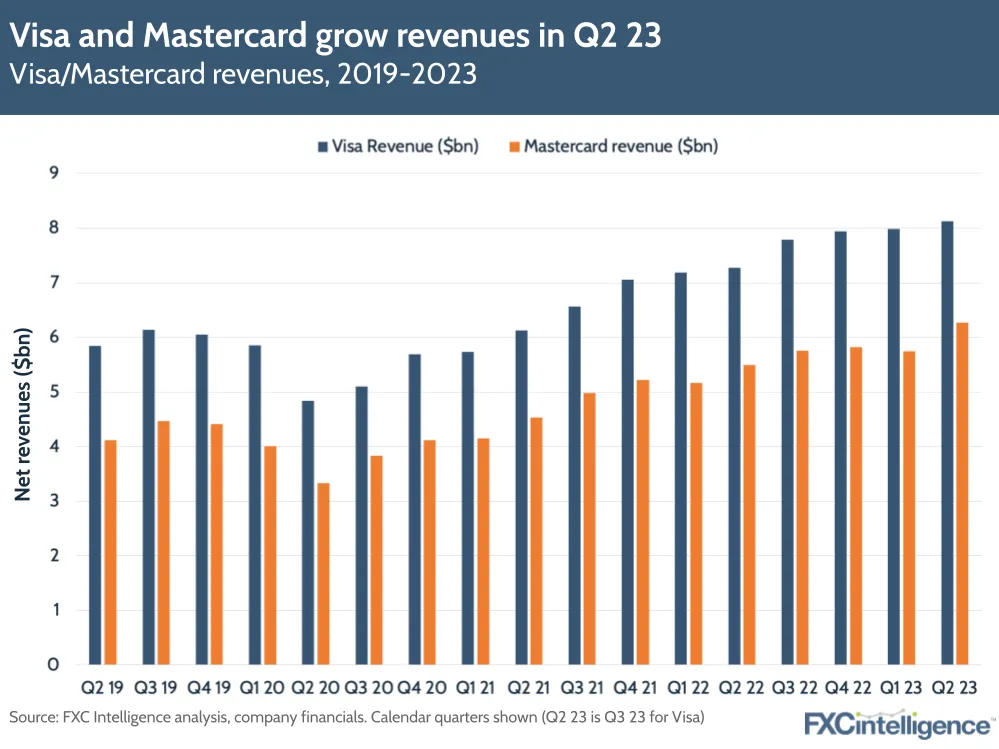 Similarly, Mastercard's revenue outlook remains in the low teens on a currency-neutral basis, excluding acquisitions but including the impact of lost Russia-related revenues from 2022. Miebach said that it would continue to power growth through partnerships, such as a recent deal with UniCredit that spans 20 million cardholders across 13 banks.
A key topic moving forward for the companies will be the impact of inflation and rising interest rates. Moderating the effects of inflation could bring a return to consumer spending, which could in turn impact travel and cross-border volumes. However, with the US Federal Reserve recently raising rates again, inflation is set to remain a key theme in quarters to come.