Creating a frictionless customer experience
Optimising the customer journey
All payment companies have to deal with the same tough compliance rules that constrain customer acquisition funnels. But when it comes to on-boarding new users, some companies make the first step much easier than others. Below we've mapped out the options users have when creating an initial online account with a range of leading with providers.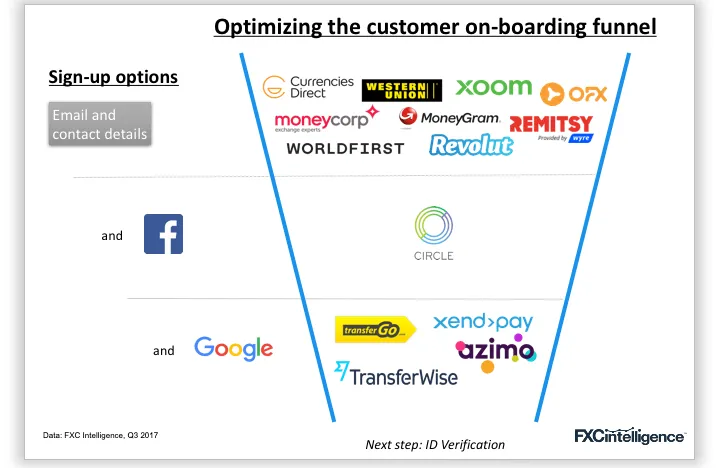 Some services allow users to create accounts through their existing social logins. Others require users to enter all their details up front, and create a unique log-in for their service. Only a small subset offer a full range of login options and as every marketer knows, each extra click is an opportunity for a potential customer to step away.
Interestingly, this isn't a simple case of startups vs. traditional providers. While challenger companies like Transferwise and Azimo give users numerous options, startup Revolut requires a lengthy, traditional account creation process.
To learn more about where providers are embracing new technologies and how to optimise your acquisition funnel, get in touch with us.
Are banks cool now?
We recently covered Moneycorp's move from payments provider to full fledged bank. But Moneycorp isn't the only provider to turn their eye towards banking. Here are three recent announcements showing the encroachment of payment providers into traditional areas of banking:
Transferwise introduced their new borderless service, which providers users with EU, UK and US bank account numbers through which they can be paid in local currency. The service is targeted primarily at businesses and freelancers who frequently receive payments in multiple currencies.
EQ Global, in partnership with Citi, launched what they term virtual bank accounts, which give businesses unique IBAN numbers and allow them to transfer money across 26 currencies.
Monese announced they will let consumers open EU accounts (complete with IBAN numbers) alongside their existing UK accounts. They also recently gave customers the ability to set up direct debits.
What the above three companies all lack however are full UK banking licenses. While they can hold customer funds and offer many banking services (such as issuing debit cards), none of the above can yet offer interest-bearing accounts.