China's changing payments industry
There are more than 850 million mobile payment users in China, and the two largest mobile payment providers, Tencent's WeChat Pay and Ant Group's Alipay, hold more than 90% of the market. However, in the past few months, we've seen a push from the Chinese government to the tech giants to open up the market including to giant state-owned card network UnionPay. This is resulting in greater support across platforms and a shift in the dominance of some players.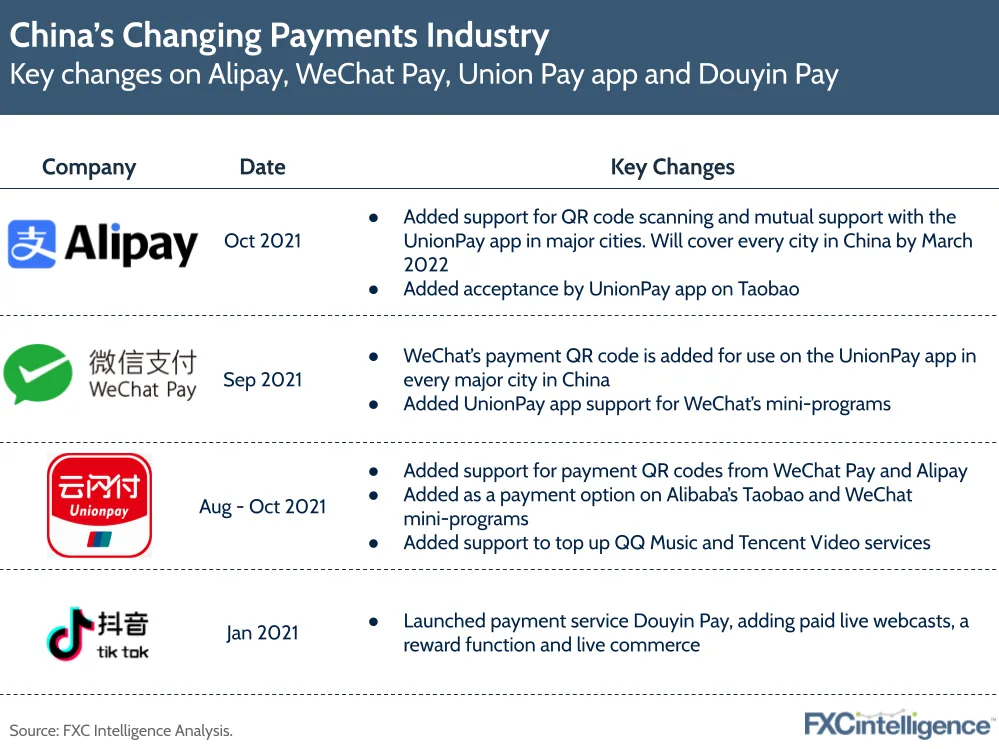 Changes on WeChat Pay
According to Tencent, WeChat Pay has been available on UnionPay's app for offline payments since September 2021. Users can now scan WeChat payment QR codes with UnionPay's app to complete payments in every major city across China.
Mini-programs on Tencent's WeChat app, which are sub-applications such as Tencent Video, WeRead and JD.com, are also getting access to UnionPay, whose app will also be made available to make top ups to QQ Music and Tencent Video.
Changes on Alipay
Meanwhile, Alipay has been rolling out payment QR codes for UnionPay in Beijing, Shenzhen, Guangzhou, Tianjin, Xian and other major cities in China since 2020 and will cover every city across China by March 2022.
Taobao, the online marketplace from Alibaba Group, has also become the company's first platform to accept UnionPay as one of its online payment options. Almost 85% of merchants on Taobao supported the option as of August 2021.
Potential players to benefit from the change to payments in China
UnionPay is undoubtedly on the top of the list of beneficiaries, followed by the payment services from other internet giants such as JD Pay and Ping An Pay. Huawei and ByteDance (Douyin) are two other players worth keeping an eye on too.
Douyin is the Chinese version of ByteDance-owned video-sharing app TikTok and has more than 600 million daily active users in China. The strong number of users provide a solid base for the launch of its payment service, Douyin Pay. The payment service currently supports paid live webcasts and live commerce, and includes a reward function. Thanks to the huge number of users, Douyin Pay has the potential to become the third biggest mobile payment tool in China after WeChat Pay and Alipay.