Cash App: The next rival to Apple Pay?
Last week, tech giant Block said that its Cash App mobile payment service would now support payments to ecommerce merchants beyond those already in its Square network. The move suggests that Cash App could be looking to compete with major mobile payment rivals, such as Apple Pay and Google Pay, following its integration of buy now, pay later service Afterpay earlier this year.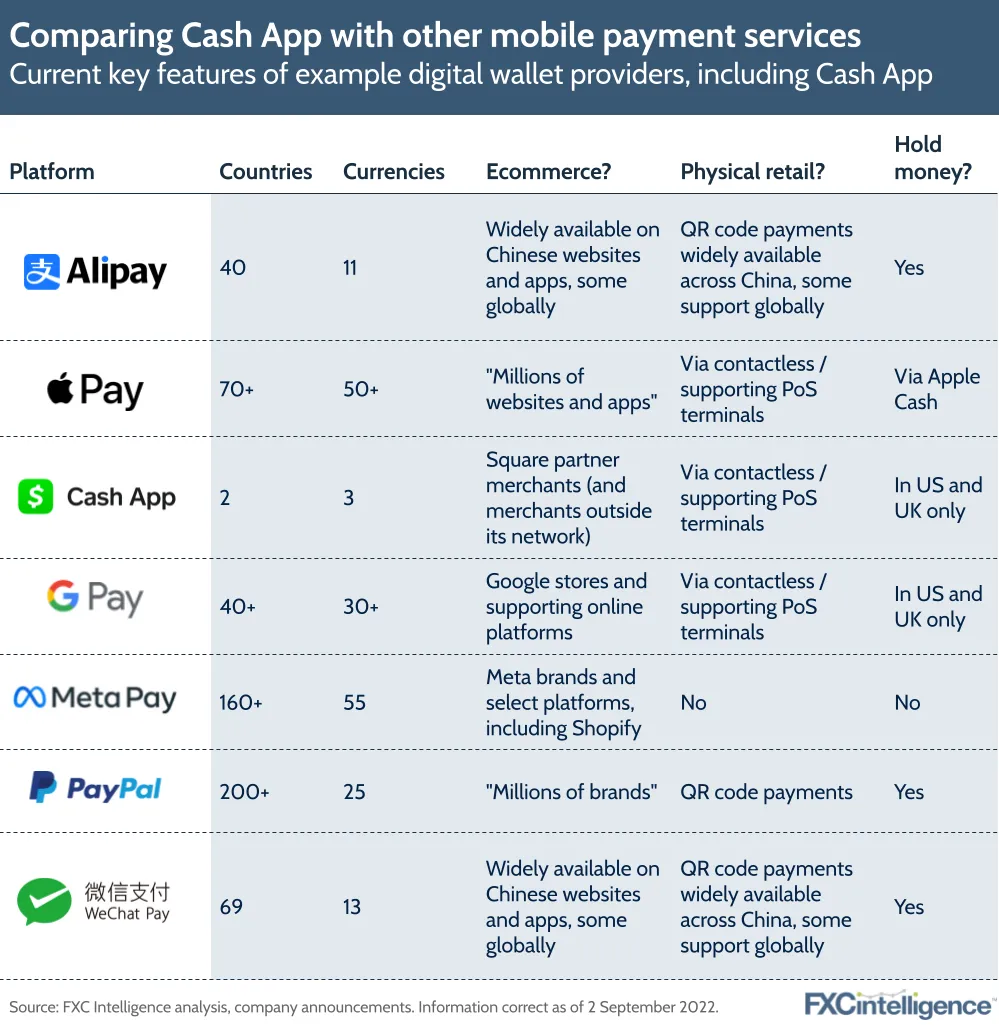 Expanding Cash App's payment network
Since last year, customers have been using Cash App Pay to make in-store payments to merchants using Square's point-of-service terminals, or online to Square merchant partners. However, the app can now also be used to make payments on ecommerce sites beyond those using Square. Block is partnering with a growing number of merchants – including American Eagle, Tommy Hilfiger and JD Sports – where users can receive a 10% discount when they make their first purchases using Cash App Pay.
Extending payments beyond the network could give Cash App broader appeal and bring it into competition with other mobile payment services. It's a strategic move that could bolster the amount of money that Cash App makes from commerce and help offset crypto volatility after the app saw a 34% drop to Bitcoin-related revenues in Q2 (overall, Cash App revenues grew by 29% year over year).
A clear obstacle is that Cash App Pay is still only available to users in the US, although Cash App itself can be used to store funds in the UK. Other mobile payment services, particularly PayPal and Apple Pay, enable payments across lots of different currencies and countries. Expanding into new markets would be necessary for the app to truly become a rival in this space.
The mobile payments landscape is shifting as key players in the space ­– Google and Apple – face pressure from regulators not to monopolise payments within their app stores. This explains why Google recently launched a pilot that would allow Android app developers to offer alternative payment options across several regions.
Despite this, it is looking unlikely that Cash App could topple mobile payments giants anytime soon. It may have over 80 million users, but Apple Pay has more than half that in the US alone. That being said, the expansion could help Cash App diversify away from more volatile elements of its business and build towards CEO Jack Dorsey's "super app" ambitions.