BNPL heats up, but cross-border remains absent
Just weeks after reports that Apple is to offer its own buy now, pay later (BNPL) service drew attention, Jack Dorsey's ecommerce giant Square announced it was buying Australian BNPL major Afterpay. This follows a host of others linked to the financial trend, but cross-border options remain notably lacking.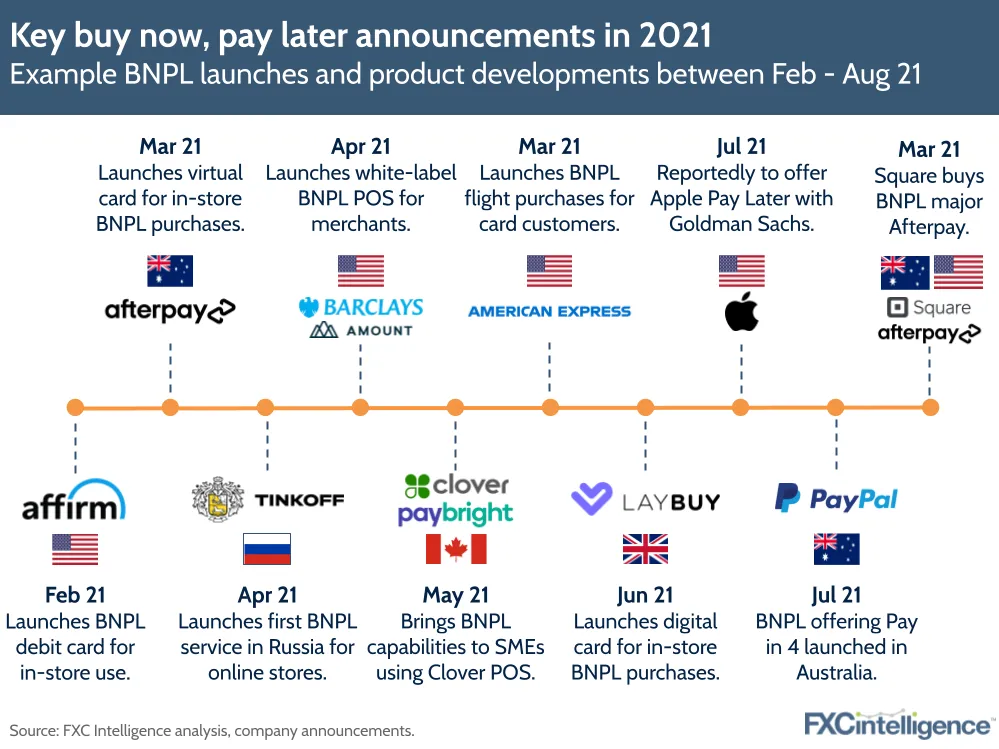 Square's acquisition of Afterpay, arguably the biggest BNPL name after Klarna, sees the Australian company acquired for AUD$39bn (USD$29bn). In acquiring Afterpay, which is known as Clearpay in Europe, Square is adding a service to its Seller and Cash App ecosystems that is not only in demand, but seeing growing adoption.
Meanwhile, according to Bloomberg, Apple's service, named Apple Pay Later, will be powered by Goldman Sachs, and will enable Apple Pay users to make purchases in either two-weekly or monthly instalments. It is thought to initially be launching in the US, although given Apple's global reach, is likely to see introductions in multiple markets.
The news came on the same day that PayPal announced it would be rolling its Pay in 4 service to Australia, following successful introductions in the US, UK and France, a country with an already strong BNPL market.
These follow a host of new launches in the BNPL space over the past six months, with companies making inroads into new markets, such as Russia, user groups, such as SMEs, and use cases, such as in-store purchases.
However, what has remained notably absent is any meaningful cross-border solutions. While Klarna does enable some limited international payment solutions as part of its own BNPL offering, the industry currently has very little cross-border BNPL solutions, and there is nothing to suggest that will change any time soon. With lending often taken on by local financial institutions, the risk of offering loans to customers in other nations remains too high to be worth focusing on in a market that still has considerable domestic growth potential.
Nevertheless, if BNPL continues its impressive traction, it will be a problem that companies seek to solve sooner or later. Who takes this challenge on and how they resolve it, however, remains to be seen.
Sign up to our newsletter to stay up to date on cross-border payments