Block beats expectations on profitability in Q3
Square and Cash App parent Block saw its share price increase 13% the day after releasing its Q3 2022 results, which saw its total net revenue rise 17% YoY to $4.52bn. Key revenue drivers included strong growth across POS systems in hospitality, as well as the continued success of the Cash App card.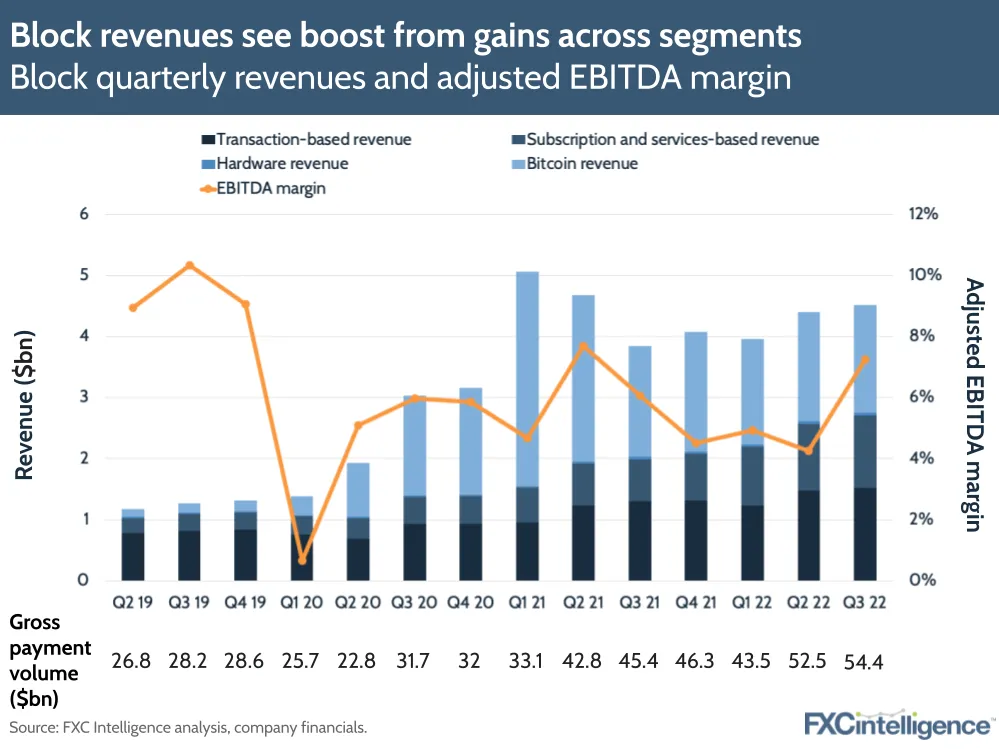 Across its offerings, Block was propelled by major growth in subscription-based revenue, which was up 71% to $1.19bn. Transaction-based revenue also grew 17%, to $1.52bn, while hardware revenues grew 16% YoY to $43m. As part of this, Square saw 27% YoY revenue growth, while Cash App saw 12% YoY revenue growth.
Block saw its adjusted EBITDA increase from $233m to $327m YoY, giving the company an adjusted EBITDA margin of 7.24% – the highest this margin has been since Q2 2021. The company is also continuing to see growth in international markets, with growth in gross payment volume increasing 40% YoY. This would have been 55% on a constant currency basis, showing the impact of foreign exchange volatility.
On the other hand, bitcoin revenues declined by 3% YoY, driven mainly by the declining price of bitcoin and resulting decline of consumer demand. Bitcoin's overall share of Block revenues fell to 39% in Q3, compared to 47% last year.
Meanwhile, Block's buy now, pay later platform, which was gained through its acquisition of Afterpay, contributed $150m to gross profits. Overall, the company generated gross profit of $1.57bn, up 38% YoY. Cash App generated a gross profit of $774m, up 51% YoY, while Square generated a gross profit of $783m, up 29% YoY.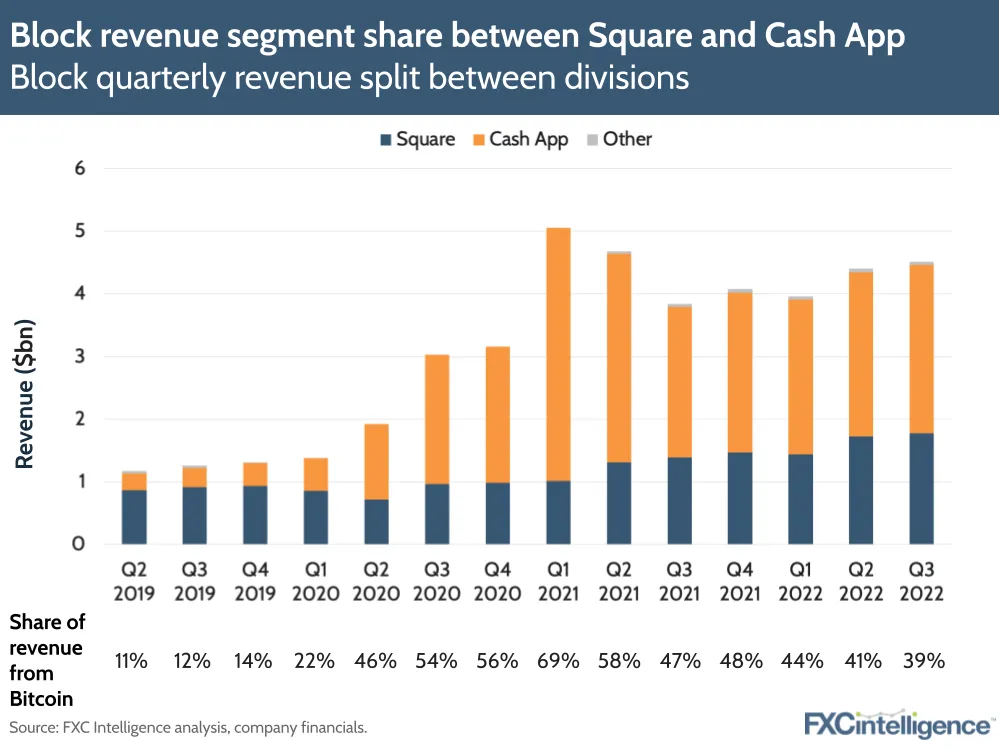 Block saw operating losses of $49m compared to a profit of $23m in Q3 21 – the fifth quarter in a row where it has made a loss. However, it has substantially closed the gap on losses of $214m made last quarter. The company has seen sales and marketing spend increase 16%, driven primarily by its new BNPL platform.
Moving forward, the company is looking to focus more on growing its Cash App Card, which saw nearly 18 million active users in September (up 40% YoY), making up more than 35% of Cash App's monthly active users. Block also said it would be moderating its pace of hiring and increasing brand awareness spend on Square and Cash App in 2023.