Ant Group's global plans for Alipay+
Despite largely being used by Chinese customers, Ant Group is one of the best-known digital wallets in the world, however less well known is Ant Group's cross-border payments solution Alipay+. This week I caught up with Jia Hang, Regional General Manager for Southeast Asia at Ant Group, to find our more for my Forbes column.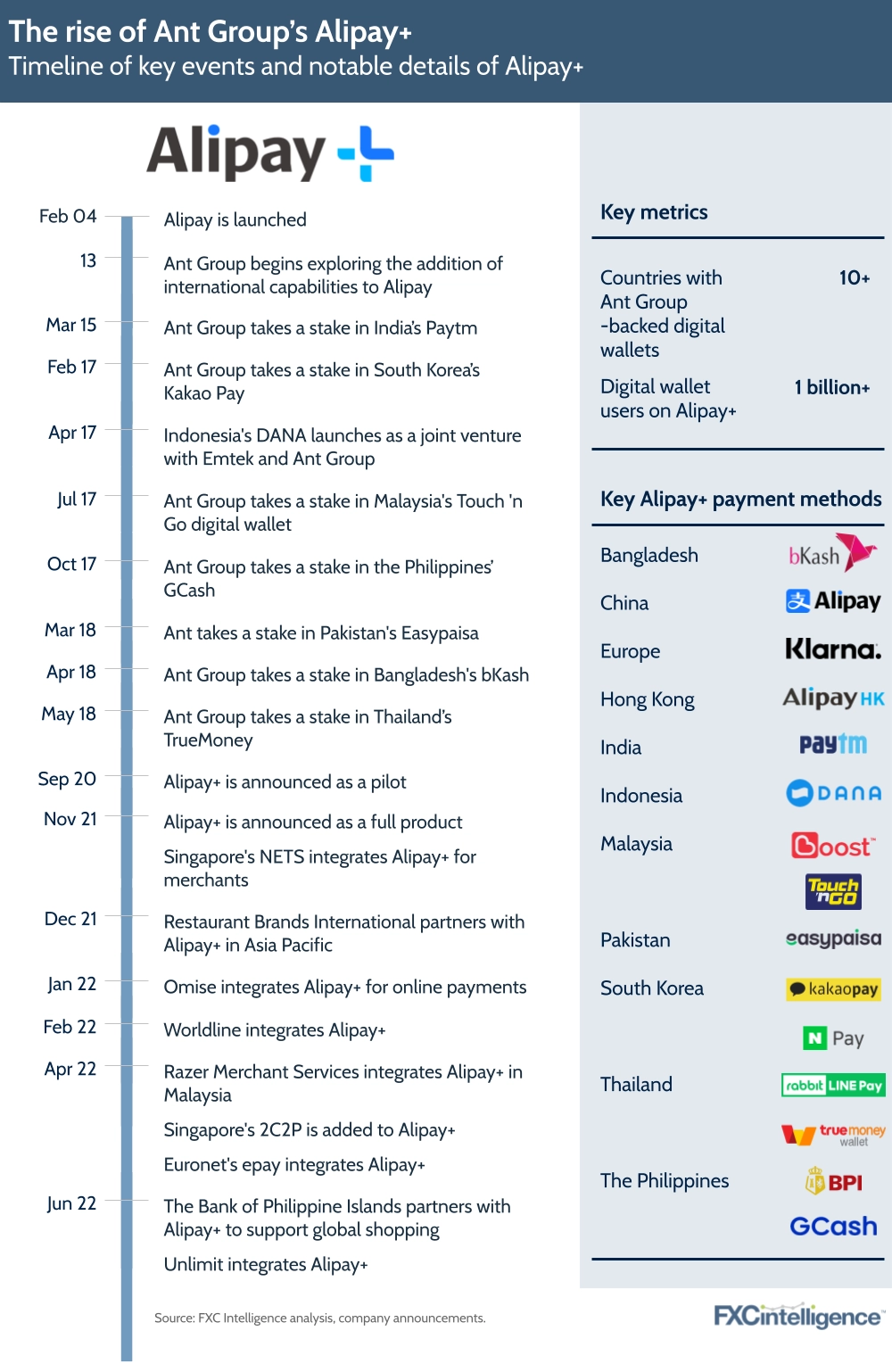 Alipay+ isn't an app, but instead is a way for users of local digital wallets that Ant Group has invested in to make cross-border purchases, either in store while abroad or via ecommerce. For merchants, it brings together cross-border payments and marketing solutions, while for digital wallet users it enables payments to be the same QR code-based experience using their own currency, regardless of where they are.

Some key takeaways from my conversation with Jia Hang, which you can read in full on Forbes:
Globally, there are now over 1 billion people using a digital wallet connected to Alipay+, and while the majority are based in Asia, Ant Group does have plans to expand further.
Alipay+ follows almost a decade of investment by Ant Group in payments beyond China. First it began by adding international payment capabilities to Alipay for Chinese users, focusing largely on tourist hotspots. However, from 2015 it began to invest in local digital wallets in other countries as a means of growing internationally without having to establish its own products in unfamiliar markets.
Ant Group took the decision to focus on developing nations primarily, the majority of which were initially in South and Southeast Asia, where much of the population was underbanked and so digital wallets had large potential benefits. The company established joint ventures with local companies, providing technology and expertise as required while trusting their local market expertise to lead each project.
Alipay+ arrived when these digital wallets, which include GCash in the Philippines, Touch n' Go in Malaysia and DANA in Indonesia, had reached a level of maturity. This saw Ant Group develop overseas acceptance for all its JV wallets, as well as Alipay and AlipayHK, with the same localised experience for all users. This service also includes tailored marketing solutions, such as the ability for merchants to push coupons to appropriate potential customers.
In the last few years, Ant Group's focuses for Alipay+ have included expanding merchant acceptance, with the integration of companies including Restaurant Brands International and Worldline.
Looking forward, Jia Hang says the company is "building up global acceptance as widely as possible" and regards cardless payments to be a key part of the cashless future.
Read my full conversation with Ant Group's Jia Hang in Forbes