An analysis of FLEETCOR's acquisition of AFEX
FLEETCOR is a $20bn payments company that provides fuel cards and workforce payment products targeting the smaller end of the Fortune 1000. In 2017, it entered the cross-border payments market with the acquisition of Cambridge for $690m.
This past week, FLEETCOR announced it had acquired AFEX, one of the few remaining independent B2B players of scale. We spoke with John Coughlin, FLEETCOR's President of Corporate Payments and Cambridge President Mark Frey.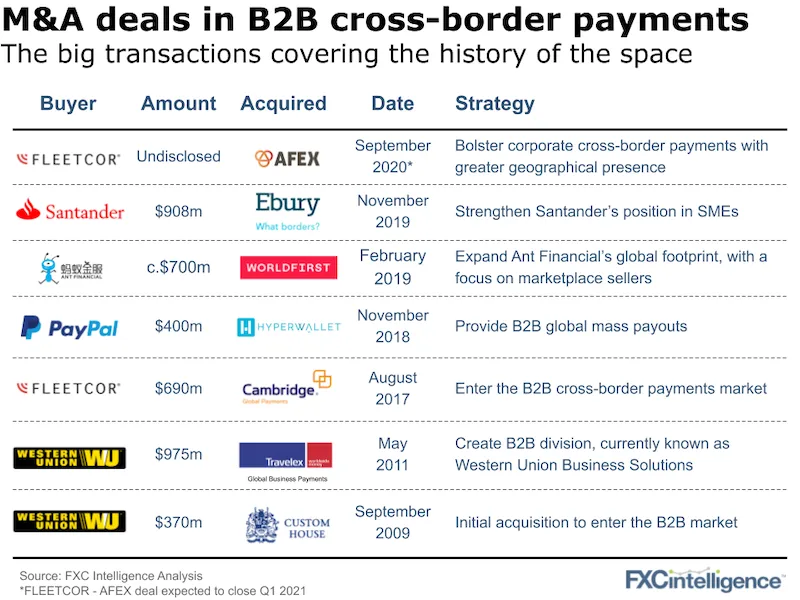 The strategy behind the transactions
The Cambridge transaction has been a solid success for FLEETCOR (covered here). FLEETCOR is an M&A specialist and it therefore came as no surprise when it emerged as the buyer of AFEX this week. AFEX has a similar product set to Cambridge, albeit targeting typically smaller corporates, and a geographic focus more skewed to the European and AsiaPac markets.
As to the size of the AFEX transaction, although not formally reported yet as the deal isn't closed, we understand AFEX to be around half the size of Cambridge in terms of revenue, with a sale price likely around half that of the Cambridge deal.
What to expect post-acquisition
FLEETCOR will likely integrate AFEX with Cambridge, probably under a broader FLEETCOR brand. We'd expect some of the Cambridge playbook to be rolled out for AFEX.
Specifically, FLEETCOR will work around improving the efficiency of distribution i.e. the selling model – still a largely human sales interaction but backed by a lot more data. Targeting smaller corporates will be largely left to partnerships with fintechs such as Bill.com and the recently announced KyckGlobal. And on the cost side, FLEETCOR can leverage its M&A integration experience to drive up margins.
Reflecting on the $90m Q1 2020 hedging loss that Cambridge posted, John accepts Cambridge probably had too much concentration in one customer that was largely exotic-weighted. New processes in place will aim to avoid any repeat.
FLEETCOR's ongoing acquisitions hunt
Expect FLEETCOR to continue to look to acquire assets that could bring scale, accelerate growth or bring a new product capability. The goal of any acquisition – to double operating profit in four years.
Overall, B2B cross-border payments remains a highly fragmented industry, much more so than on the consumer side. Cambridge plus AFEX puts together a business of meaningful scale, second only to WUBS in terms of revenue but growing much faster. To leave the last word to John: "I think fragmented industries consolidate over time."