2022's most likely payments IPOs
2021 was a very strong year for public debuts in cross-border payments, but will we see a similar run of IPOs (and maybe SPACs) in 2022? Here's our predictions for the most likely IPOs this year.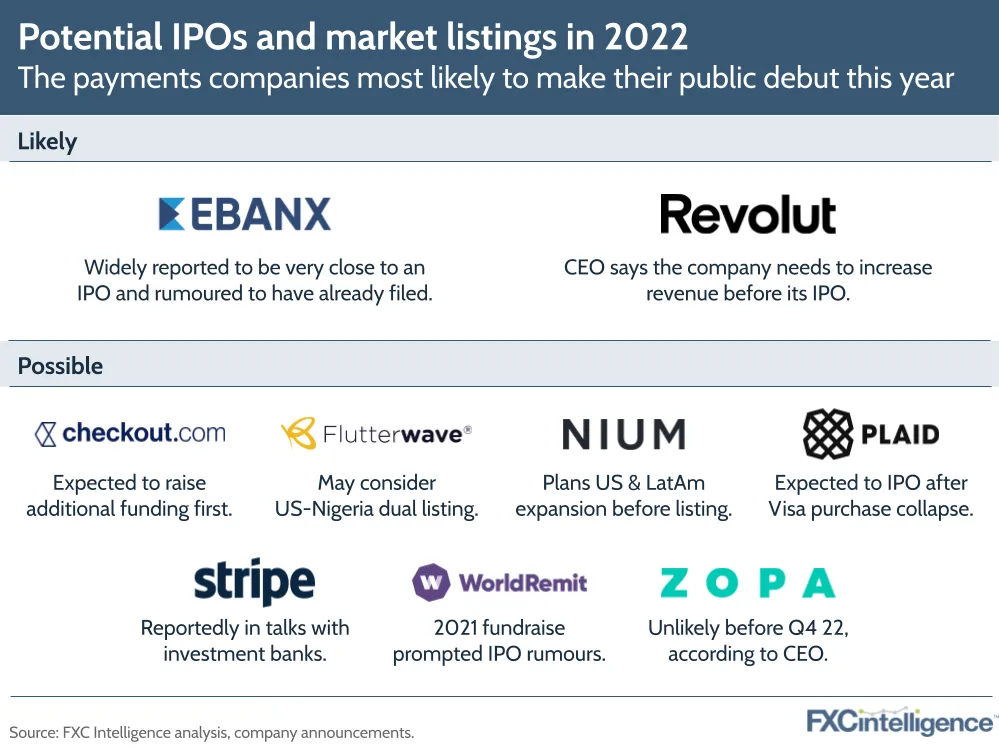 Ebanx is the most likely on our list, with the wheels already reported to be in motion, and some sources suggesting that we could see an IPO in Q1 2022. Revolut, meanwhile, may take a little longer as the CEO has said the company needs to hit revenue in the billions before it will make its public entry, although with travel reopening we still think a debut this year is more likely than not.
In the money transfer space, WorldRemit could follow in the footsteps of Remitly and Wise, particularly after it increased its valuation to $5bn last year, while African fintech Flutterwave also shows promise of a listing this year.
There are also a number of ecommerce players that have seen strong gains during the pandemic but have yet to list publicly who have an increased chance of an IPO this year. Most notably Checkout.com who just raised $1bn (value $40bn) and Stripe – although how the wider industry fares this year may prove to be a key deciding factor.
Finally, alongside neobank Zopa, which is looking to build a track record of profitability before it goes public, we also have payments infrastructure player Nium and open banking major Plaid – both players with strong cases for an IPO but who may ultimately wait another year before making the jump.
We'll be covering all the major public listings in the cross-border payments space in 2022, so stay tuned.
Additional research by Stephen Dada.