The state of cross-border payments M&A in 2023
We review how the cross-border payments M&A landscape has changed between 2022 and 2023.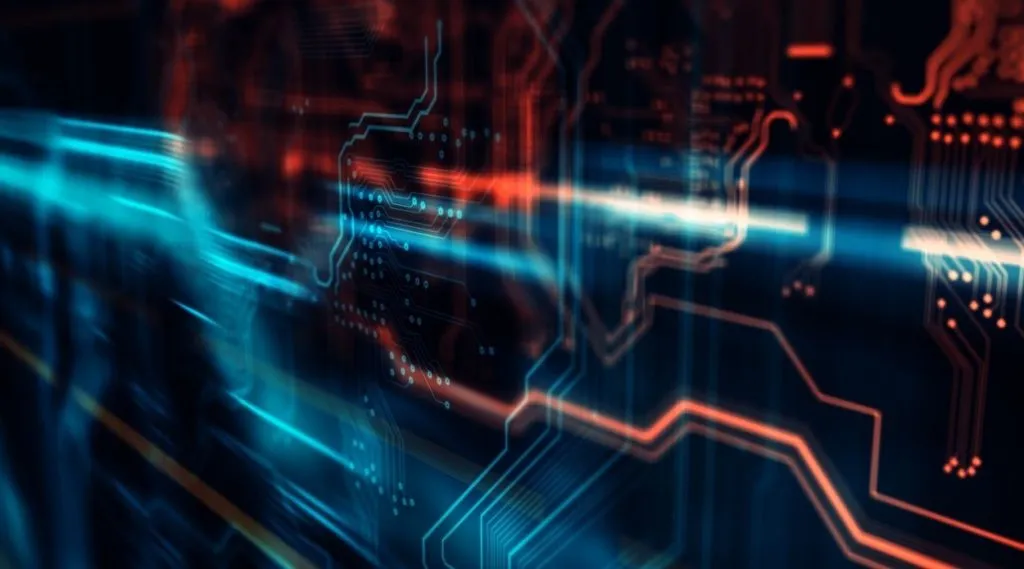 Companies in the cross-border space merge for a number of reasons, whether it's expanding to new markets or acquiring new products or capabilities. Using Crunchbase data as well as extensive industry analysis, we've taken a look at the first three quarters of 2023 in comparison to Q1-Q3 2022 to give an update on the state of cross-border payments M&A for the year so far.
Given the frequency of acquisitions on a global scale and their varying levels of relevance, tracking the exact number is a difficult task. To make things easier, the data referred to here does not include every single acquisition made in the payments space during the period. Rather, it tracks M&A that meet the following criteria:
One or both companies in the acquisition need to facilitate or enable cross-border payments, or have a substantial business focus in this area (for example, crypto exchanges have only been included if they make specific mention of their services in relation to international money transfers).
Acquisitions need to be a significant stake of the acquiree's business.
Acquisitions need to have been publicly reported on Crunchbase or by established payments media outlets.
Topics covered:
Reported cross-border payments M&A see a slowdown in 2023
The graphic below shows the number of M&A announced or completed in Q1-Q3 2023 and in Q1-Q3 2022 based on our given criteria. These have been split based on the primary business line of the acquirer involved in the acquisition, with 'other' including primarily companies that are harder to define or may not be directly in the payments space, but have either acquired a cross-border payments company or been acquired by one.
When applying our criteria, the total number of notable acquisitions appears to have declined by around 35% – from 161 acquisitions in 2022 to 104 in 2023. Amongst companies making these acquisitions, there have been declines across almost all categories, with the exception of card issuers.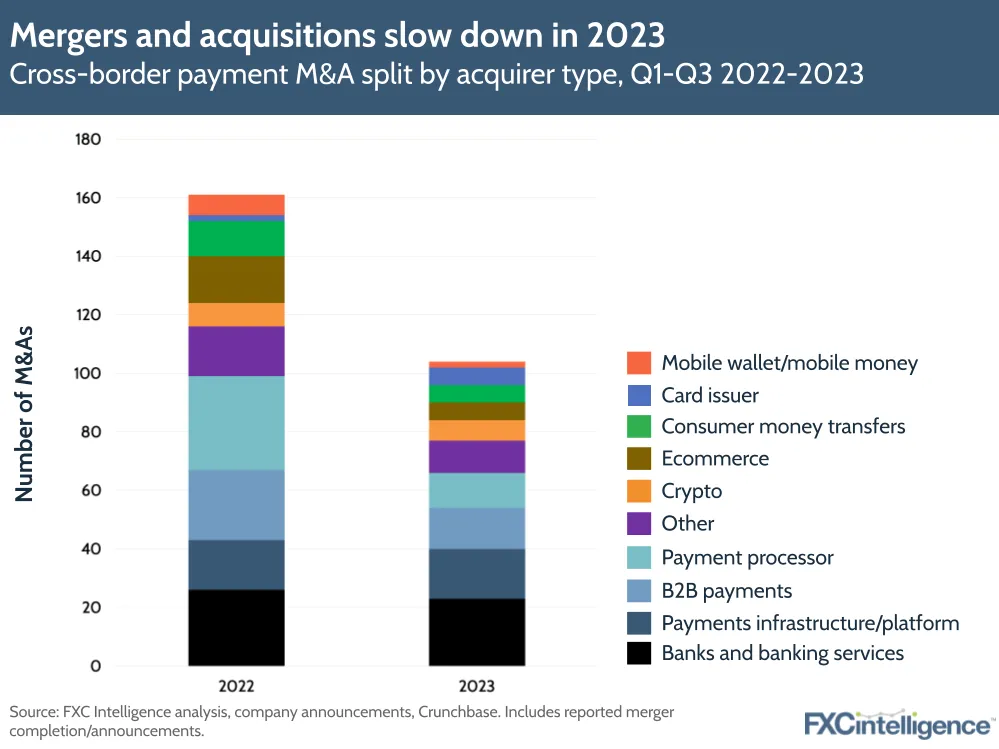 Which companies are making acquisitions/being acquired?
Breaking down acquirers and acquirees by company type helps show the difference across individual categories. In particular, across B2B payments, consumer money transfers and payment processors, there appear to have been substantially fewer significant mergers and acquisitions reported this year, driving down the overall totals. Note that the graphic above tracks companies specifically, some of whom made multiple acquisitions in the year, contributing to the overall total in the first graphic.
As the categories here capture a broad scope, it's difficult to assess the individual factors driving the declines across these categories without making generalisations. However, various factors have been suggested as playing a role in an overall decline in fintech M&A this year; in particular, a more unpredictable macroeconomic environment and the collapse of Silicon Valley Bank earlier this year have resulted in companies refraining from spending big on acquisitions.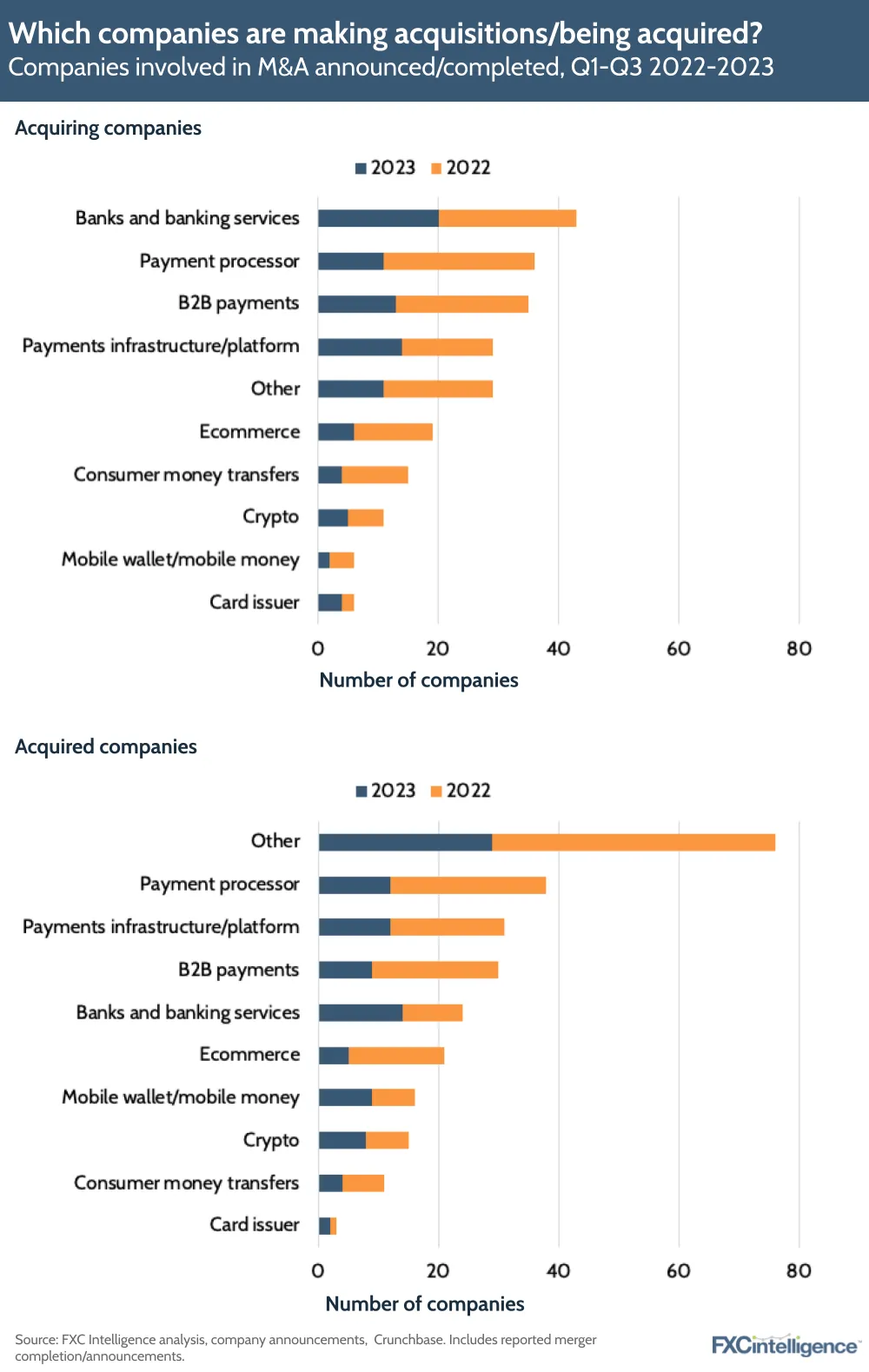 What have been some of the biggest cross-border payments M&A this year?
Most of the announced/completed M&A from our dataset have been for undisclosed amounts, however when examining some of the biggest disclosed M&A that are the most relevant to payments during Q1-Q3 this year, these tend to have been of similar amounts, with the exception of Worldpay's acquisition by GTCR at $18.5bn. This acquisition itself was a reversal of FIS's own $43bn acquisition of the company in 2019.
Having said this, based on our wider dataset there appear to have been fewer disclosed acquisitions relevant to cross-border payments that have achieved multi-billion status this year compared to last year. It should also be noted that a high number of acquirers and acquirees are based in the US, which we explore more below.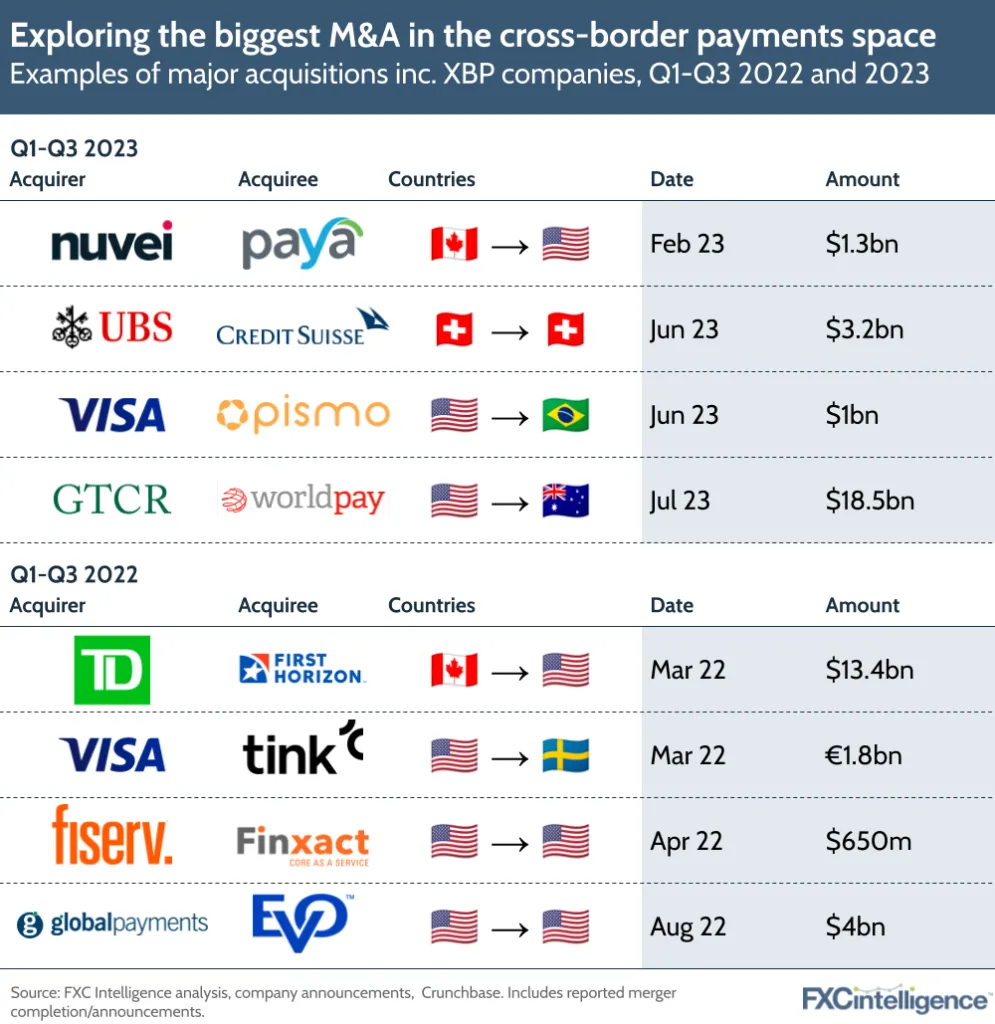 Where are acquirers and acquirees based?
Breaking down where acquirers and acquired companies are based in 2023, we see a vast majority of the activity is occurring in the US, with around 33 out of 90 acquiring companies having a headquarters in the country while 27 acquirees are based there. Other countries with a higher amount of acquisition activity include the UK, France, the Netherlands and India.
Overall, acquiring companies from our 2023 dataset have their bases in 27 countries, while acquirees are headquartered in 38 countries, which is indicative of companies from fintech-rich nations using acquisitions to expand into new markets. These figures are similar to 2022, which saw acquiring companies with headquarters in 31 countries and acquirees based in 38 countries.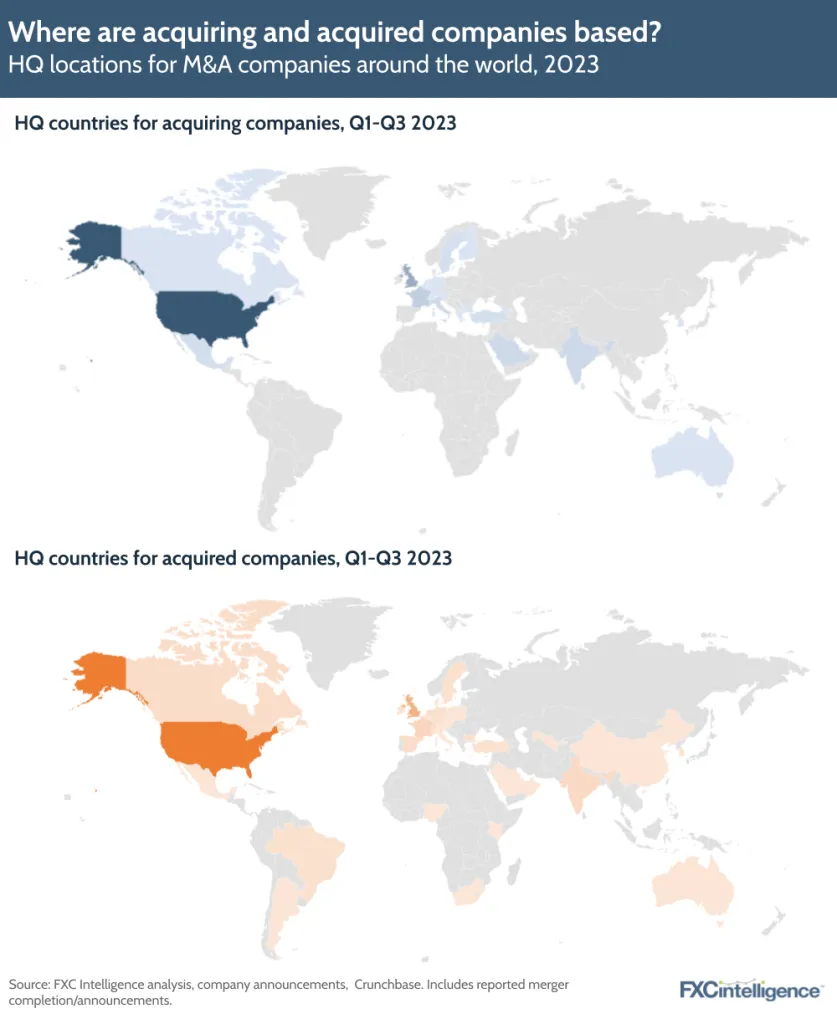 Related to the lower number of M&A compared to last year, there has also been a notable downturn in markets that previously saw a high number of mergers and acquisitions. For example, up to Q3 in 2022, we counted 47 acquired companies with a HQ in the US, but this number went down to 27 in 2023.
The upshot is that while a number of high-value acquisitions have taken place this year, there have been fewer of them across several different categories and countries, which indicates that the cross-border payments space is aligned with a global M&A trend that many outlets observed looking at the first half of the year.