Profiling Gen Z in payments: Digital-first and cause-driven
As Gen Z becomes increasingly financially active, it has become an ever more important consumer segment. We explore what Gen Z is looking for from the payments space and where success can be found.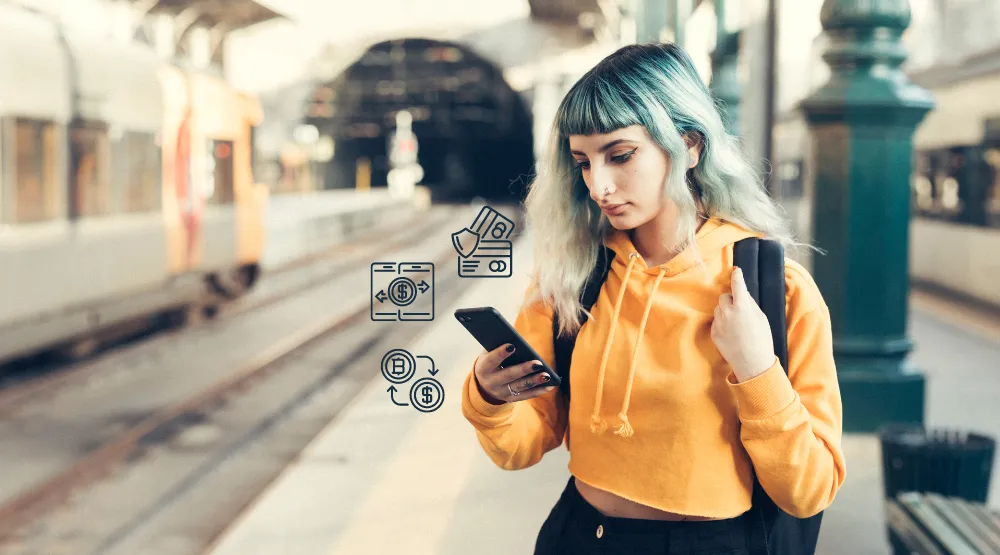 Gen Z, generally agreed to consist of those born between 1997 and 2012, is the largest living generational cohort; in 2022, according to UN data with analysis by FXC Intelligence, they comprised 25.3% of the global population. Gen Z made up 19.97% of the 2022 working age population, and as we enter 2023, the proportion of Gen Z in the workforce will continue to grow. This shift brings greater influence and purchasing power, with a 2021 Bloomberg estimate finding that the US's Gen Z cohort already had $360bn in disposable income.
As Gen Z becomes increasingly financially active, they bring new expectations, needs and preferences, including in regards to how they pay and send money. Understanding what this newly active generation of consumers wants to prioritise will not only help players in the space to further develop and thrive, but will also act as a key indicator of what is to come in the industry.
Contents:
Prioritising the digital experience
Gen Z consumers prioritise technology and the digital experience. Often labelled as 'digital natives', growing up with technology has led to Gen Z both favouring and expecting seamless tech-driven solutions and easy-to-use user interfaces. The payments space was previously dominated by traditional financial institutions, providing slow and expensive services and transfers, but rising fintech stars such as Wise and Revolut have emerged in recent years with cleaner, cheaper and more streamlined solutions.
Gen Z is increasingly interested in digital-only banks, with a YouGov and MagiClick UK 2022 survey finding that 35% of 18-24 year olds had increased their usage of digital banking services since the beginning of the pandemic (the largest growth out of all generational cohorts). Gen Z is not entirely online – cash usage still maintains a certain level of popularity in some countries. The Federal Reserve Bank of San Francisco's 2022 Consumer Payment Choice study found that despite decreasing following the pandemic, 18-24 year-olds in the US actually had a higher cash usage than both 25-34 and 35-44 year-olds. However, as more of the younger generation join the working population and use more financial services, the drive towards digital will likely further materialise and dictate the future of the industry.
Gen Z has also responded well to digital wallets such as Apple Pay and Venmo, and this engagement has helped to drive the success of these new players. In Marqeta's 2022 survey of consumers in the UK, US and Australia, 82% of 18-24 year olds in Australia (and 77% and 59% in the UK and US respectively) stated that they were confident enough to leave physical wallets at home and rely on digital wallets, compared to an average of 38.66% of 51-65 year olds across the three countries.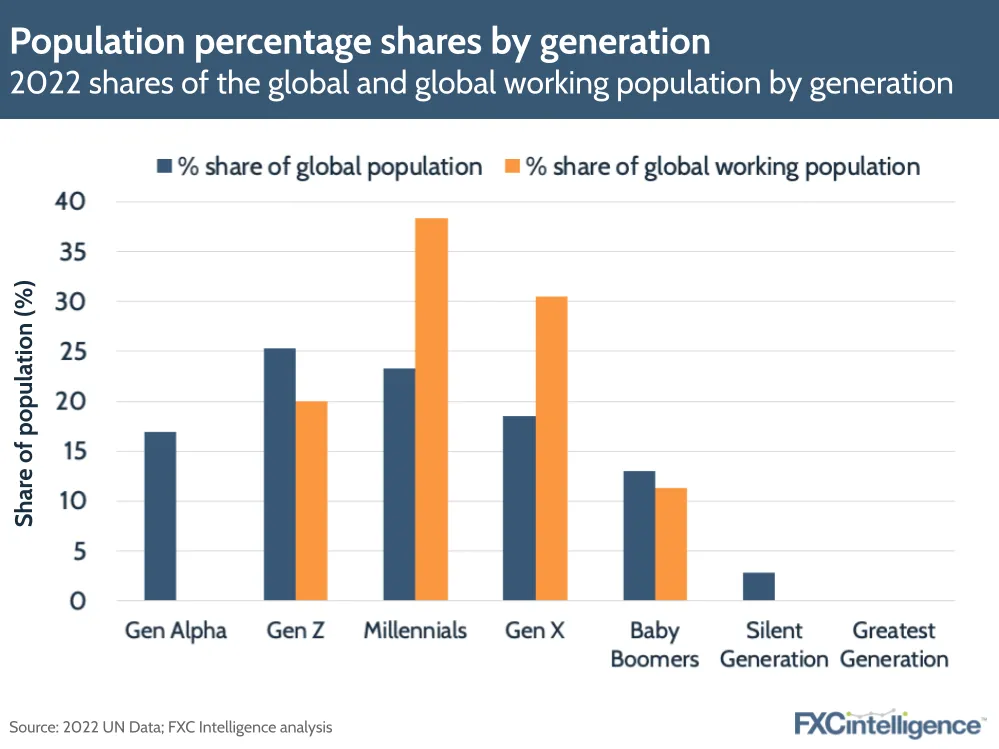 In Southeast Asian countries such as Malaysia and the Philippines, which have a median age of 29.2 years and 24.1 years respectively, the young population has pushed both a technological revolution and the largescale success of digital wallets. Mobile wallets have seen notable success in the Philippines, particularly following the pandemic; GCash, the country's leading mobile wallet, announced at the Mobile 260 Asia Pacific FinTech Summit in August 2022 that they had reached 66 million users in June 2022. Using the World Bank's 2021 count of the total population in the Philippines aged 15-64, this translates to 91.79% of the population. For more information on the success of digital wallets in Southeast Asia, see FXC Intelligence's recent report here.
Gen Z's adoption of less conventional, more tech-savvy payment methods is in part also due to the prioritisation of ease. Live commerce, a rising phenomenon on social media platforms, provides users with a live-stream shopping experience, where accessible links or 'swipe-ups' allow immediate purchase of the item shown. This streamlined experience has proven extremely popular, particularly in China; Alibaba's Taobao Live, a live-streaming merchant platform, saw 62 individual- and merchant-run channels exceed $13.9m in gross merchandise value during the 2022 Singles' Day event period.
TikTok's integrated purchase features, including Shopify-powered shopping tabs on business profiles and LIVE shopping, have also seen notable engagement; Douyin, TikTok's Chinese presence, sold over 10 billion products between April 2021 and May 2022. TikTok is dominated by Gen Z, with 41.6% of US TikTok users in 2022 aged between 12 and 24, and so although the live commerce trend is still in its early stages, the growing success of these speed-centric integrated payment methods is indicative of this generation's behaviours and priorities.
Superapps' appeal and the path to Gen Z consumers
When it comes to quick and easy payment experiences, Gen Z has also shown enthusiasm for multi-use methods. Superapps provide a one-stop solution to various online and offline everyday needs, and are proving popular amongst the generation. In a 2022 survey by PYMNTS and Paypal that asked users in four key global markets about their interest in superapps, 48% of Gen Z respondents stated they were interested in a unified financial and money management superapp, compared most starkly to just 19% of Baby Boomers (those aged 58-76 years old as of 2022).
Only 12% of Gen Z respondents said they were not interested in any form of superapp, thus demonstrating the interest of this demographic in combined solutions. As this age group becomes increasingly financially active and demands a wider variety of services, providing multi-purpose financial products will help both onboard customers and ensure long-term use and loyalty.
It is important that providers in the space understand the power of technology and refined user experiences in gaining Gen Z customers. French startup PixPay, a money management app for children and teenagers, is a Gen Z-targeted product that has incorporated the digital experience. The app digitises the giving and receiving of pocket money, providing features such as a mobile bank account, payment card and linked Apple Pay and Google Pay options. PixPay is one of few finance apps to allow children under 18 or 14 to have an account; considering the fact that key player PayPal has maintained their over-18 age limit, apps like PixPay can gain a competitive edge.
Comparable is Revolut's <18 feature, introduced in the UK in August 2022. This account, built for those aged 6-17 years old, provides features including budget trackers, transfers to friends and the ability to receive payments when completing tasks. Revolut <18 account holders can also use either a physical contactless card or a virtual card via Apple or Google Pay. Not only do these accounts and apps provide the younger members of Gen Z with products that tend to their digital needs, but they are also further shaping their preference for tech-driven, unconventional providers from a young age.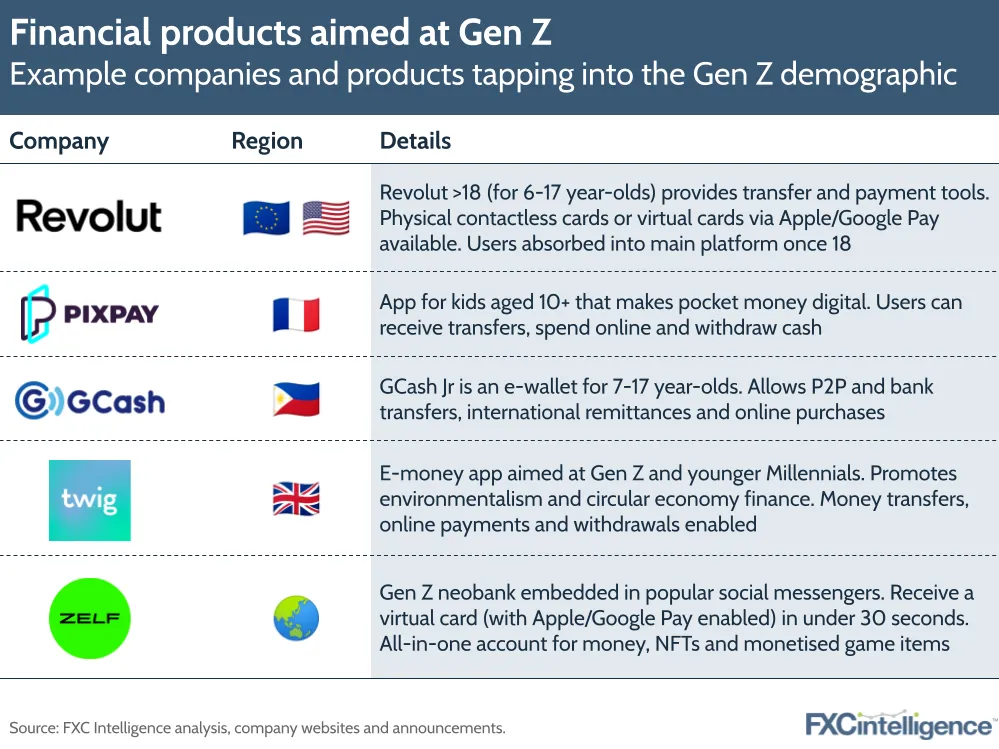 Scepticism of financial institutions
As a generation that grew up during the 2008 financial crisis, Gen Z's payments choices are also motivated by financial caution and a scepticism of traditional financial institutions. Although not abandoning these institutions completely, some countries have seen a slight fall in the number of young adults using formal services as Gen Z has become more financially active.
In Singapore, which has a large banked population, the proportion of 15-24 year olds with an account at a financial institution has fallen from 97.84% in 2017 to 94.36% in 2021, according to the World Bank. By comparison, the number of older adults (aged 25+) with an account at a financial institution has risen from 97.5% in 2017 to 98.07% in 2021. Although these observed trends are still modest, as more of Gen Z enters adulthood and take control of their finances, this may be observed in greater numbers.
A growing distrust of government interference and traditional institutions is similarly reflected in Gen Z's enthusiasm for cryptocurrency and decentralised finance, viewing this as a more transparent alternative. Cryptocurrency payments gateway TripleA reports that, despite only recently becoming financially active, the 18-24 age group is the 3rd largest owner of cryptocurrency in the UK, standing at 22.22%, with the next largest age group being 35-44 year olds, with 24.07% of ownership. As a result, alongside the growing importance of the digital experience, Gen Z's caution of large financial institutions and demand for transparency will further influence the future of the industry.
Aligning with Gen Z ethics
Amongst companies that have seen success with Gen Z consumers, many have shown an understanding of the demand for more value-focused and cause-driven products. This is a much more defining characteristic for Gen Z than others; the Bank Administration Institute found in 2022 that 58% of Gen Z consumers would switch financial services organisations for one more committed to diversity, equity, inclusion and ESG, compared to 34% of Gen X and just 16% of Baby Boomers. This generation's consumption is therefore highly influenced by how closely a brand's values align with their own.
Various companies have found success by supporting causes close to the hearts of Gen Z, including fintech Twig. Founded in 2021, the app offers Gen Z consumers an e-money account that provides instant cash-outs on unwanted fashion and electronic items, therefore promoting sustainable living and the second-hand cycle. Following a collaboration in May 2022, users can now resell products purchased via Scalapay, a Buy Now Pay Later provider, and receive instant payments from Twig, thus further building upon core sustainability aims. This has proved popular, as by the end of its first year the app had more than one million downloads.
By creating tools that align with the growing concerns of the younger generation, particularly around environmentalism and sustainability, companies in the space will be able to connect more deeply with this new audience and amass more users.
Despite the fact that a large proportion of Gen Z are still financially inactive and out of the workforce, as more interact with the space and require payment services it is becoming increasingly obvious what they expect, engage with and gravitate towards. Not only is this a generation focused on technology and digitally-refined experiences, but they are also deeply cause-driven and eager to build long-term relationships with brands that share their vision and build trust.
Ease of use is a key priority for this age group, and they are more experimental in payment methods than their predecessors. As this generation takes centre stage, it will be interesting to witness the full influence the Gen Z consumer profile has on an already rapidly-evolving industry.