Ecommerce has surged during the pandemic, including among online marketplaces, where the number of merchants selling cross-border has increased significantly. This has prompted increased scrutiny and regulation, including Amazon's launch of its Payment Services Provider Program. In this report, which you can download below, we speak to leading PSPs to determine the state and future development of the industry.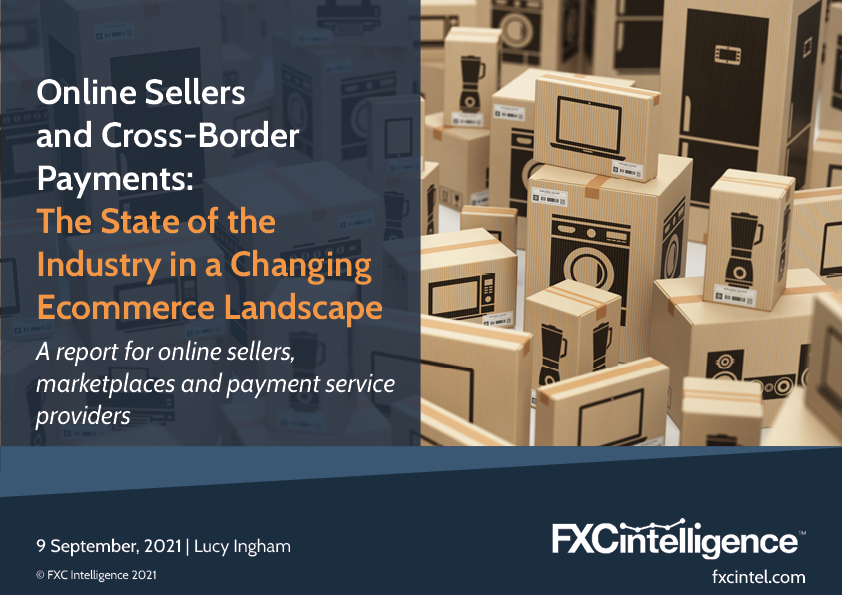 Please note each submission request for a copy of the report will be reviewed by FXC Intelligence. You will be sent the report within 2 working days if your request is accepted; it will not automatically download.
In 'Online Sellers and Cross-Border Payments: The State of the Industry in a Changing Ecommerce Landscape'
Since the start of the pandemic, global ecommerce has witnessed a transformation. While traditional bricks and mortar commerce saw a drop due to lockdowns and social distancing, ecommerce has grown significantly, seeing increased use by existing customers and attracting those who had never previously shopped online.
Much of this boost to ecommerce has been received by the world's major marketplaces, such as AliExpress, Mercado Libre, eBay and global leader Amazon. These provide a platform for online sellers, many of whom sell to consumers globally, taking advantage of the vast international customer bases these marketplaces provide.
While these marketplaces offer significant sales opportunities for such sellers, cross-border ecommerce comes with its own challenges, including both regulatory and FX-related issues. As a result, sellers rely on payment service providers (PSPs) to assist with the process, ensuring that they can get paid for cross-border transactions without falling foul of regional red tape or currency-related hurdles.
However, the pandemic has prompted increased scrutiny of PSPs, with Amazon launching its Payment Service Provider Program that mandates sellers using a PSP to select one from its approved list of participating companies.
In this report we explore the state of ecommerce as seen from the point of view of these PSPs, speaking to the CEOs of many of the biggest such companies to learn what challenges the industry faces, and how it is set to evolve in the future.
People interviewed in this report:
Jeff Parker, CEO, WorldFirst
David Messenger, CEO, LianLian Global
Skander Malcolm, CEO, OFX
Scott Galit, CEO, Payoneer