Is the metaverse payments' next frontier?
Growing numbers of traditional payment companies are entering the metaverse, but what potential does this emerging space present for the industry?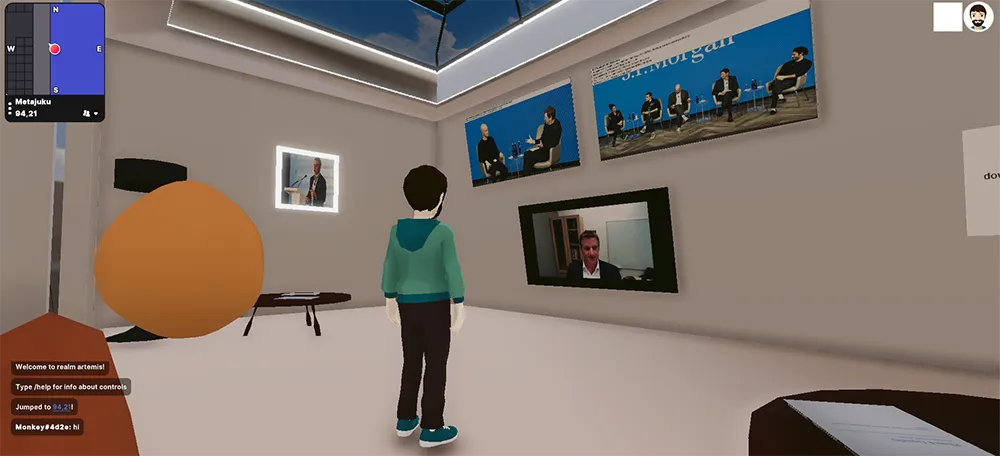 At the end of May, Worldline became the latest payments company to enter the metaverse – the umbrella term referring to persistent, immersive and fully online worlds where people can interact, buy digital goods and land, and engage in virtual experiences.
The metaverse isn't an entirely new concept. For years, online video games such as Fortnite and Roblox have allowed users to enter online persistent worlds that enable transactions for digital goods and services. However, if metaverse supporters are to be believed, it could eventually grow to become a global hub for trade and ecommerce, making it a potentially lucrative market for payment players.
It's important to stress that the aspirational version of the metaverse – painted by companies such as Meta – is still more concept than reality, which makes it hard to do more than speculate about what it will mean for payments. That said, the hype surrounding non-fungible tokens (NFT) and the anticipated demand for transactions in the metaverse has already led several payment companies to launch metaverse-related projects, suggesting that there is at least the potential for this to become a key area.
Contents: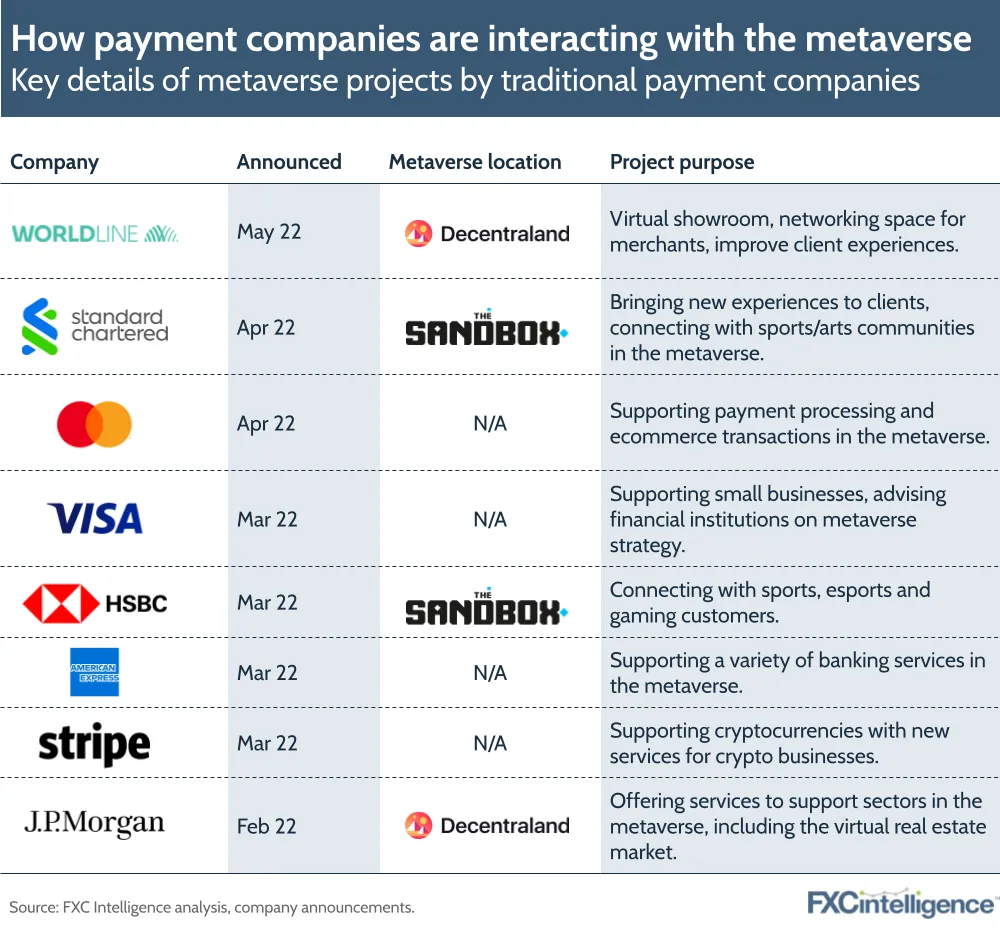 How will metaverse payments work?
Just like in the real world, buying and selling virtual goods requires payment rails. The question for payments companies is whether the rails in these aspirational metaverses of the future will be more around fiat and legacy rails such as card networks, or if they will revolve around cryptocurrency transactions stored on the blockchain. That's because the metaverse has often been described as the embodiment of Web3 – a new iteration of the internet based on blockchain technology.
Many previous online worlds, such as the aforementioned Fortnite and Roblox, use their own in-game currency that can be bought with either fiat or crypto. Other more recent metaverse projects, such as Decentraland, NFT Worlds and The Sandbox, focus on cryptocurrencies with blockchain as their main payment rail.
Taking a closer look at one of these examples, Decentraland is based on the Ethereum blockchain, and allows users to buy plots of lands as NFTs using the metaverse's native cryptocurrency MANA. In order to make the payment, users need to buy MANA via an exchange and store it in a browser-based wallet such as MetaMask. Other examples of metaverse coins include ApeCoin (for the Otherside metaverse) SAND (The Sandbox) and HIGH (Highstreet).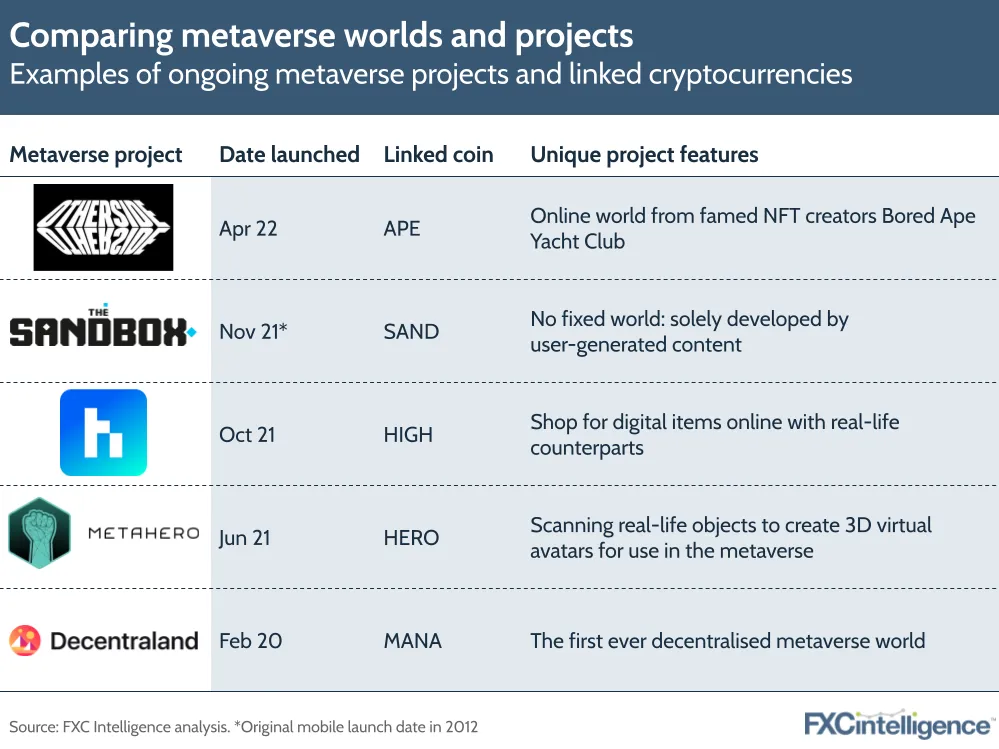 The importance of blockchain for the metaverse
Some argue that the metaverse will need blockchain to reach its full potential, not just for transaction security but also for authenticity.
The idea is that NFTs will bestow ownership on digital goods, which could otherwise be copied or stolen. They authenticate the transaction of an asset, such as a virtual artwork, from one person to another in the metaverse. Some argue that NFTs will bridge the gap between the physical and virtual world, as they would be needed to authenticate transactions in the metaverse that could then have real-world consequences (e.g. buying an item or service online that can be redeemed for something else in the real world).
It's also about interoperability. The argument goes that in the future (like now) there won't be just one metaverse platform but several, all forming a large open ecosystem that can be traversed, like moving from one web page to another on a browser. Commentators say this would only work if users have a single wallet for storing currency that they can use to purchase digital goods, and take those with them across metaverses.
On the other hand, it should be noted that it's still uncertain whether blockchains will be the backbone of all upcoming metaverse projects, and if they will be interoperable. For example, following the collapse of its project to launch a cryptocurrency, Meta was allegedly exploring the creation of 'Zuck Bucks', a form of centralised payment system that sounds essentially similar to in-game currencies and so may not need a blockchain.
Another uncertainty is the extent to which merchants that want to sell real-life services via the metaverse will need payments to be made in crypto, and how easy it will be to convert fiat to crypto to facilitate more seamless payments.
How are payments companies entering the metaverse?
If the fully realised metaverse of the future does rely on blockchain technology, crypto payment processors such as Coinbase and Bitpay could benefit from increased transactions made to merchants using cryptocurrencies. For other payment companies, the potential might be in supporting the adoption and on-ramping of cryptocurrencies, so that fiat can be exchanged for crypto seamlessly for use in the metaverse.
See checkout platform Pockyt, which says it wants to add a crypto ramp to its integration, allowing consumers to pay in fiat for digital assets in the metaverse from merchants. PayPal has recently launched its super app that allows users to buy, sell and hold crypto, and has also revealed it is exploring creating its own stablecoin. And Stripe is now helping crypto exchanges to process fiat-to-crypto payments through a single API.
Some of the moves made by payment companies suggest that they do see a financial opportunity in the metaverse, and are futureproofing their services accordingly. Mastercard and American Express have filed trademark applications to use their names, logos and slogans across a variety of banking services, such as processing virtual card transactions in the metaverse and powering NFT marketplaces. This June, Mastercard announced it is working with NFT marketplaces, including Immutable X, Candy Digital and the Sandbox, to allow people to use Mastercard for NFT purchases. It mentioned "metaverse platforms" as one of the beneficiaries of the growing NFT space.
Visa is also investing in the metaverse, seemingly to cash in on hype from interested businesses. Since buying the 'CryptoPunk' NFT-based digital avatar in 2021, the company has since launched an NFT creator programme to support small businesses, and has also begun advising financial institutions on metaverse strategy.
Meanwhile, some payments companies and banks are snapping up real estate in the metaverse with the expectation that their customers will eventually enter these worlds, creating a market for them to promote and conduct financial services. Worldline has opened its own Metaverse showroom in Decentraland, including social spaces for staff and its merchants, and a 'merchant of the month area'. According to the company, the showroom allows end consumers to purchase goods and services with or without owning cryptocurrencies themselves.
Similarly, HSBC, Standard Chartered and JPMorgan have built virtual spaces inside metaverses to create networking spaces that appeal to tech-savvy audiences, but also with the suggestion that they will eventually provide their banking services from the metaverse. UK-based cross-border transfer startup Sokin wants to go a step further, setting up an ecommerce-focused online world where consumers can explore 3D retail outlets and make purchases via a mobile app.
However, it should be noted that a lack of traditional navigation in the metaverse still poses a challenge. In researching this piece, for example, we spent considerable time searching for Worldline's location in Decentraland, and ultimately had to ask the company for coordinates.
Worldline's approach to the metaverse
We caught up with Guillaume Lefebvre, R&D Manager at Worldline, at Money20/20 Europe to find out more about how the company views the metaverse and why it has chosen to launch projects in the space.
Primarily, he said, the company was exploring the metaverse because every aspect of it, from virtual reality (VR) to games and NFTs to augmented reality (AR), involved transactions, and therefore there was significant potential for the payments space. However, he stressed that the industry was still relatively nascent.
"Today everything is metaverse, but we don't know what the future of the metaverse is," he said.
In addition to its Decentraland project, Worldline also has a Meta project, where it is demoing use of VR metaverse experiences for customer meetings.
At present, Lefebvre sees key challenges to solve for payments. The company is developing solutions to enable customers to pay without leaving metaverse spaces, which is currently a key source of friction. This includes those in AR and VR, and involves the use of identify verification based on biometrics, including controllers.
However, he also sees crypto as key to many payments in the metaverse, and said that there still needed to be more done to make the use of wallets that can hold both cryptocurrencies and NFTs more accessable.
Beyond this, he said that reducing the carbon footprint of metaverse projects was vital.
While the company's research in the space is still fairly new, it has seen interest from a wide range of companies, including merchants, insurance companies and banks.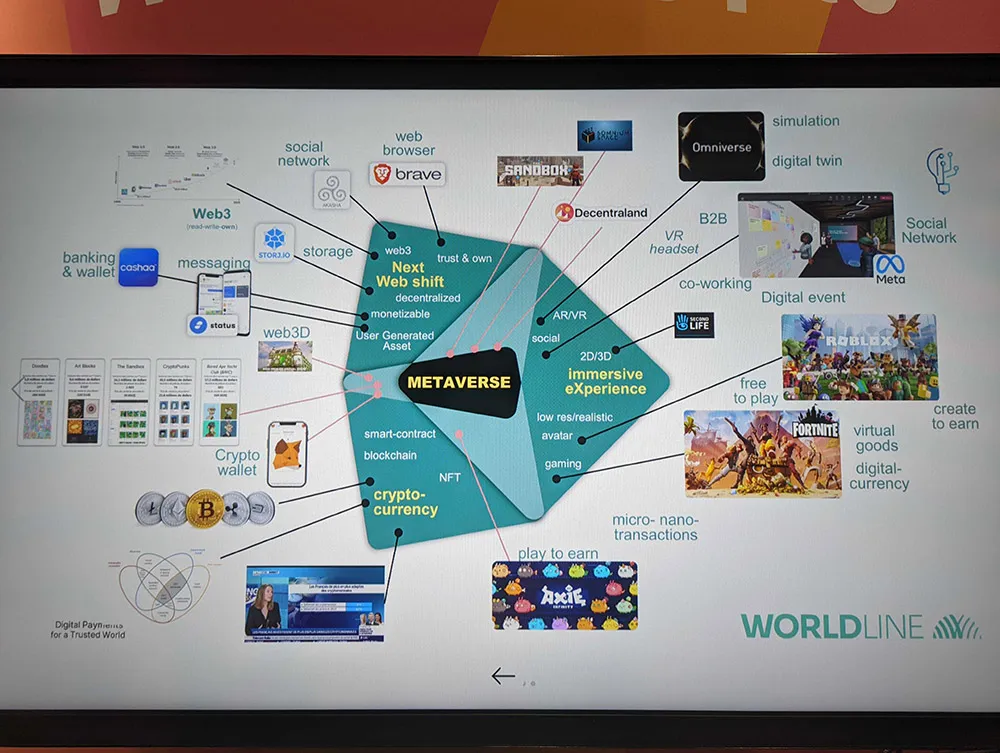 Potential challenges for metaverse payments
Questions remain about the future of payments in the metaverse. One of the biggest is about whether the concept will actually meet the high expectations many companies have set for it.
Sceptics argue that the metaverse won't produce killer apps that make them sticky for consumers and businesses in the long run. The worlds being depicted in popular science fiction (such as the Oasis in Ernest Cline's Ready Player One) are years away from becoming reality, as the technology just isn't there yet. There's certainly enough excitement about the metaverse's potential to spark sector-wide interest, but a failure to meet this potential could mean a wasted investment for payments companies.
If metaverse projects are crypto-native and require the use of crypto wallets, will consumers be inclined to make payments in the metaverse? Worldline said its customers in the metaverse wouldn't need to use cryptocurrency, enabling a more 'seamless' experience – but if crypto is required to fully access the benefits of the virtual world, this could be a barrier to entry for some.
Furthermore, even if there are already many metaverse platforms, one platform could end up monopolising the metaverse (similar to how Apple now has huge power over app developers in the mobile space). If that happens, will the leading metaverse insist on the use of its own coin across all goods and services? If so, that could be bad news for payment companies who invest time and money into a losing platform.
Crucially, there's still no clear definition for what the metaverse is, how it will work and whether it will meet its potential. That being said, with major businesses and ecommerce giants continuing to test the waters, it's a good idea to stay abreast of the metaverse as it evolves.
Learn more about FXC Intelligence's cryptocurrency pricing and market tracking data