History of the e-wallet market: Evolution and growth
In the first of a series of reports on e-wallets, we examine the history of the market, how it has evolved over time and what key players have emerged.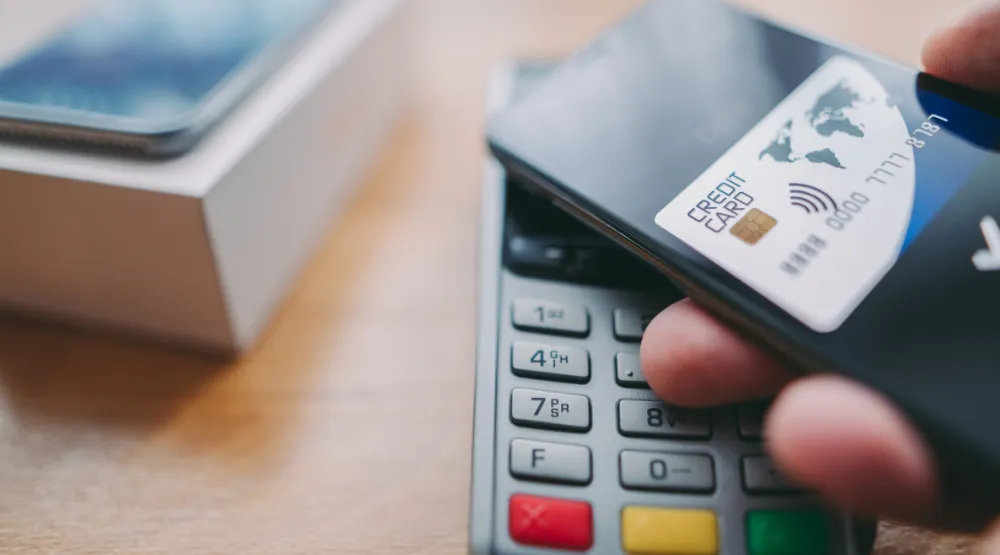 The history of the e-wallet market is one of growth and change. The past two decades have seen e-wallets begin to take a share of payments traditionally made directly via debit cards, credit cards and cash or, in some markets, present an alternative financial solution that is more accessible than traditional banking.
In 2019, according to Boku's Mobile Wallets Report 2021, e-wallets surpassed credit cards as the number one global payment type. Since mobile phones are a key channel for accessing e-wallets, increasing mobile broadband penetration, in line with worldwide digitalisation, can be credited for some of the increase in e-wallet uptake. This is especially relevant for developing countries where bank account ownership is lagging behind the world average.
Previously, with reduced bank account ownership and lower mobile phone penetration, participation in the financial sector was stifled in developing countries; increased mobile penetration and the subsequent greater access to e-wallets is improving this participation. For those in developed economies, the draw of e-wallets is more to do with convenience in making all forms of payments and e-wallets are going further than traditional payment methods in this regard.
According to Worldpay's Global Payments Report, e-wallets accounted for 48.6% of worldwide e-commerce transaction value in 2021; this is projected to increase to 52.5% by 2025. By comparison, bank transfers, credit cards and debits cards accounted for 7.4%, 13.2% and 21% respectively. The shares for these traditional payment methods are expected to fall by 2025 as that of the e-wallet rises.
These adoption projections signal e-wallets' key role in the payments industry. This has not always been the case though and the e-wallet market has seen some important developments over the past 25 years, with the entry of several key providers. Offerings have targeted both specific markets and aimed worldwide but providers across the board have matured with time, developing their offerings and building sizeable user bases.
Contents:
History of e-wallets: Market evolution
By charting some of the key e-wallet providers that have entered the market over the past 25 years, in the order they have entered the e-wallet space, we can see the history of the industry and the trends that have arisen in market offerings over time.
The key e-wallet providers are broadly split into two types – staged e-wallets and pass-through e-wallets. While staged e-wallets hold value directly and can have funds added to them, pass-through e-wallets are a conduit for existing cards as payment methods. In fact, the latter seem to be acquiring more card usage over time.
We highlight just two pass-through e-wallets: Apple Wallet and Google Wallet. This is representative of the wider e-wallet market, where fewer pass-through e-wallets are available.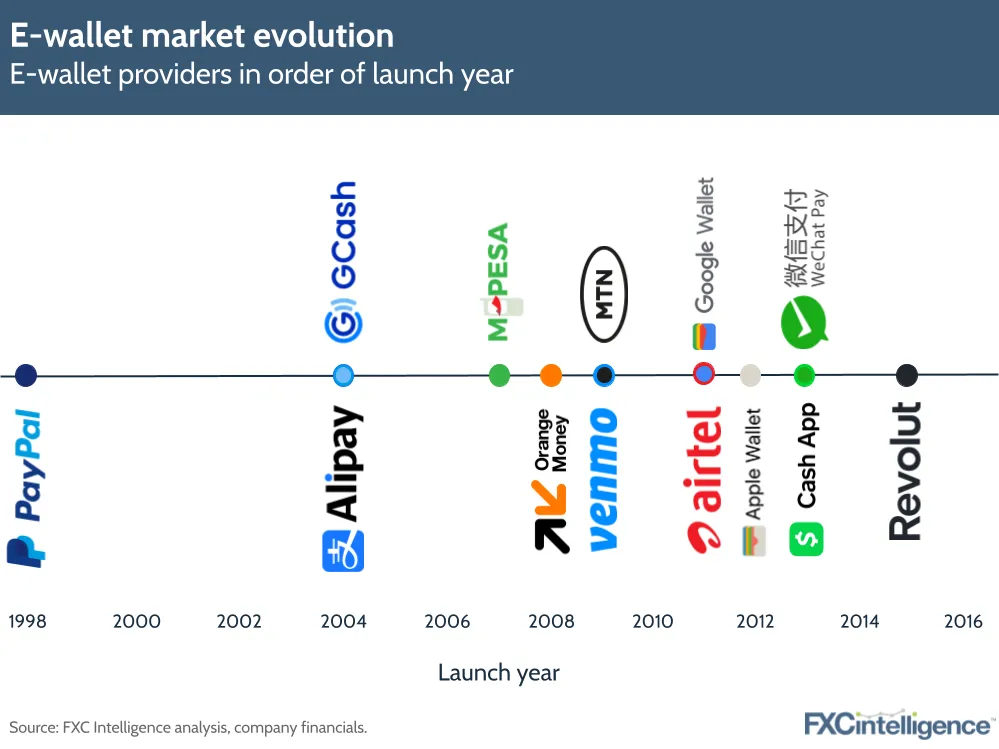 Pre-2000s: The rise of PayPal
The earliest entrant into the e-wallet market was PayPal. Initially called 'Confinity', the company was founded as a software company in 1998 and launched its first electronic payments system a year after. After merging with online banking company x.com, it was renamed PayPal in 2001. It then went public in 2002 after being acquired by e-commerce giant eBay and became eBay's official payment provider.
PayPal has since built a strong legacy in the online payments space and is being used by more than 400 million users in over 200 countries in the world. Within their PayPal e-wallet, personal users can hold multiple currencies, send and receive money domestically and internationally, checkout online and pay with QR codes in-store. Business users can also make payments locally and to other countries from their e-wallets. The PayPal e-wallet is available both via the mobile app and online accounts that can be accessed via a PC.
2000s: Superapps emerge
Following PayPal's entry into the online payments space, the next category of entrants in the early history of the e-wallet market was the superapps. AliPay was launched in 2004 as the payment department of Taobao, the B2C platform of Alibaba Group that is primarily used in China.
The AliPay e-wallet, launched in 2008, has a variety of uses, including making in-store payments and domestic transfers, topping up mobile phones and paying for transportation. Since its launch, AliPay has been made available for use by merchants across the world for selling to Chinese AliPay users via QR payment codes. The e-wallet supports transactions in 14 settlement currencies has also expanded into Hong Kong, with a separate app created for that market.
GCash was also launched in 2004, initially under Globe Telecom before becoming jointly owned by an affiliate company of the Alibaba Group in 2017. Unlike AliPay, GCash was originally created to leverage Globe Telecom's status as the largest mobile network operator (MNO) in the Philippines. It did so by providing SMS-based transfers, paired with cash-in and cash-out agents, to target the Philippines' unbanked population.
In 2012, GCash launched an app-based e-wallet. It is currently available for use overseas with a Philippines SIM (or an international SIM in Japan, Australia and Italy). Users are also able to shop online and in-store, top up mobile phones, pay bills and receive international remittances with their GCash e-wallets.
The late 2000s saw the entry of African mobile money e-wallets into the scene, imitating what Globe had done with GCash in its earlier years while also allowing millions of citizens to partake in the financial system. M-Pesa was the pioneer, launched in 2007 by Kenya's largest MNO Safaricom, allowing users with standard mobile phones to send and receive money by text. Its operating markets have since expanded beyond Kenya, reaching the Democratic Republic of the Congo, Egypt, Ghana, Lesotho, Mozambique and Tanzania.
In the two years after the launch of M-Pesa, Orange Money and then MTN Mobile Money were created. Orange Money was first made available in Côte d'Ivoire in 2008 by telecom provider Orange SA before expanding to 16 other African countries. It facilitates money transfer locally and internationally and provides other payment services such as bill payment and airtime top-up. MTN Mobile Money, launched in 2009 by telecom provider MTN, is also available in 17 African countries and offers similar services to Orange Money.
In 2009, the same year as the launch of MTN Mobile Money, Venmo joined the e-wallet space in America. Unlike other e-wallets, Venmo was made primarily for domestic peer-to-peer transfers as a means of splitting expenses with family and friends. Venmo's owner Braintree was acquired by PayPal in 2013. Then, in 2016, Venmo expanded its offerings to include consumer-to-business payments.
2010s: Mainstream developments
As the 2010s dawned, the history of e-wallets became more nuanced as different types of players built products for specific niches.
Telecom provider Airtel – following the example of Safaricom, Orange and MTN – launched Airtel Money in 2011, first in Kenya and then in 13 other African countries.
The early 2010s also marked multinational technology companies joining the e-wallet space as pass-through e-wallets. Google Wallet was launched in 2011 by Google and Apple Wallet was established in 2012. Both e-wallets facilitate domestic US payments, with Google's e-wallet also enabling international transfers in specific markets.
In 2013, Cash App was introduced by Block, Inc. (formerly Square, Inc) in 2013 as Square Cash. It has a similar offering to Venmo but is available to both the US and UK markets. As with Venmo, Cash App later added business capabilities – in 2015.
WeChat, the Chinese instant messaging app, made a play for the e-wallet market in China in 2013 by launching WeChat Pay. WeChat Pay enables users to send money to their WeChat contacts. Like AliPay, this e-wallet also allows Chinese users to pay for goods overseas in CNY and supports cross-country settlements. WeChat Pay also has facilities for payment in-store and on websites via QR codes as well as in-app payments.
A later addition to the e-wallet superapp category is Revolut, which became available in 2015 and currently caters to Europe and some of the Americas and Asia Pacific. It combines elements of Venmo and Cash App such as domestic sending and bill splitting, with the capability to hold and send money internationally in a number of currencies. It also offers features such as a physical card and a crypto exchange that set it apart from other e-wallets. It started out with personal user offerings only before extending to business users in 2017. Revolut is quite different to the other providers, as it is classified as a bank in some Western European markets and is pursuing further banking licences in regions such as the UK.
Many other providers not highlighted in this timeline have entered the market in different parts of the world, providing features very similar to those covered and developing user interests in ways specific to the markets they are catering to. We expect to see that continue over the next few years.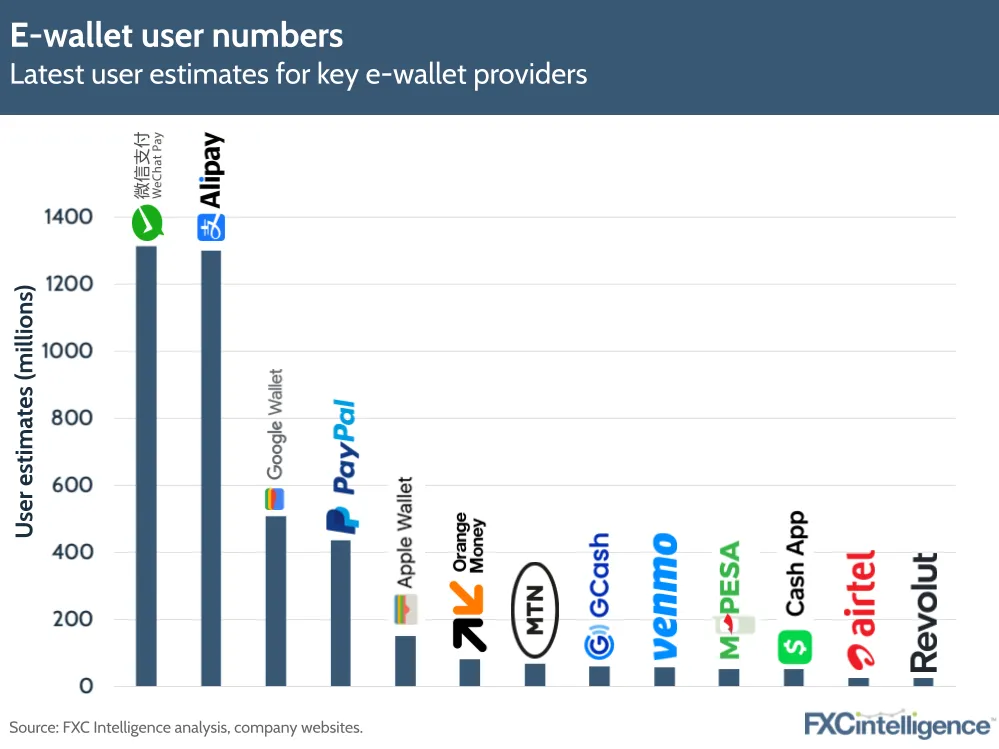 Level and growth of e-wallet user adoption
A comparison of the latest user estimates shows the Chinese superapps topping the list of key providers highlighted. Both Alipay and WeChat Pay have very similar user estimates, just over the billion mark, followed by Google Wallet, PayPal and Apple Wallet. Airtel Money and Revolut have the least amount of users, consistent with their relative late entry to the e-wallet market compared to the other providers.
In analysing the growth of user adoption, we split these providers into two groups – a high user adoption group consisting of those with at least 100 hundred million users and a medium user adoption group consisting of those with less than 100 hundred million users. In the high user adoption group, Apple Wallet, Alipay and PayPal have seen the highest growth in uptake between their fifth year and the present day, with average CAGRs of 24%, 17% and 14% respectively.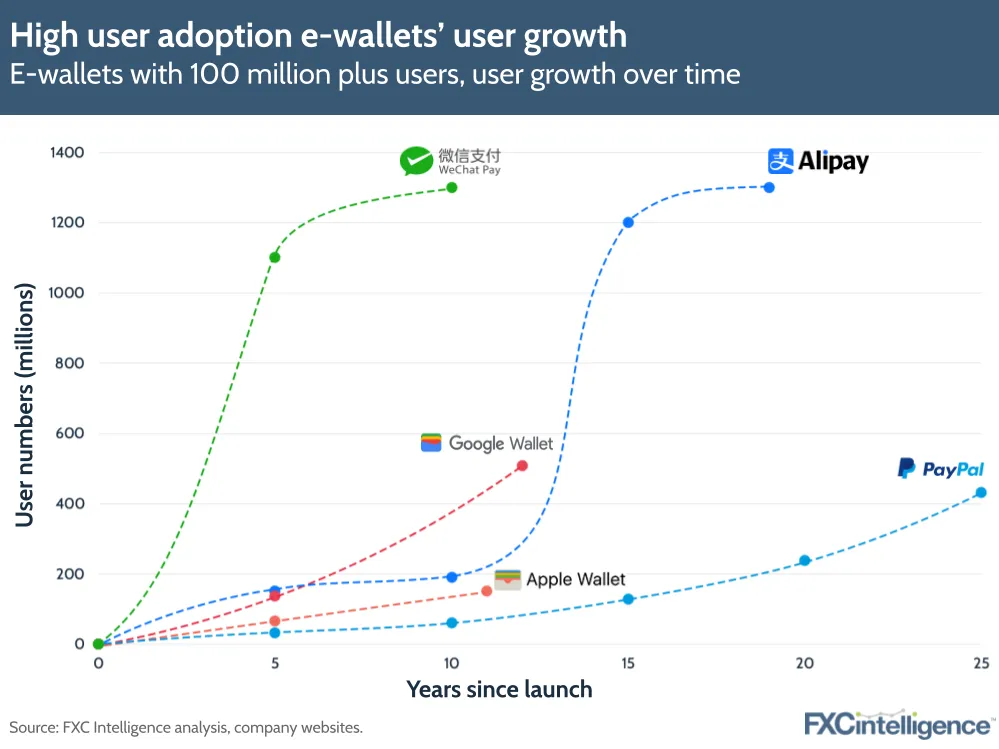 In the medium user adoption group, GCash and Venmo have been the fastest growing, while MTN Mobile Money and M-Pesa are tied for relatively slower growth. Of note is the fact that GCash is the fastest growing of all providers, across both groups, with a CAGR of 41% since its fifth year.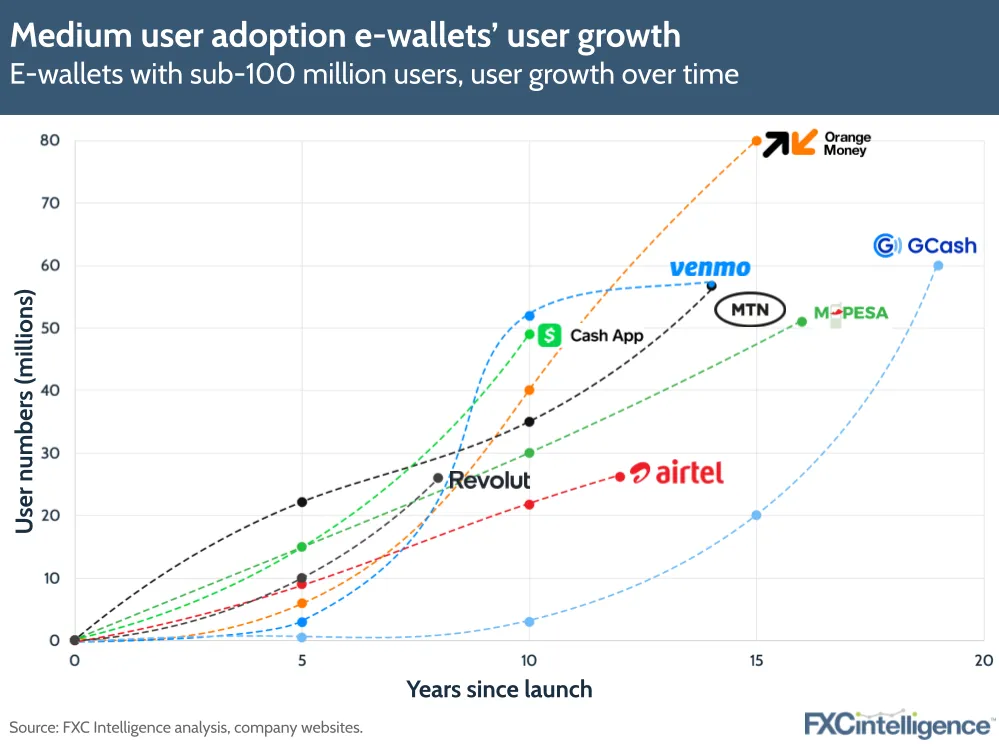 Our view of the e-wallet market over the past two decades has covered some of the key providers. All these providers, except WeChat Pay, also seem to be experiencing steady growth, with CAGRs above 10% since their fifth year. However, WeChat Pay's slower growth past its fifth year should not be considered out of the ordinary, as it had acquired a significant number of users until that point.
The steady growth of most providers is consistent with the payments-industry-wide outlook that the e-wallet market will continue to be a top payment method, with one Juniper Research report quoting a 12.47% CAGR in the number of unique e-wallet users for the whole market between 2020 and 2025, well within the key provider CAGR ranges shown below.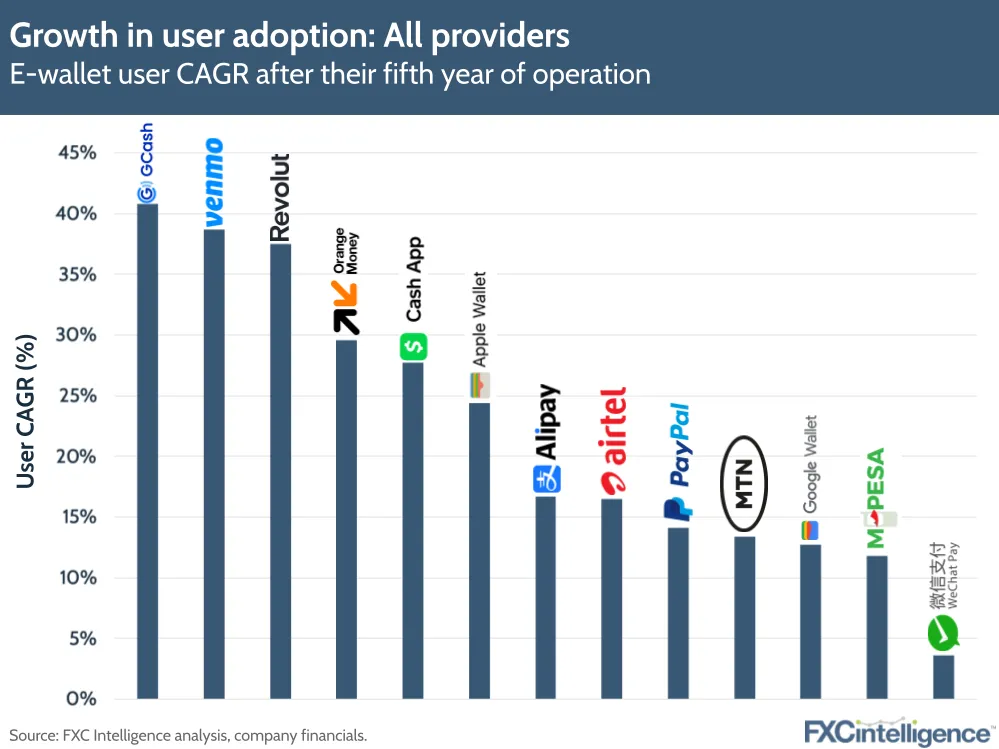 Conclusion
In 2019, e-wallets reportedly became the number one payment method in the world, after a two-decade history that has seen them build from a fringe financial product. The Covid-19 pandemic and the associated push towards digitalisation extended the reach of e-wallets, with users estimated at 2.6 billion in 2020 and projections of growth to over 4.4 billion by 2025. In addition to being a natural outcome of digitalisation, e-wallets have also become increasingly popular because they enable financial participation and facilitate convenience.
The market has been developing for about 25 years now, with key providers playing a role in shaping that growth, whether it be early entrants such as PayPal or the later superapps, mobile money and pass-through providers. The evolution in the market shows the overlap in capabilities and the strengths that specific e-wallet categories have in certain regions.
On a broader level, the e-wallet market seems to be growing steadily. We expect this to be the case with key providers as well and looking at user uptake as an indicator of that growth, we see that this corroborates the industry view. Growth may become relatively slow for providers in mature markets, such as China's Alipay and WeChat Pay, but more market entrants and continued growth for other providers is not out of the question. These two factors would help e-wallets maintain their pivotal role in the future of the payments industry.
Given this expectation and our resulting aim of looking deeper into the e-wallet market, our subsequent e-wallet reports will be specific to distinct regions, reviewing their payments' environments and the capabilities of a sample of providers operating within them.