X's payment plan: Key takeaways from the Money20/20 talk
Our presence at Money20/20 also included my talk on the payments plan of X, formerly known as Twitter, and why it is facing major headwinds in the form of user trust.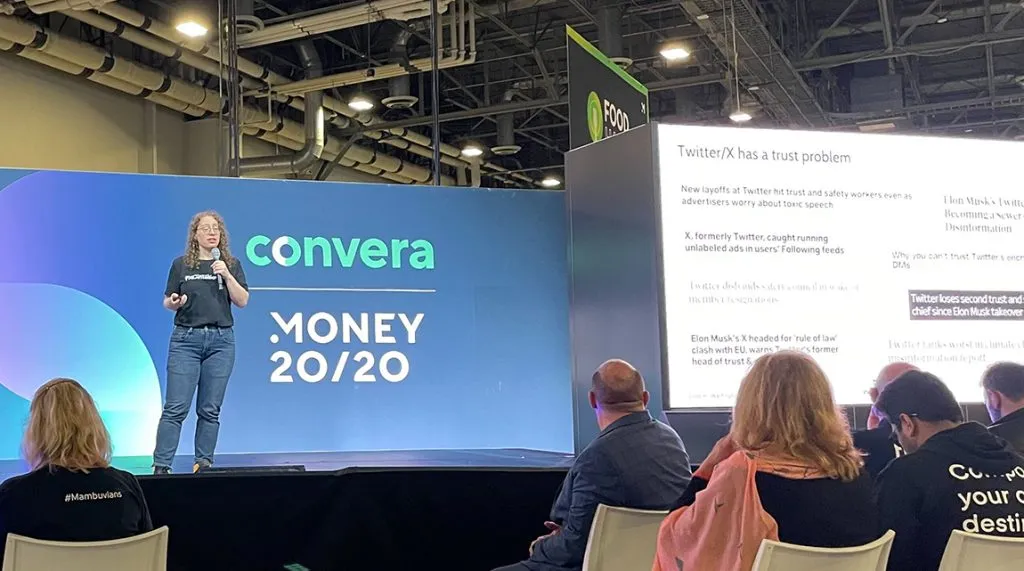 Trust may be the greatest risk to X's payment plans
Trust was one of the key themes for Money20/20 this year, so this was a great opportunity to apply the insights from our previous reports on X with wider lessons for the industry. Here are some of the main points covered in the talk:
Prior to Twitter's acquisition, it essentially served as an informal market for P2P and P2B payments, particularly around creator payments and charitable donations. We found evidence of significant flows via the platform, but crucially Twitter has never played a direct role in the delivery of these so has not been able to take a cut.
Elon Musk also saw the potential of payments for Twitter, and prior to the acquisition aimed for 11% revenue from payments by 2028. Now the company has begun to move towards a serious payments plan with the acquisition of Money Transmitter Licences in the US and in the longer term may look internationally, although has not yet secured licences to deliver this. It is likely to focus on P2P payments and ecommerce when it launches these services.
However, trust is increasingly becoming a problem at X. Cuts to staff and operations have raised user concerns around security and the increasing reliance on users to police content, as well as the removal of third-party monitoring tools, has increased the proliferation of misinformation on X. There is also increased harassment and hate speech, all of which has driven a 3.7% decline in user numbers since Musk took ownership.
These issues are making many users more reticent to give personal details such as payment information to the company, a significant barrier for the adoption of any payments service. This is reflected by Twitter Subscriptions, for which we could only find evidence of around 35,000 users worldwide two months after launch.
Elon Musk's own activity on the platform has also included divisive posts and other controversial behaviour, and the company has also increasingly platformed controversial figures, some of which it previously banned. This is also eroding trust for many users.
However, there is still potential for payments on X, as reflected by the growing adoption of payment services by other social media companies looking to diversity their revenue. X is also making strong regulatory moves, and is clearly serious about making its initiatives in this space work. But unless it is able to tackle the trust issues it now faces, it will struggle.