Will digital currencies bring you more customers?
Does bitcoin acceptance = customer acceptance?
Many payment companies are keeping an eye on digital currencies, but few are willing to jump in. Revolut recently announced they would cross that barrier and allow users of their multi-currency accounts to hold bitcoin alongside traditional, fiat currencies (read: USD, GBP, EUR, etc.). Their bet is that this will bring them customers, either directly, or indirectly from the PR and image such a move generates.
Whether this makes them an innovator or late to the party depends on who you compare them against, and on what timeframe. Here's a chart showing when key payment companies exited or entered the bitcoin market:

While Transferwise and Circle have already embraced and then distanced themselves from bitcoin, payment processors such as Square and Stripe have helped enable wider consumer adoption.
Revolut, for their part, appears to be taking a cautious approach. While users will be able to convert money into bitcoin inside their Revolut account (and then hold it), users won't be able to pay for goods in BTC or transfer it outside of Revolut's service. Here's a quick comparison of how it compares to a standard digital currency service: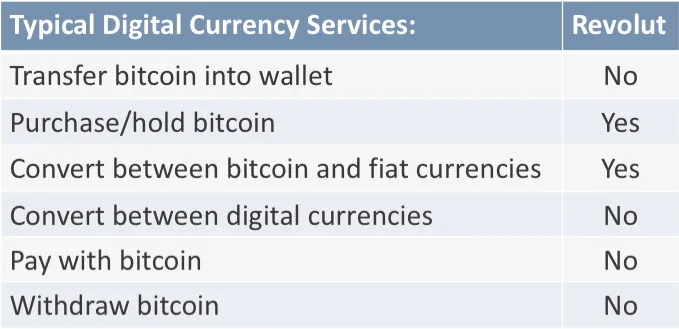 Looking to learn more about digital currencies and how payment companies are using them? Should you start working with cryptocurrencies? Get in touch with us.
Responses to the FCA position on FX advertising
In a recent memo, the FCA took aim at currency companies that use the interbank rate for spot transaction advertisements or website widgets, saying the practice is often misleading for consumers who may believe this is the rate they will receive. This can be even more challenging for companies who offer exchange rates information as a fundamental part of their product.
This is not the first time such practices have been called out. Some companies have also been accused of overstating the savings customers may receive from them versus a high street bank.
The difficulty remains that the average consumer is still most familiar with two prices – what they can get for their travel money in the airport or the price they see when they type in an exchange rate on Google. We'll continue to track how payment companies navigate this path – whether pricing is completely dropped from the acquisition process, or whether it becomes more transparent. For now, many appear to be in testing mode.
We're not giving out investment tips, but…
An interesting correlation our team recently noticed: