What JPMorgan's new coin means for cross-border, Ripple & Swift
Much of the J.P. Morgan (JPM) story around blockchain and cryptocurrency revolved around CEO Jamie Dimon's controversial comments. While his position on Bitcoin has been consistently negative (see "I don't give a sh*t about Bitcoin"), he has spoken positively about the underlying blockchain technology.
Perhaps it shouldn't be too surprisingly then that last week JPM announced the launch of JPM Coin – a new stable-coin (pegged 1:1 to the USD) designed to speed up internal settlement of institutional client funds.
There's been quite a bit of speculation as to where JPM Coin might fit into the world of international payments. Here's how the current product compares to SWIFT and Ripple's offerings.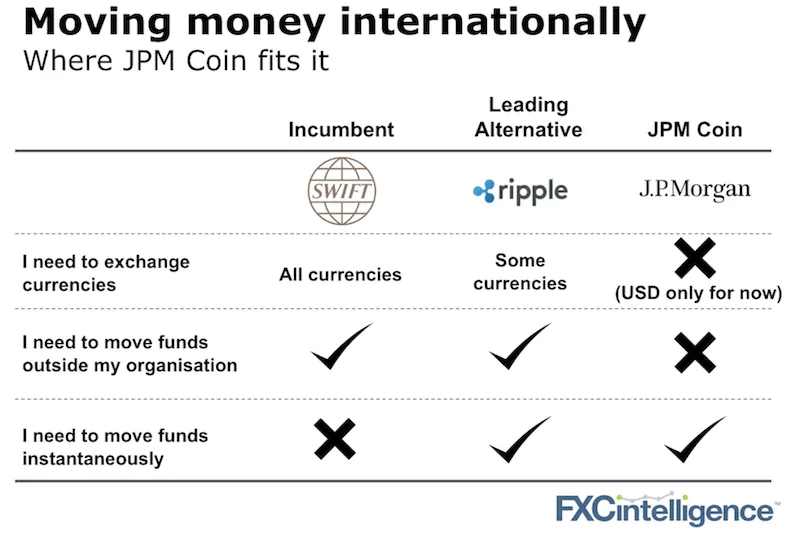 JPM's above use case appears limited, in line with their stated focus on institutional clients. But as a $350bn behemoth bank with a multi-trillion dollar balance sheet, JPM has the wherewithal to move the needle in other areas if it wants. Key questions remain though:
If JPM attempts to compete with SWIFT or Ripple, would other banks agree to use a set of payment rails controlled by a competitor versus an independent institution (Ripple), or a banking cooperative (SWIFT)?
Does JPM care enough about blockchain and cross-border to really focus on this problem or this just a PR opportunity?
Since JPM has already invested heavily in blockchain and has its Interbank Information Network blockchain program, which it says has 170 banks signed up (Ripple has c.200 customers worldwide), we have to assume this is not a flash in the pan. 
Banks bypassing traditional payment rails
JPM's attempt to replace or speed up payment rails is not new. HSBC has already claimed to have sent $250bn of FX flows internally using blockchain technology. Santander offers its One Pay FX product (using Ripple) and New York-based Signature Bank has also launched its own blockchain Signet platform to move client funds at any time of day within 30 seconds.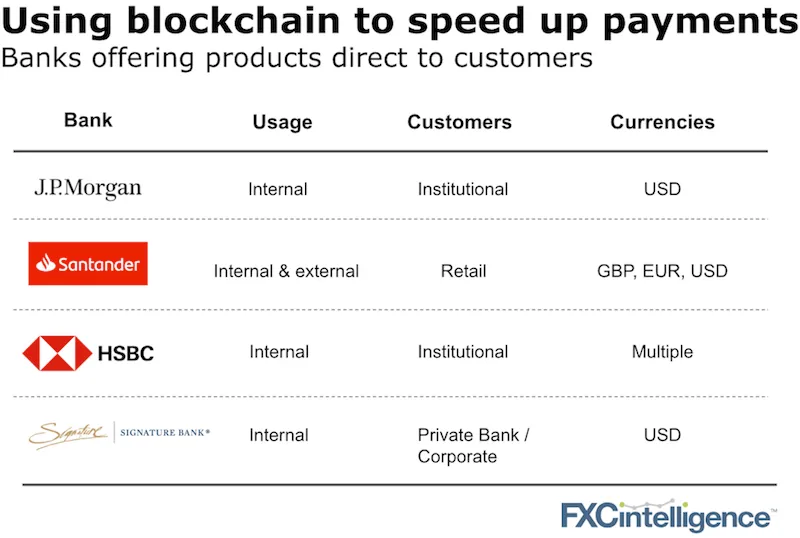 Three of the four banks above are using their own solutions, which leaves some open questions…
Swift (and ACH in the US) can be slow. Blockchain is faster. Will speedier bank payments undermine a key payment company selling point?
Are JPM, HSBC or Signature using their own clients to test a product that will eventually be sold/rolled-out to the broader market or is this just taking advantage of some PR in a quiet crypto market?