Santander's cross-border payments arm PagoNxt on track to pass €1bn revenue in 2023
Santander has reported its H1 2023 results, including the latest update on the company's cross-border payments-focused fintech PagoNxt, covering payments, merchant-focused Getnet and B2B-led Ebury. While PagoNxt remains unprofitable, it has seen 27% YoY revenue growth for the half to €521m, which puts it on track to pass €1bn yearly revenue for the first time in 2023.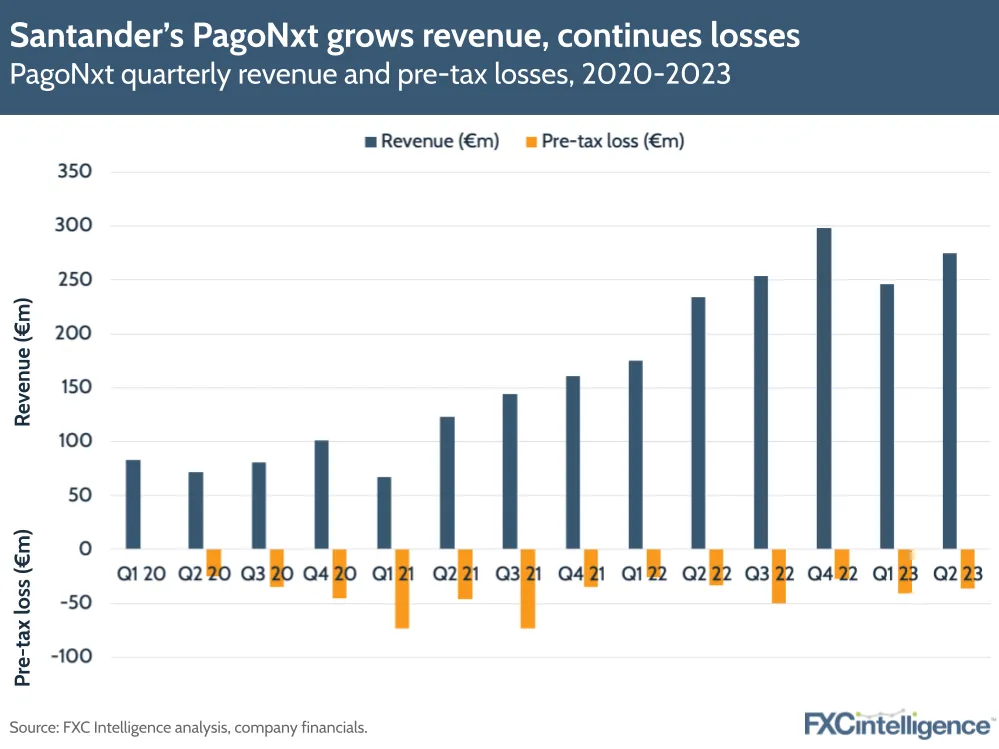 PagoNxt takes key step towards €2bn revenue goal in H1 2023
Back in H1 21, Santander said that it was targeting revenue of €2bn for PagoNxt within two to three years – a goal that we estimated would have required a minimum of 60% growth each year to achieve.
While it has not yet achieved this target two years on, the past 12 months (H2 22-H1 23) have seen revenue of €1.1bn. If it matches its H1 growth rate in H2 2023, it will finish the year with 2023 revenue of around €1.2bn, and if it continues to grow at 27% YoY it will not be until 2026 that it reaches €2bn yearly revenue.
However, its current pace of growth remains good and its focus across merchants, international trade and business payments is currently seeing it prioritise scaling up its technology platform, as well as accelerating commercial growth through a focus on SMEs. It is also prioritising market growth in Europe, South America and North America.
In the long run, PagoNxt aims to centralise all of Santander's wholesale payments except for cards, which the company says it has made "significant progress" towards. It is now one of the largest account-to-account payment processors in the Eurozone following the migration of a "significant volume" of the company's Spain-based payments.
While the business currently remains loss-making, the attributable losses to parent company Santander were around the same as in H1 2022 while revenues grew, suggesting that while profitability may be some way off, the company is at least moving in the right direction.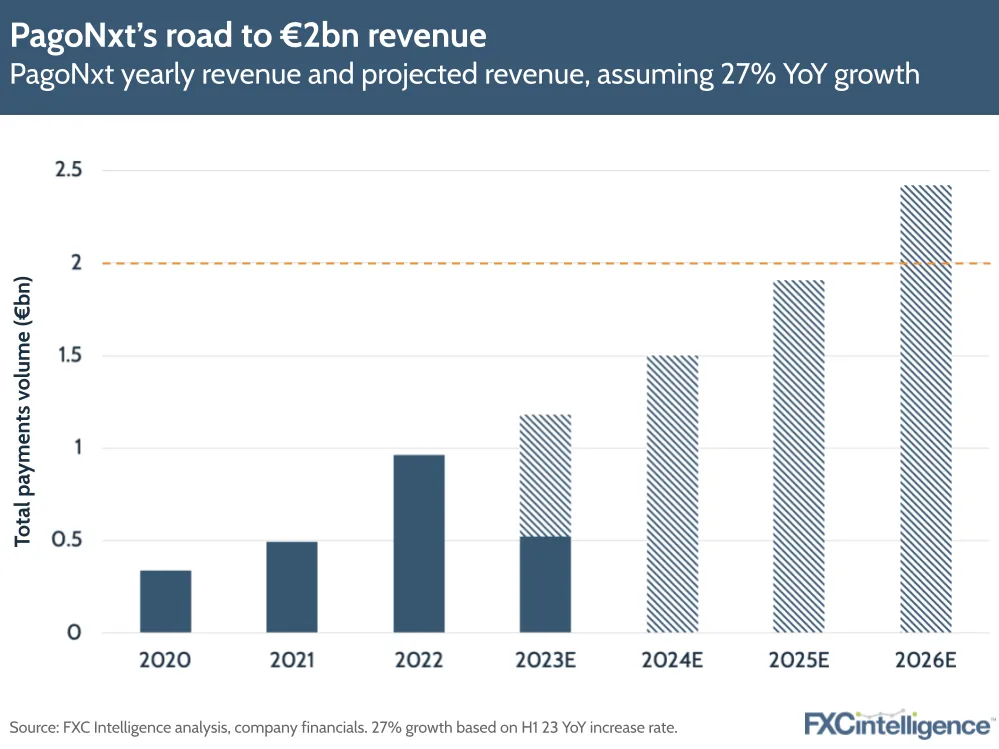 Getnet drives growth for PagoNxt with 25% climb in TPV
PagoNxt's Getnet brand, which is the company's Merchant division, was a key driver of growth for the company, with a 25% increase in total payments volume (TPV) in constant terms compared to H1 2022.
The brand, which mainly operates in Europe and Latin America, saw particularly strong TPV growth in Getnet Europe and Getnet Mexico, at 32% and 31% YoY respectively. Getnet Brazil, which is one of the company's biggest markets, saw TPV increase by 15%.
Notably, the company opted not to provide an update to its total active merchants, a metric it has consistently provided over the past few years, but did state the number of transactions, which grew 32% YoY to reach 4.4 million in H1 2023.
This half-year has also seen Getnet enter new markets, including through the launch of Getnet Portugal and key services in Argentina. As well as expanding its product range with the addition of working capital, new supporting solutions including dynamic currency conversion and vertical-specific services including restaurant and airline-specific solutions.
Getnet has also been expanding commercially by focusing on distribution channels beyond Santander, as well as signing a number of key large corporate clients.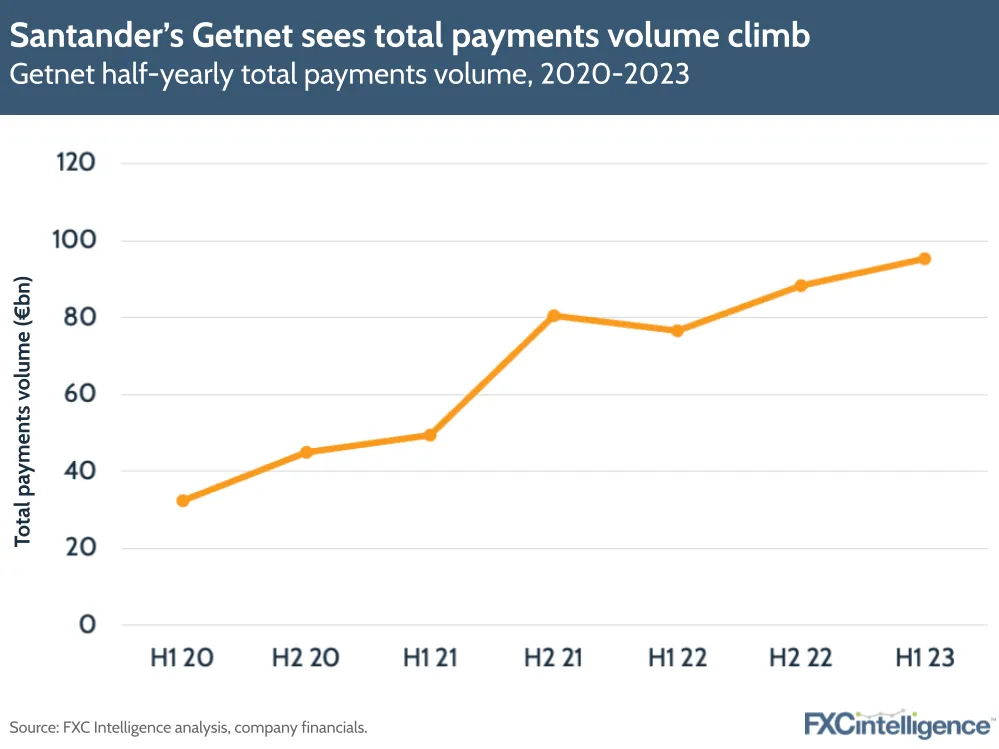 Ebury, One Trade target B2B growth
PagoNxt provided little in the way of tangible updates about its B2B-focused Ebury brand, beyond saying that it continues to focus on global SME transaction banking and that it saw "strong performance". The company plans to develop Ebury's value proposition with the addition of a mobile app and new FX capabilities, as well as widening its market reach.
Meanwhile the company provided similar insight into One Trade, the PagoNxt subsidiary dedicated to providing payments, FX and trade finance services to Santander customers. OneTrade is reported to have seen "increased activity" in H1, as it works towards replacing current systems with a single interconnected cross-border payments solution for Santander customers. Here the company says all modules are now online, including multi-account access tool OneTradeView, International Payments – which now reaches c. 8,000 customers – SME FX flows tool FX and Trade Finance.
One Trade is also broadening its reach beyond Santander customers, with the launch of an open-market-focused tool to provide e-money pay-in and pay-out solutions.