​​Point of sale (PoS) launches point to shifting commerce trends
May was a strong month for the launch of point of sale products, with a number of major announcements in key markets globally. However, the nature of the launches also provides insight into the changing commerce landscape.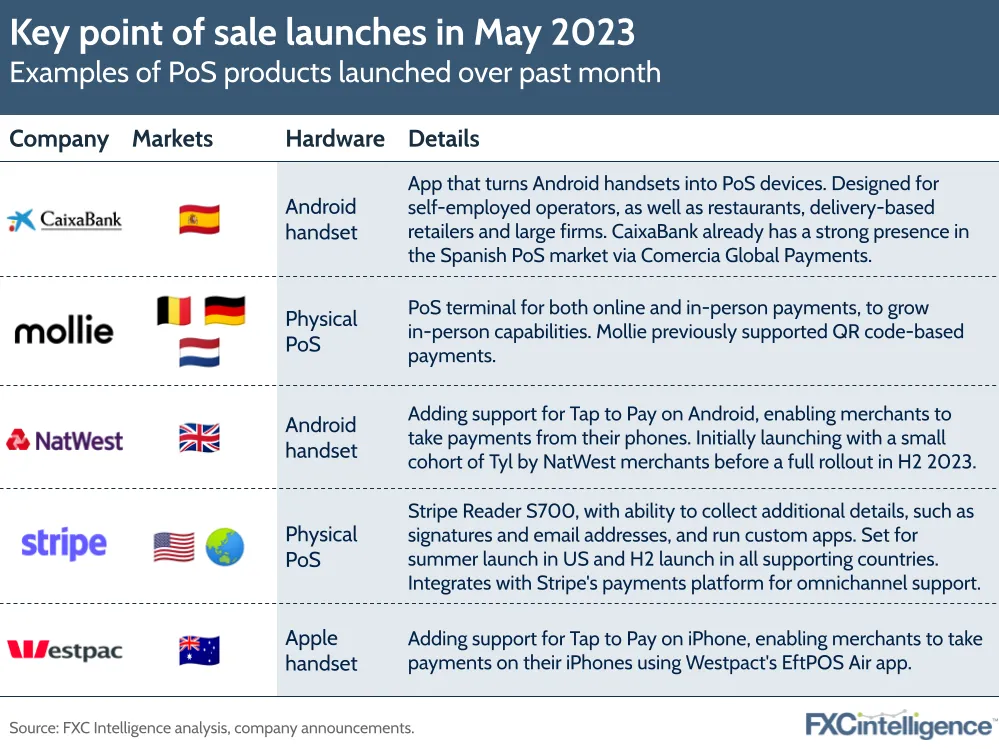 Significantly, many of the launches were SoftPoS products – that is, point of sale solutions that can be installed on an existing mobile handset using an app, instead of needing a dedicated physical terminal. This follows the launch of Tap to Pay for Apple in 2022, which added support for PoS apps on iOS, first in the US and now in other markets globally. Google has also added similar capabilities on Android, and we have since seen a steady drip of apps developed for iOS or Android for different markets around the world.
Such apps lower the barrier of entry for merchants significantly, and make it possible for small businesses and the self-employed to easily take card and wallet-based payments without purchasing additional hardware. This not only reflects the rise in ad-hoc and small businesses produced by the pandemic, but also highlights how shifts to cashless payments are increasing digital payments expectations from customers across all merchant types – no matter how small.
Many companies also cited the increased demand for such payment types for pop-up hospitality applications, as well and delivery and on-the-go businesses. This speaks to shifts in how commerce is being engaged with, particularly as deliveries have become more commonplace and many businesses have moved away from traditional bricks-and-mortar operations in many parts of the world.
Meanwhile, where companies have announced physical hardware products, these are generally targeted at businesses with an online presence, and come with solutions that connect both online and offline shopping profiles to maintain customer loyalty.
How can ecommerce players add revenue through multicurrency pricing?