Interest in Alibaba fades as crowds clamour for Ripple, Transferwise
Who's hot, who's not?
Greetings from Singapore and the Money 20/20 Asia conference. Few markets have changed more over the past year than Asia, specifically countries such as Singapore and South Korea. Competition in the region has grown, driven by both local players and Western entrants. The conference was a microcosm of this.
Below, I've shared a few of our key takeaways:
1) Regulation is now an enabler
Loosening regulation and pressure from regulators to open up to FinTechs has meant some fast changes to the market. Singapore has gained the most, alongside South Korea. Expect to see more FinTechs emerge from these markets.
2) Commoditisation in the market is forcing change
Current market sentiment is that FX margins are trending to zero and instant transactions will become the norm. The question then becomes – if price and speed are out, how do you differentiate?
The answers from the panelists:
Transferwise: User experience
Airwallex: An end-to-end solution
Instarem: Adding new lending products
WorldRemit: Reduce costs for the recipient
3) A year is a long time in payments
As a signal to how much the overall sector has changed, look no further than what the attendees thought was hot or not. Last year, Ant Financial (Alibaba) and their formidable war-chest (for acquisitions) were headline news. But it seems the shutting down of a fast track route into the money transfer sector (via the attempted Moneygram acquisition) has changed the industry's view.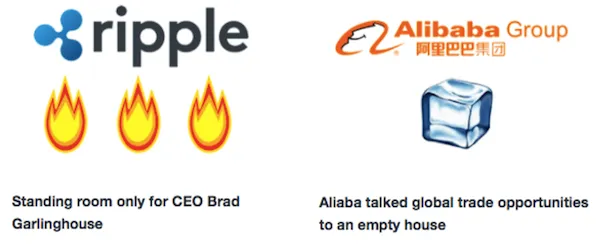 The word on the street
Cross-border disruption was a key theme at the conference.
Lukas May, Head of Banking at Transferwise, said of working with banks: "Our regulatory and rails network is bigger than some banks and we believe the relationship will switch to banks relying on us."