Inside the turnarounds at Western Union and MoneyGram
Western Union headlined this past week with news that it would cut 10% of its c.12,000 headcount, and consolidate its global offices to save $100m annually. MoneyGram also reported Q2 results this week. It's in turnaround mode and recorded positive transaction growth this quarter driven by its online business. Plenty of insights on each company's pricing strategy as well.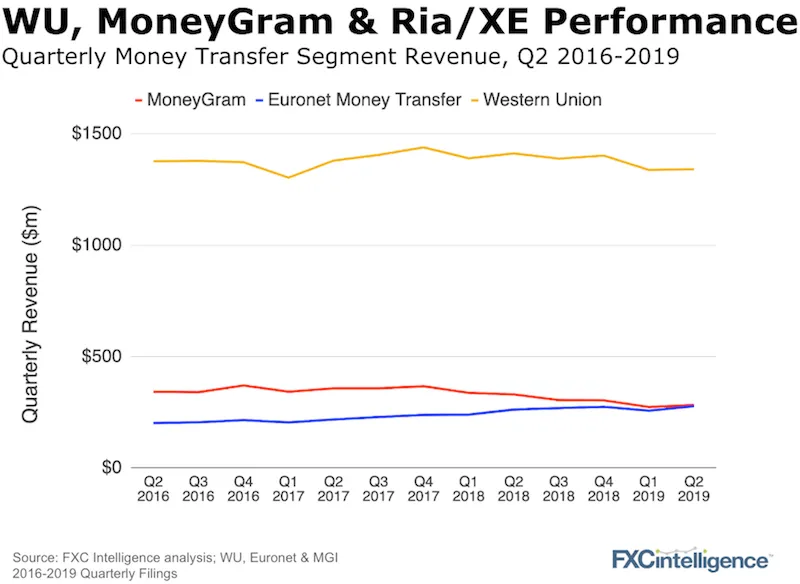 Growth is sluggish across the three big players in the cash payout space. Having covered Ria last week, let's start with some key takeaways from Western Union's latest market update:
Up against all the pressure from fintechs, Western Union continues to report stable pricing and remains one of the most sophisticated pricers in the sector. As CEO Hikmet Ersek put it: "We use dynamic pricing actions like an airliner." 
Although the company currently covers 20,000 corridors, they are looking to expand this reach, possibly using AI.
Westernunion.com's cross-border segment is growing at 25%. Solid growth numbers unless you compare them to TransferWise. Expect more in the account-to-account payout side, as Western Union admits, most of their digital is initiated digitally but paid out at in cash at retail.
Moving to MoneyGram, some interesting new numbers:
70% digital transactions initiated via mobile. Digital transactions have increased 109% year-over-year and revenue has increased nearly 50%.
US outbound remains the toughest part to turnaround with that segment still shrinking although there was growth compared to Q1. The focus will be on new pricing, revitalising its sales force and improving its agents point of sale positioning.
The impact of the DPA is being most felt in the US to US, US to Jamaica, US to Nigeria, US to Ghana, and US to China and US to Latin America corridors.  
Western Union and MoneyGram continue to be bellwethers for the industry, especially the retail segment and the switch to digital. Each has their own challenges they are working through and their journeys are still early. 
Who are the most efficient companies?
With Western Union planning to cut 10% of its workforce, we thought we would look at where it's revenue per head stands versus the competition: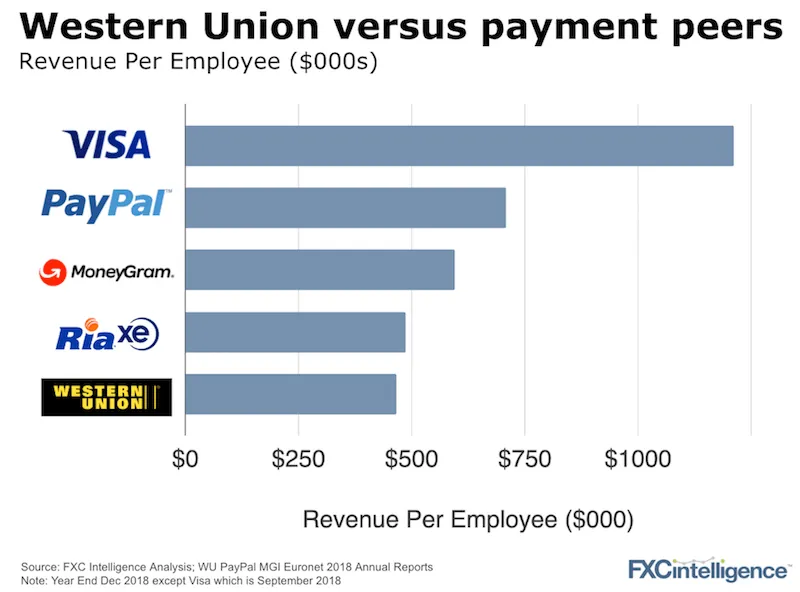 The results are pretty stark. Western Union sits bottom of the pile, close to competitor Ria but behind MoneyGram, which is already into its turnaround.
By comparison, PayPal, with a much larger business, generates around 50% more per employee. One of the outright leaders in financial services though is Visa, way above everyone else, and generating around $1.25m of revenue per employee.
We didn't include many of the fintechs on this chart but if you're interested, they all fare worse than Western Union and its peers since they have built up big teams and are still scaling for growth.