FLEETCOR brings AFEX into the fold
At the start of this month, FLEETCOR announced that it had completed the acquisition of AFEX, bringing it together with Cambridge Global Payments in its corporate payments portfolio. I caught up with Mark Frey, President of Cambridge, and John Coughlin, President of Corporate Payments at FLEETCOR, to find out more about the acquisition and the company's plans for its AFEX-enriched division.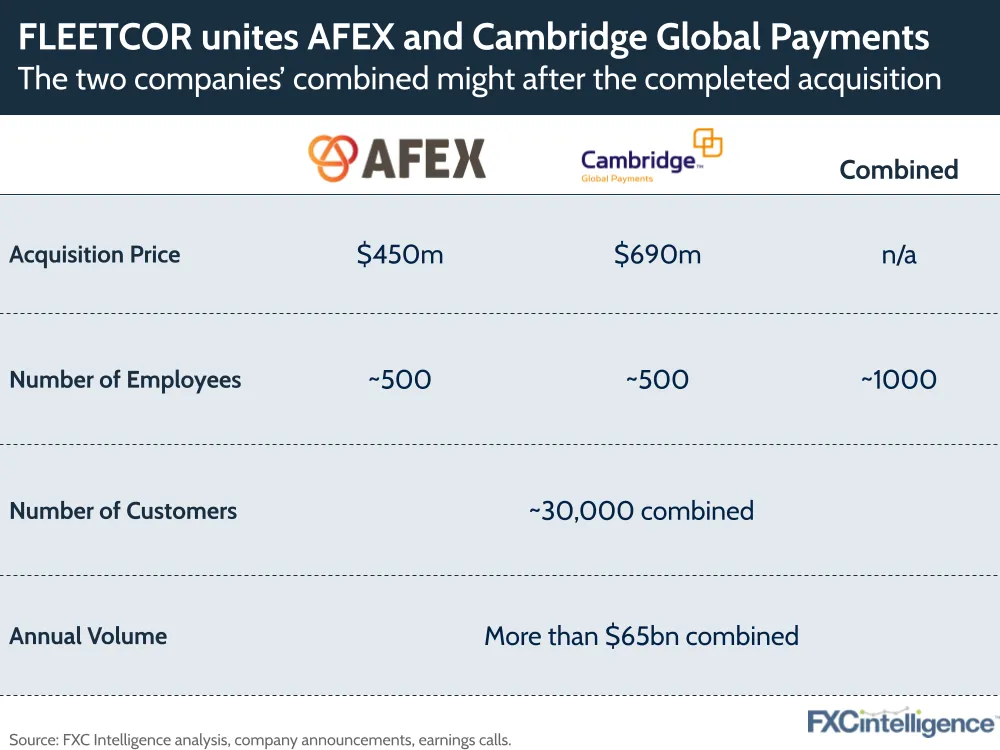 John describes combining the two companies as "putting Coke and Pepsi together", in recognition of the joint focuses on cross-border B2B payment solutions and currency risk management, as well as similar management philosophies. However, AFEX has also brought geographical benefits, particularly in Europe and APAC, where the company brings an increased presence and additional licences in geographies that include Switzerland and Singapore.
These are regions that the company had been planning to expand in anyway, but the acquisition has sped this up, putting FLEETCOR in a position to, according to Mark, "take a leadership position in the marketplace". Although FLEETCOR does not disclose revenues, the combined total of both companies likely makes it one of the largest in sector, close to Western Union Business Solutions ($356m revenue in 2020).
Key to this is a focus on moving away from just small businesses (although subsidiary Corpay One, formerly Roger, will cater to this area) and increasingly targeting major corporates and enterprise. This requires a different go-to-market strategy (away from the old boiler rooms), focusing on direct API partner integrations, although Mark believes the company "can win at both ends of the spectrum". This is already showing some success, with enterprise driving much of the growth in recent years.
One thing FLEETCOR is known for is doubling the margins of the companies that it acquires, a feat it achieved when it bought Cambridge and which it plans to repeat with AFEX. According to John, the average time for doing this for the last 37 companies he acquired for FLEETCOR is 2.8 years. For AFEX, there will be direct synergies between it and Cambridge, as will the fact that it has lower margins than Cambridge did when it was acquired.
Growing numbers of cross-border companies are currently re-focusing towards the B2B and enterprise space (e.g., Moneycorp and OFX as we've covered) and there are plenty of new entrants into the space too. With players ceding much of the consumer segment to the likes of Wise and the big remittance players, B2B, which is a much larger and more fragmented segment of the market, remains the big opportunity.
Looking to the post-pandemic age, FLEETCOR's cross-border segment is seeing a return to growth, and saw profitability improve during 2020.