Fiserv signs new partnerships amidst merchant gains in Q3 23
US-based financial services provider Fiserv saw continued resilience in consumer spending in Q3 23; the company saw adjusted revenues rise 8% to $4.62bn and signed several new partnerships. Fiserv's adjusted operating margin rose 290 basis points to 38.1%.
The company has raised its guidance and seen its share price rise on the back of solid results, which have been driven by rises across its key business segments of merchant acceptance, fintechs and payments, as well as by various acquisitions and partnerships.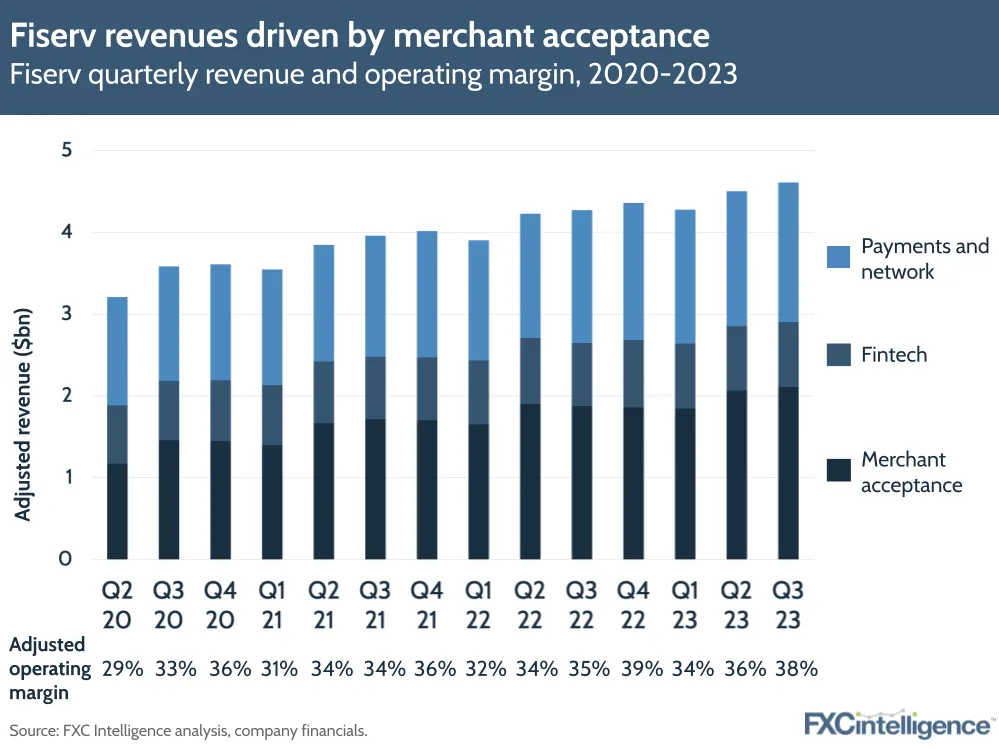 Fiserv's revenue growth drivers in 2023
Merchant acceptance continues to be the top performing segment, with 20% organic revenue growth in merchant acceptance and 6% growth in the payments and fintech segments. Note that, in adjusted revenue terms, merchant acceptance saw growth of 12%, payments saw 5% and fintech saw 4%.
Merchant acceptance volume and transaction growth were up 6% and 9% respectively – the highest growth rates Fiserv has seen on these metrics since last year – with particular strength in LatAm markets.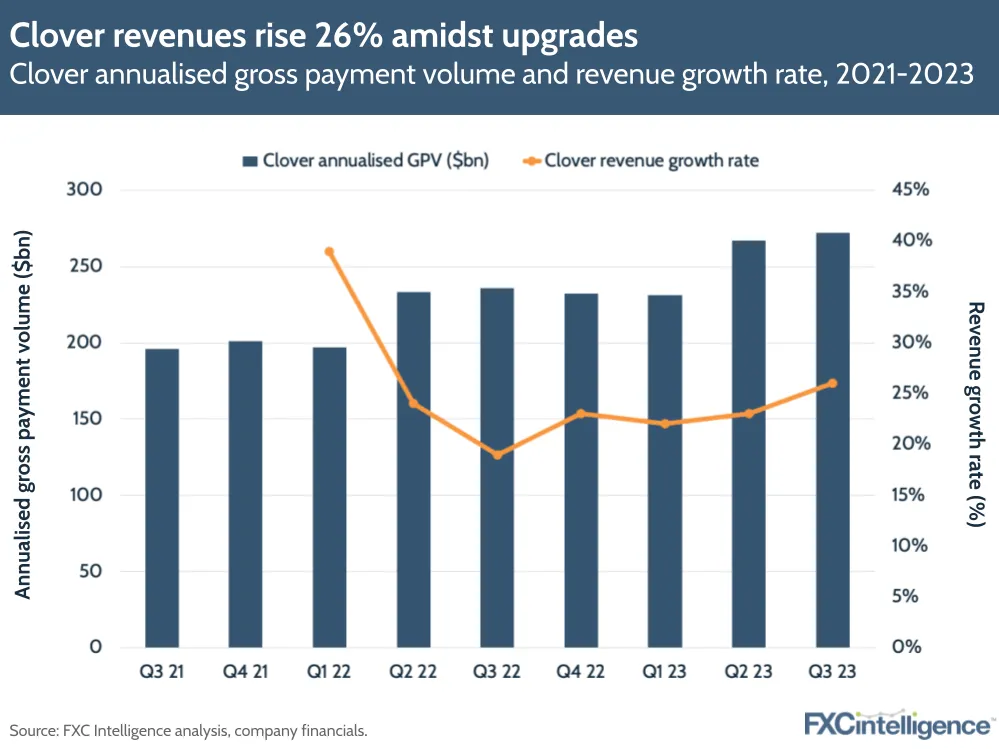 Clover, which is Fiserv's cloud-based system for merchant acceptance, has seen revenues grow by 26% in Q3, with annualised gross payment volume growing 15%. Fiserv has released a new dashboard for the system and upgraded the application process for new merchant prospects. According to Fiserv President and CEO Frank Bisignano, Clover growth has been driven by a focus on signing up new merchants and bringing new products to the existing customer base.
Outside merchant acceptance, Fiserv's fintech segment returned to organic revenue growth in Q3 (6%), with strong margin expansion and some major wings. Meanwhile, 44% growth in Zelle transactions and a new deal with open banking provider Plaid drove growth in Fiserv's payments segment. Carat – Fiserv's product enabling global commerce for larger businesses – grew 14%, excluding the loss of a large merchant aggregator.
Fiserv capitalises on B2B payments opportunity
This week, Fiserv also announced a new partnership with B2B payments platform Melio to launch a new product, CashFlow Central, that aims to help large financial institutions support payment requirements for SMBs. Following on from the company's acquisition of Finxact, it is another move from the company to capitalise on a need for better B2B payments – something we've discussed in more detail here.
Elsewhere, Fiserv also acquired the remaining ownership stake in Netherlands-based merchant acceptance business European Merchant Services, and it is now connecting 150 financial institutions to the US's FedNow real-time payments system.
Over the first nine months of the year, Fiserv has seen 11% organic revenue growth. The company has forecast consumer spending to be slower next quarter but remain resilient, and with this in mind it has updated its organic revenue guidance from a range of 9-11% to just 11%.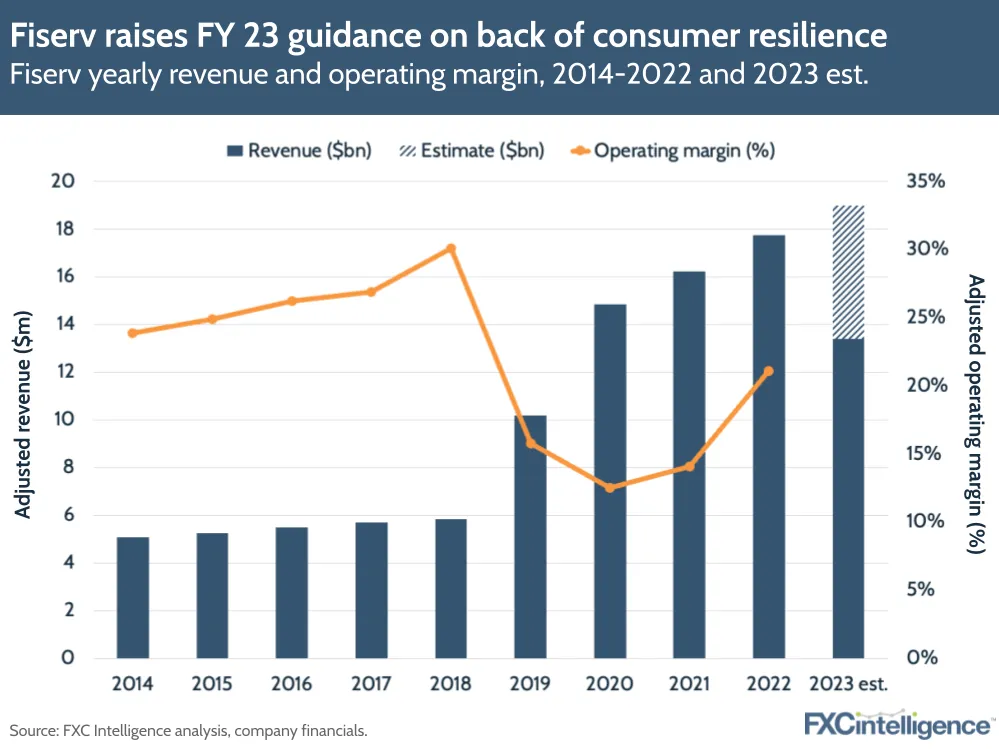 The company is holding an investor conference on 15 November 2023, when it has promised to provide a three-year forward plan outlining its next steps for expansion.
How does Fiserv's pricing compare to other cross-border players?