FIS takes hit from UK recession
Payment processor FIS saw revenues rise 5% to $3.6bn in Q3 2022. However, the company's adjusted EBITDA margin contracted 150 bps, to 43.7%, amidst inflationary pressures and softness in the UK merchant market.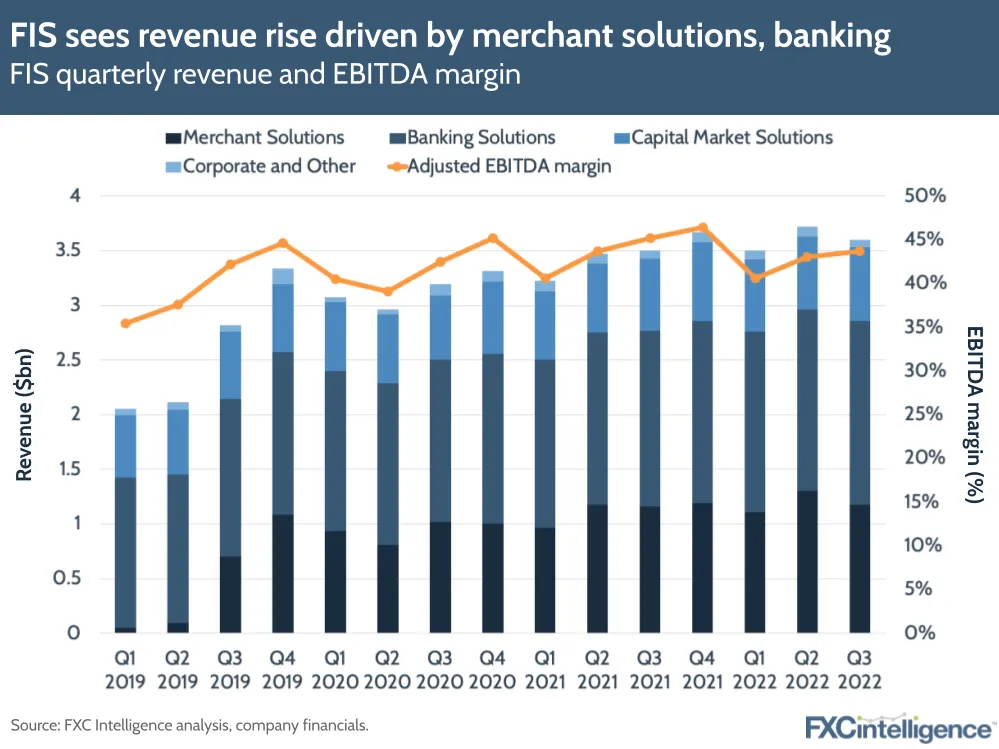 Revenue gains were driven primarily by the company's banking and capital markets segments – which both saw revenue growth of 6% – and the merchant solutions segment, which saw 5% revenue increase. Meanwhile, the company's corporate segment declined 13% due to a divestiture of a non-core business in Q3, as well as client attrition in 'non-strategic' businesses.
Adjusted EBITDA margins declined across the merchant (-430 bps to 47.4%) and banking (-320 bps to 42.9%) segments, and rose 90 bps to 49.3% for the capital markets segment. Profits were hit by inflationary cost pressures, reduction in pandemic-related revenue and increased investment in ecommerce and sales channels for Payrix, the company's embedded payments platform.
The company now aims to reduce its spend by more than $500m by streamlining its operating structure and reducing capex, with more details on this strategy coming in 2023. It has downgraded its revenue guidance from $14.66bn to $14.5bn and its adjusted EBITDA from $6.53bn to $6.19bn.