Embedded payments come to social media and messaging apps
Embedded payments is one of the hottest buzzwords of the industry. In social media and messaging platforms it is becoming increasingly real, in particular thanks to a number of recently announced integrations.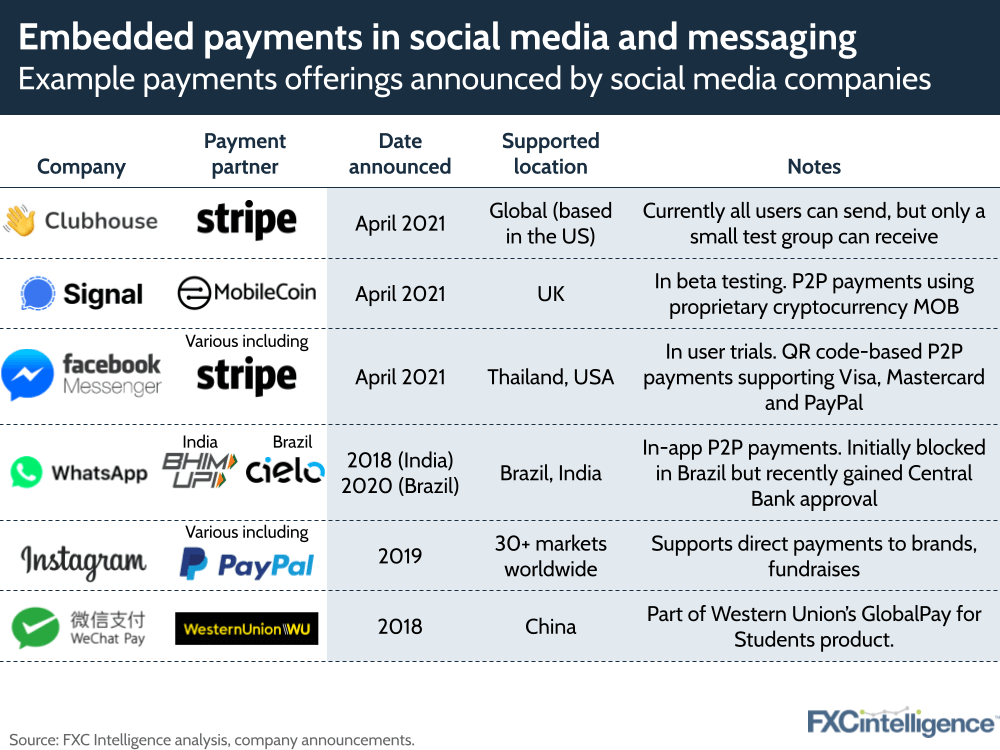 Last week, audio networking app Clubhouse and P2P messaging platform Signal both announced they were beginning payments trials, while Facebook expanded its already strong payments offering with trials of QR-based payments in its messaging platform.
This follows a ruling in Brazil that Facebook-owned WhatsApp could resume its rollout of embedded P2P payments within the messaging platform in March.
As the owner of Instagram as well as WhatsApp, Facebook has made strong moves into ecommerce-focused payments, enabling in-app shopping, donations and marketplace purchases. Its core Facebook platform began embedding payments in 2010, but this has developed significantly across its sub-brands in the last few years years.
However, recent developments both within the social media giant's platforms and other brands in the space have largely focused on P2P payments, making inroads into the remittance space. Leading remittance brand such as Western Union, have also made moves into social media too, for example with WU's integration with WeChat Pay. Although so far there has been little presence of the main money transfer brands on western social media platforms.
With so many of these offerings currently in initial trials in only a small number of markets and the growth of mobile in general, there appears to be plenty of room for these services to innovate and grow.
Sign up to our newsletter to stay up to date on industry developments