Ecommerce continues success in 2021
2021 has been another good year for ecommerce and the companies powering ecommerce payments. Online stores continued to be the preferred destination of many shoppers, although growth for the major players slowed down on a quarterly basis due to the huge uptick brought by the pandemic last year.
Consumers are also showing a greater willingness to shop online cross-border. As Shopify data shows, 15% of orders during Black Friday and Cyber Monday were cross-border in 2021, up from 14% in 2020, and on a higher sales base.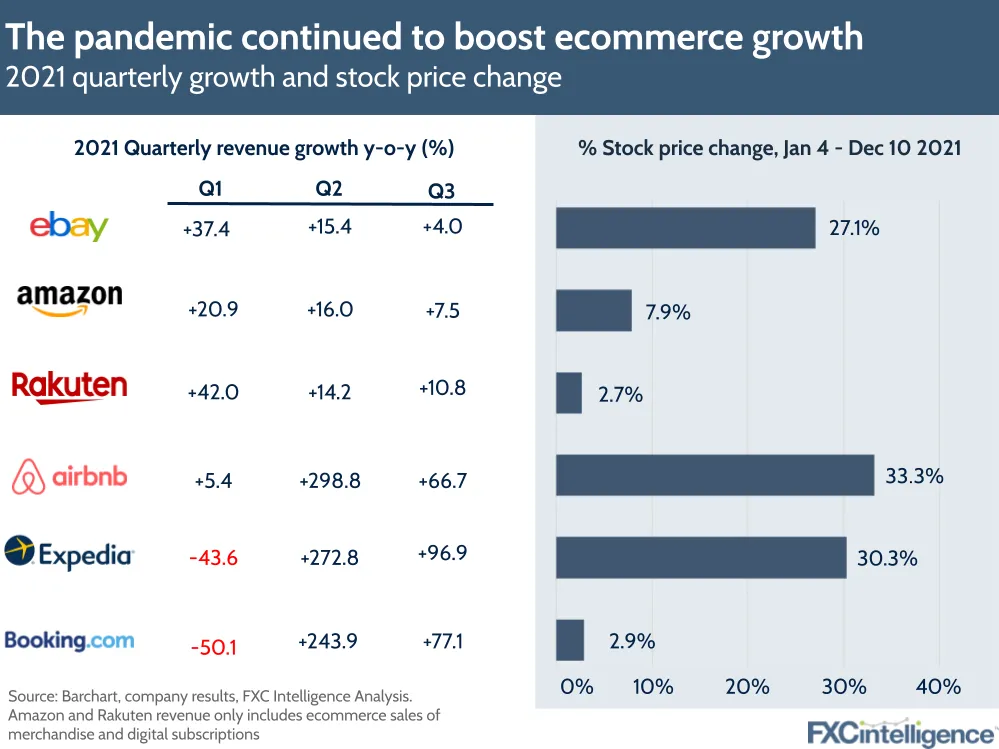 Marketplaces and retailers continue to report positive, although slower growth in revenue and merchandise value sold compared to 2020. The stock market continues to reflect the positive performance of such players.
Ecommerce travel sales are revamping. Despite a slow start in Q1 2021, online travel operators have seen revenue and share prices grow in the past months. As the world reopens, cross-border travel improves. However, as shown in Mastercard's Q3 results, revenue from cross-border travel account for 78% of revenue for the same quarter of 2019. Cross-border travel is still a long way from reaching the pre-crisis levels.
How are ecommerce companies competing on cross-border pricing?