TikTok payments, processing and future ecommerce opportunities
TikTok has been increasingly pushing to grow its ecommerce arm in Southeast Asia, as well as the UK and US. This report explores how payments work on the platform, how creators are paid in comparison with other social media platforms and the future payments landscape.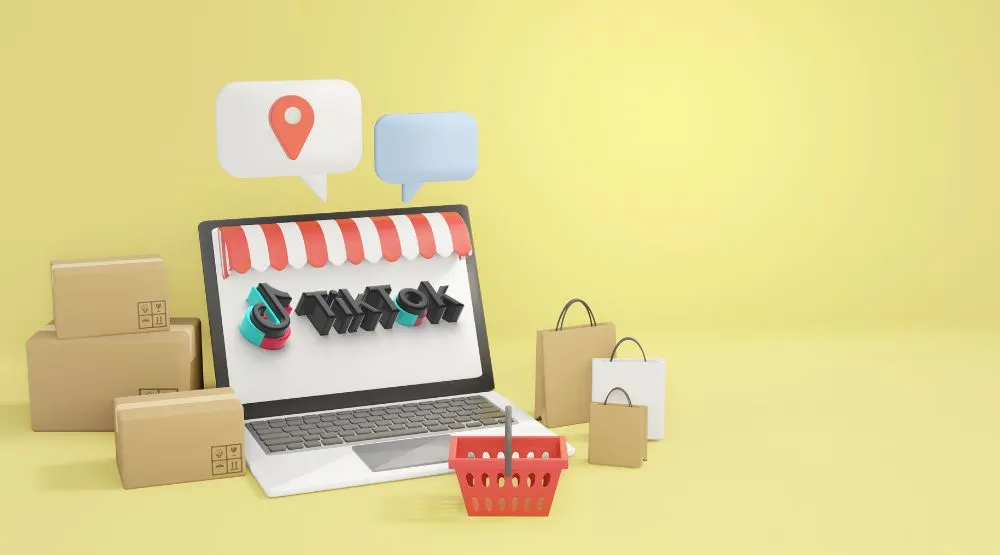 Since its launch in 2017, TikTok has grown to become one of the biggest social media apps worldwide, with billions of users logging on each day to scroll through an endless loop of entertaining, algorithm-selected videos.
Beyond brand deals and partnerships, TikTok is also a hive of payments activity. From tipping creators to buying items through TikTok Shop, TikTok payments are passed from users to creators and merchants on the app everyday.
Now, TikTok could be following in the footsteps of Douyin, its Chinese counterpart, by doubling down on its ecommerce arm; Forbes reported earlier this year that owner ByteDance is developing a centralised payments infrastructure to enable faster payments through TikTok and other platforms.
This report discusses how payments work on TikTok compared to other platforms, as well as where the company's ecommerce strategy will take it in the near future.
Contents:
How much money is passing through TikTok?
To understand how money passes through TikTok, it's important to understand its structure. TikTok Ltd. is a Caymans-based company, made up of TikTok Information Technologies UK Ltd. (UK), TikTok LLC (US), TikTok Pte. Ltd (Singapore) and a number of other operating entities. The company is owned by ByteDance, which is headquartered in China and also owns a number of other companies including Nuverse, Lark and Pico.
As a private company, it can be difficult to get a clear picture of TikTok's overall revenues. Bloomberg has reported that TikTok had helped drive overall revenues of $80bn for ByteDance last year, while other online sources, including The Information, suggest TikTok's advertising revenues had been over $9.6bn that year.
The most recent Companies House data from TikTok's UK arm, TikTok Information Technologies UK Ltd, hints at the extent to which the company is still largely reliant on online advertising revenues.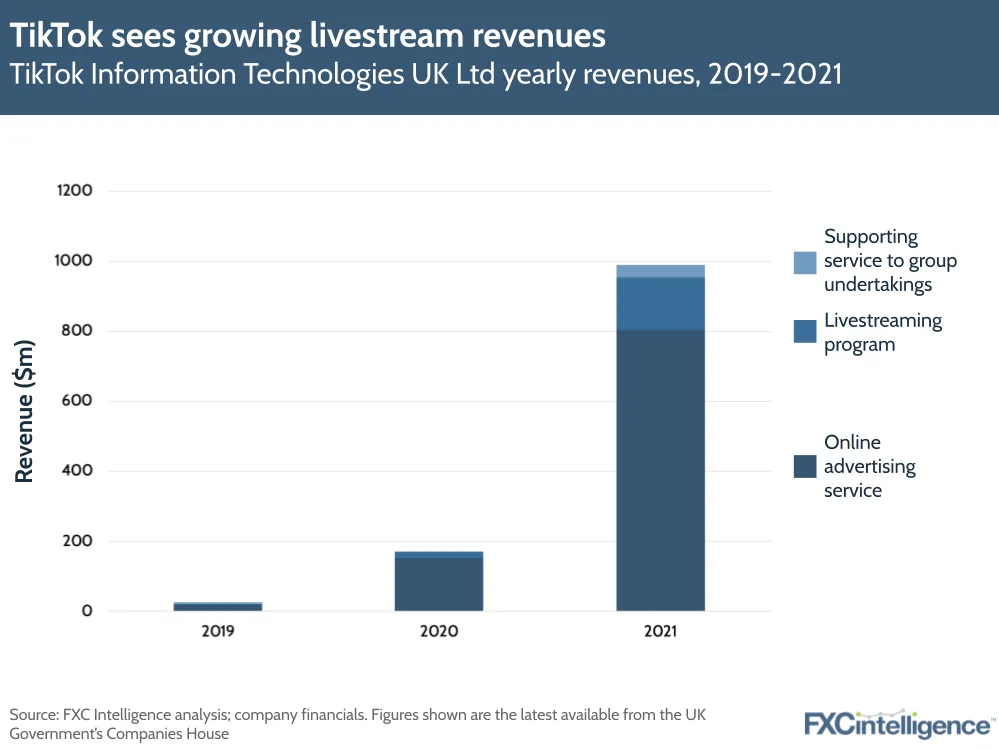 When breaking down turnover by revenue stream for 2021 (the most recent year available), TikTok's UK company reported a turnover of $990m, of which 81% was from online advertising, 15% was from livestreaming and 4% was from supporting services (defined as 'revenue from providing support services to another group company'). Notably, livestreaming has grown its turnover share from 9% last year.
According to external sources, advertising spend on TikTok remains high in the US; Sensor Tower reports that nine out of the top 10 categories of US advertisers on TikTok spent more on the platform in Q1 23, with ad spend increasing by a collective average of 46% YoY. Meanwhile, mobile data platform Data:AI reported that TikTok became the first app ever to surpass $1bn in global consumer spending through in-app purchases in Q1 of this year.
When it comes to TikTok's ecommerce arm, TikTok expects growth to be driven by Southeast Asia this year, with Bloomberg reporting in June that the app aims to quadruple the size of its global ecommerce business to reach $20bn in merchandising sales this year.
Who is processing TikTok payments?
From its terms and conditions, it seems that TikTok is still primarily engaging third-party payment providers to enable payments across features on the platform. In some cases these processors are named; for example, on its TikTok Tips feature, creators currently have to set up their own Stripe account in order to receive donations from fans.
In other cases (according to its terms), TikTok engages a number of third-party payment processors, including Worldpay and a Hong Kong-based processor called PIPO, for some of its services; for yet others – specifically, TikTok Shop – products are currently paid for through a payment provider engaged by the merchant selling the product. Having said this, TikTok says in its terms of service that it may also charge sellers a commission on products sold on TikTok Shop.
However, TikTok may be looking to seek to play more of an active role in processing payments. Earlier this year, ByteDance was reportedly working with major US bank JP Morgan to develop a 'real-time payments infrastructure' that would enable swift payouts to TikTok users at any time of day. The move would allegedly also allow TikTok to spread into more markets, thus reaching millions more users, and was complemented by a growing push for staff in its global payments team.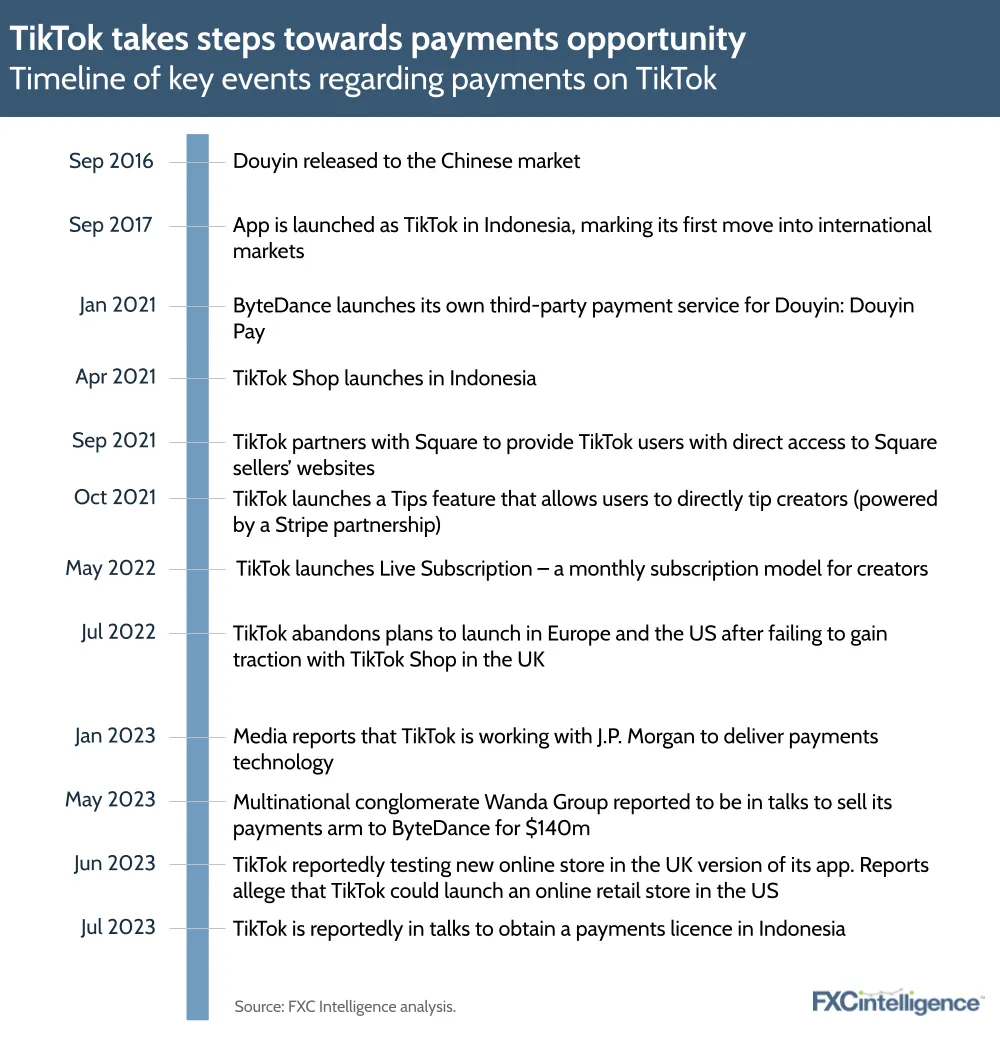 This would not be the first move by ByteDance into payments. In 2021, ByteDance launched Douyin Pay, a mobile payment service that could be used to make payments on Douyin. The goal was to reap the benefits of Douyin's growing ecommerce push in China by introducing a competitor to Ant Group's Alipay and Tencent's WeChat Pay – the two biggest mobile payment apps in China.
ByteDance may be looking to achieve the same thing with TikTok through the JP Morgan partnership, which will reportedly see the development of a bank account that can be used to make payments across ByteDance's products.
In August, TikTok also told Reuters that it was currently in talks to gain an Indonesian payments licence, which would allow TikTok to benefit from fees from transactions and also help it expand its ecommerce presence in Southeast Asia. However, there has been no further update on whether TikTok has been able to obtain a payments licence in other countries and TikTok did not respond to our request for comment.
Where are creators getting paid on TikTok?
There are a number of ways that influencers are already making money on TikTok. Currently, most creators are focused on building a following to the extent that they can attract businesses and form lucrative brand deals, and TikTok has even created its own Creator Marketplace to encourage collaborations between TikTok influencers and businesses. Some of the biggest creators on the platform are reportedly able to gain hundreds of thousands of dollars for a single promotional post.
Creators can also add affiliate links to their profile that allow them to offer their fans discounts for purchases, while at the same time taking a small commission on each purchase. Alternatively, they can add links to crowdfunding platforms, such as Patreon or GoFundMe, where fans can pay money to support their work.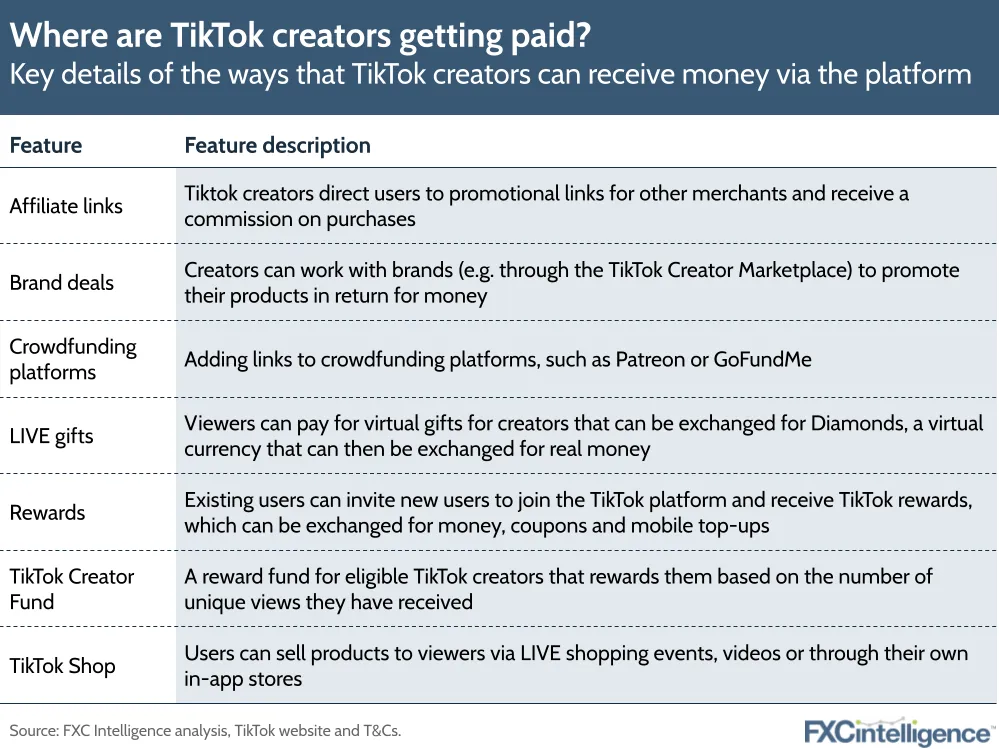 However, there are also a number of ways for creators to be paid directly through TikTok. These range from direct payments – as seen with TikTok's Tips feature, which allows users to donate to creators directly on the app – to more indirect methods, such as LIVE Gifts.
With this feature, viewers can pay real money to acquire TikTok Coins, a token that can in turn be used to buy gifts – in the form of various emojis – to send to creators during livestreams. Attached to these gifts are Diamonds, a virtual currency that can be cashed out by creators using various methods, in most cases to PayPal or a bank account (depending on the country). Coins can be purchased either through a third-party app store (like Apple's App Store or the Google Play Store) or in some countries directly from TikTok through TikTok websites.
While processing fees aren't discussed by TikTok for paying for Coins, the company does significantly discount purchases made for Coins on desktop, as a higher channel fee needs to be paid when purchasing Coins in-app.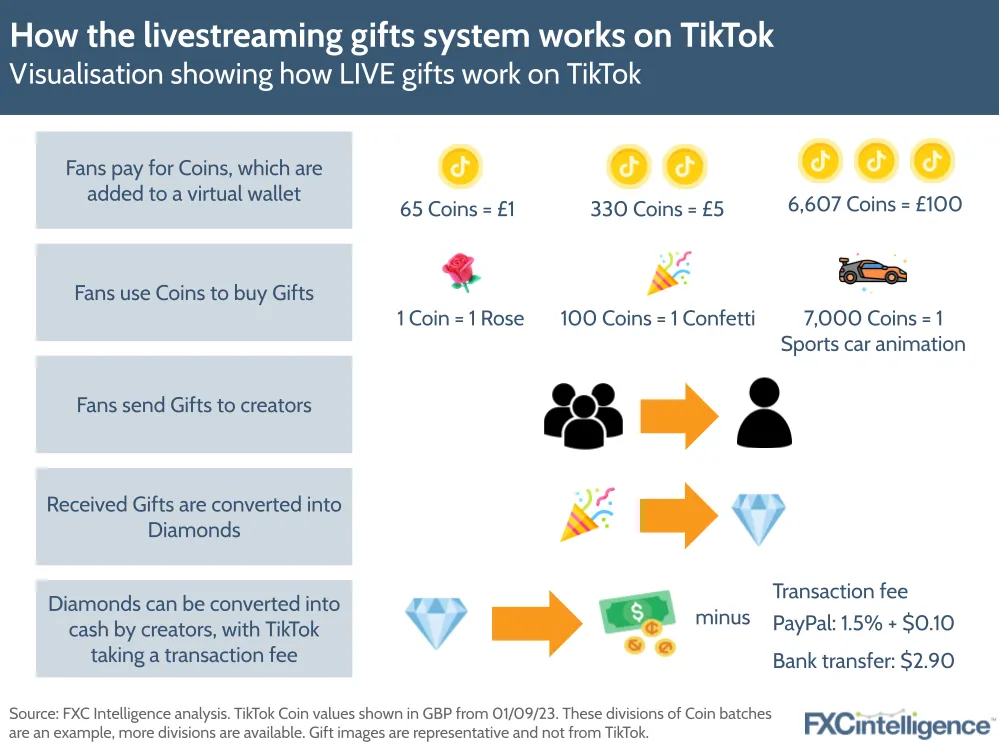 There seem to be varying accounts of how Coins convert to Diamonds, and ultimately to cash. According to TikTok's latest terms, the type and number of gifts sent is a factor used by TikTok to determine the popularity of user content, which it then uses to decide how many Diamonds to reward users. However, it doesn't clarify a specific process for this, or the eventual exchange rate for Diamonds to USD.
Several creators online have explained the process for how conversion works on the platform. Essentially, when you buy a virtual gift for a content creator, they don't receive the actual Coin value of that gift. Instead, creators receive a number of Diamonds equal to the Coin value, each Diamond being worth half the value of one Coin.
For example, someone buys 100 Coins with USD 1 (note: prices have changed, but this is for ease). They then choose to spend that amount to send a gift worth 100 Coins to a creator. However, instead of the creator receiving 100 Coins directly, they are converted into 100 Diamonds. In this example, 100 Coins are worth USD 1, which means that 100 Diamonds are actually worth USD 0.5 or 50 cents. In other words, one Coin is worth USD 0.01, while one Diamond is worth USD 0.005.
This means that TikTok is receiving a 50% commission every time a LIVE gift is awarded and the Coin value is converted into Diamonds, as they are worth half the value of Coins, with the rest of the money paid going to the platform. Not only this, but as creators report that Diamonds are paid out in USD to PayPal wallets or bank accounts, additional conversion fees may apply depending on the local currency.
Beyond LIVE gifts, creators in the US, France and Brazil can also join TikTok's Creativity Program (still in beta), through which creators are encouraged to create longer video content in return for rewards, though it isn't currently clear how the value of payouts are decided and paid out compared to a previous revenue sharing model, TikTok's Creator Fund. With this fund, creators are paid $0.02-0.04 per 1,000 views, according to HootSuite.
The Creator Fund launched in 2020 with a commitment to pay $1bn to users over three years, but has since received criticism from creators when it became apparent how little creators were earning through this feature.
Another major feature for payments is TikTok Shop – TikTok's ecommerce platform that allows merchants, brands and creators to sell products directly on the TikTok app through in-feed videos, livestreams or a showcase tab.
How long do payouts take on TikTok?
Withdrawing money from TikTok can be done in a variety of ways, depending on the user's region. PayPal is one of the most regularly available methods for withdrawing balances from TikTok and claims to pay out in one business day, though in TikTok's terms it says that withdrawal applications are reviewed within 15 days of receipt, so the overall process can take much longer.
According to creator tutorials, payouts on TikTok are usually made in USD to PayPal accounts. As per terms provided by the TikTok Shop Academy, the company makes "no guarantees" regarding transaction processing times or payout schedules. The company has, however, given some information about the commission fees it charges for purchases made via TikTok Shop.
After orders are successfully delivered to buyers, TikTok Shop automatically deducts transaction fees for cross-border and local sellers for processing orders. These fees can vary depending on the region; in Indonesia for example, fees are currently between 1% and 4.3% depending on the category the item occupies, while in Malaysia there is currently 0% commission fee, but there is still a 2.12% service fee charge.
Earlier this year, Bloomberg reported that one of the tactics TikTok has been using to build traction is cutting commission fees to zero in some markets, thus making itself a more attractive storefront partner to Chinese export merchants and making it more competitive against other ecommerce players.
How do TikTok creator payouts compare to other social media platforms?
Similar to other social media platforms, creators can receive payouts in a limited number of ways on TikTok, often depending on the region where the creator is located, as well as the source of the funds that are being paid out. For example, while TikTok tips are paid using Stripe, payouts for LIVE Gift balances are for the most part paid to PayPal wallets or to a linked bank account.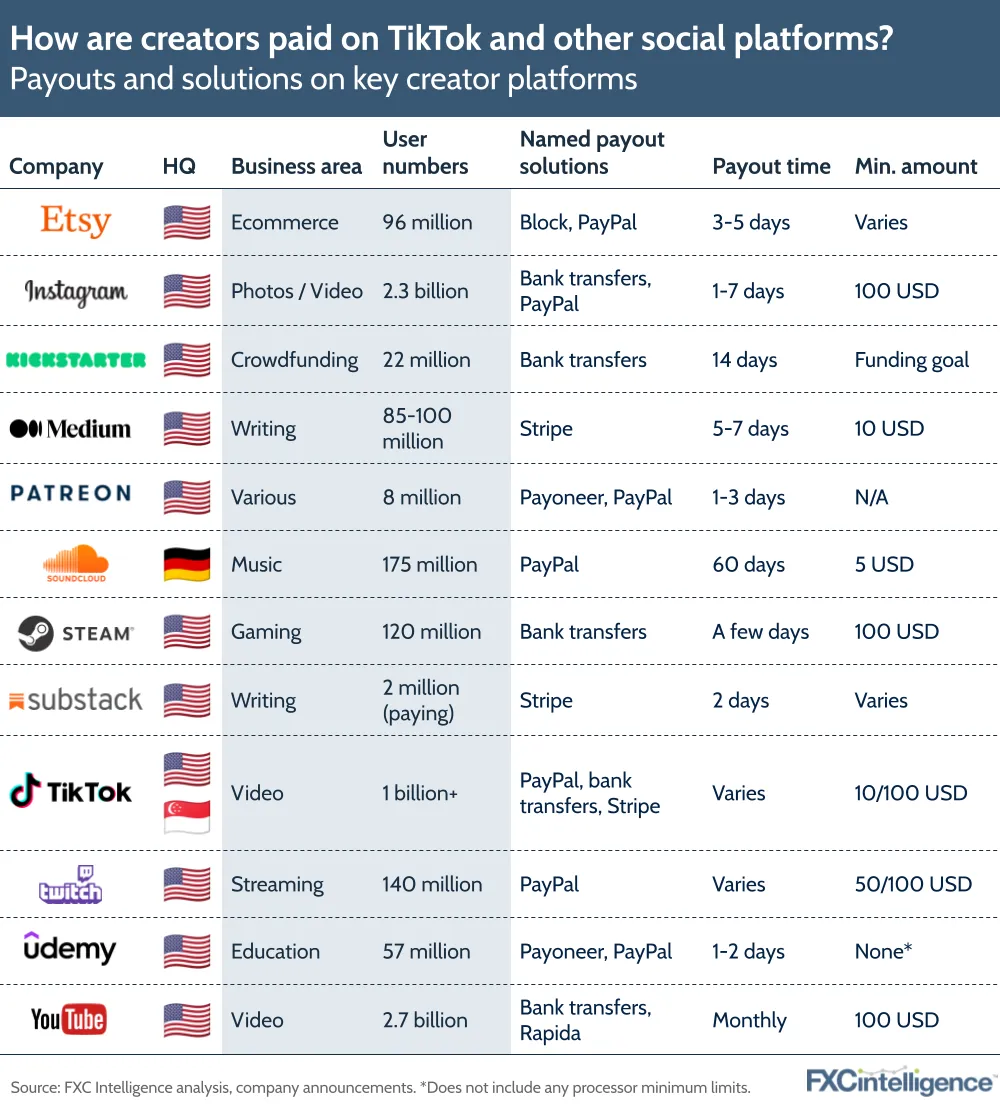 Similar to other platforms, influencers on TikTok generally seem to be more focused on establishing brand deals and sponsorships than revenue sharing models, as these tend to be more lucrative. Generally there seems to only be a limited number of payment methods to actually cash out on rewards, with these usually coming with a minimum payout requirement.
In order to move money into their desired wallet in some countries, creators are sometimes forced to use the supported payment method. This has caused problems in the past in countries like Nigeria, where PayPal has historically supported pay-ins but not always payouts, meaning that some creators have had to change their location on the app in order to receive payments.
Minimum payment thresholds and processing times vary greatly due to the wide array of different payout methods used. In some cases, the creator platform sets the minimum payout amount, while in others it depends on the processing partner – publishing platform Substack uses Stripe to process its payouts, for example, and its cross-border minimum payouts are usually one base unit of the local currency in the recipient country's currency.
For some creator platforms, minimum payout amounts can vary based on the currency. For example, creators on publishing platform Medium's Partner Program are paid through Stripe, which may require different minimum payout amounts depending on the payout. For a Euro-denominated bank account, the minimum withdrawal might be EUR 1, but a minimum payout to a bank account using Swiss francs is CHF 25. Some platforms, such as Steam, only payout in USD, which means that those using the platform need a bank account or supported payment method denominated in that currency
Payment processing fees for creators appear to be fixed on some platforms, but on others are dependent on different payment methods, as well as the currencies being paid out to or into the platform. For example, in the case of membership platform Patreon, the processing fees are 3.4% + EUR 0.35 for payments received from members in EUR, but 3% + A$0.30 for payments made in AUD.
Payout fees should not be confused with transaction fees, which may have an even greater dent on creators' overall takeaway revenue. Substack takes 10% of creators' subscription revenue, as well as just under 3% in payment processing fees. Meanwhile, crowdfunding platform Kickstarter takes a 5% fee from the funds collected by creators, with its processor Stripe receiving a 3-5% processing fee. Ecommerce company Etsy, which is popular with creators, charges a 6.5% fee for the transaction for each listing.
It can also take varying lengths of time for creators to actually receive their payments. For TikTok, this can take three days if they choose PayPal, but payouts to bank transfers could take up to 15 days. YouTube creators can expect to wait 4-10 days to be paid (via Google AdSense), while Substack says that creators usually receive payments within 48 hours.
Which currencies and payment methods are used on TikTok?
TikTok's Ads Manager is used by brands to create and manage ads on TikTok. While separate from specific creator tools, TikTok gives a much clearer indication here of the payment methods and currencies that are being used on the platform.
Across the 48 countries discussed in payment T&Cs for TikTok's Ads Manager, bank cards, PayPal and direct debit bank transfers are the most frequent payment methods used, though Klarna is also a supported payment method in Austria, Finland, Germany, the Netherlands and Sweden.
In terms of the currencies supported for pay-in, USD was seen in almost every country, while GBP and EUR were both supported in 22 countries. A large number of countries supported pay-ins with their local currency and USD, highlighting it as the favoured currency of the platform.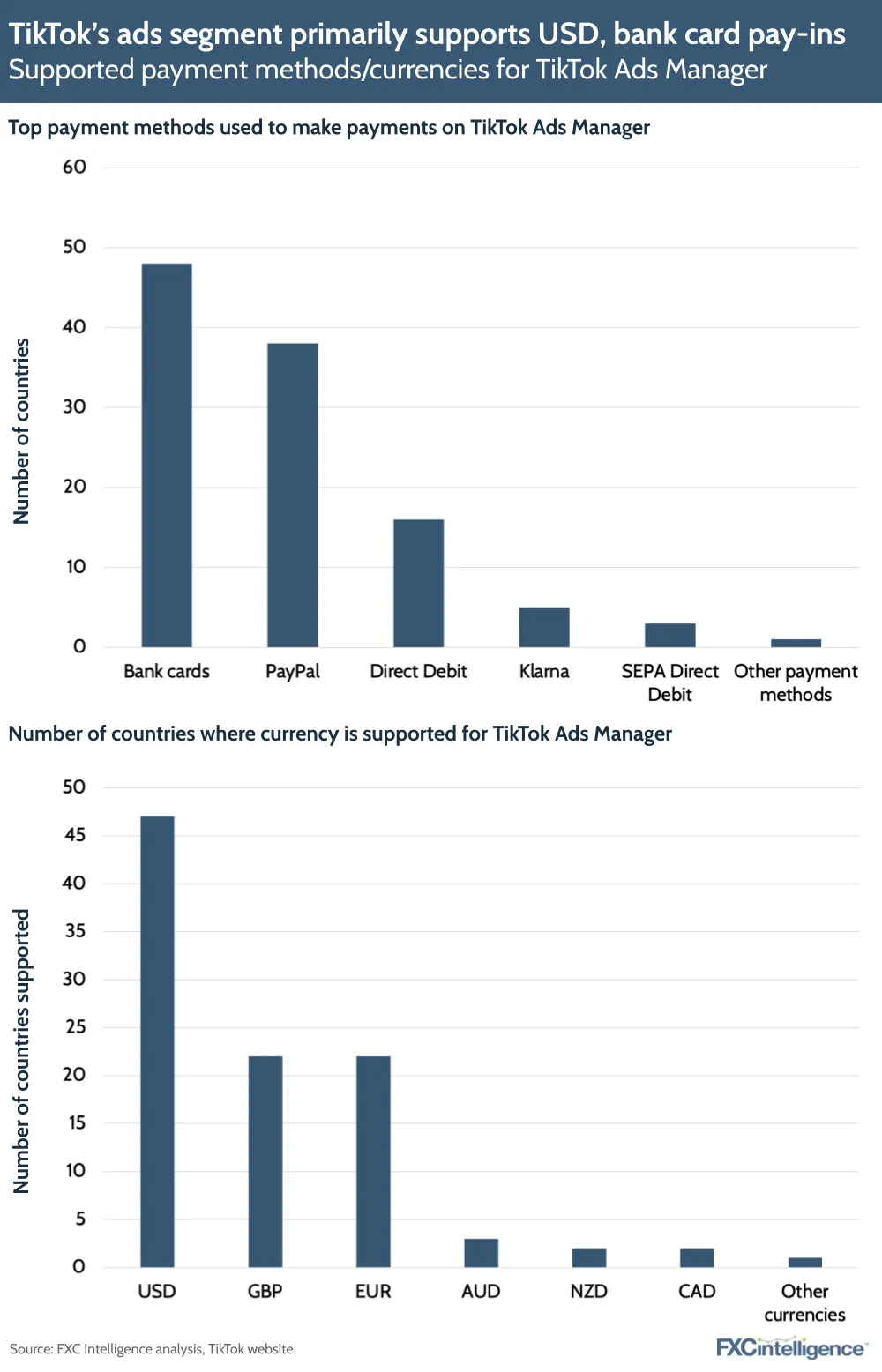 Tiktok's ecommerce strategy
TikTok has been taking several steps to expand it's ecommerce offering, known as TikTok Shop. The feature allows merchants to showcase and sell products via an in-app storefront, which can be promoted using videos and livestreams on the app. A similar offering is seen in Instagram's Shopping feature.
Since being launched in 2021, TikTok Shop has seen varying success in regions around the world. In Indonesia, it has grown substantially, becoming the fifth largest ecommerce platform in the country (according to Singapore-based research firm Momentum Works) and holds a 5% market share in the country's ecommerce business. This still pales in comparison to leaders Shopee (36%) and Tokopedia (35%).
The authenticity of TikTok's platform is helping businesses, particularly small ones, to gain larger followings and a wider market reach than they might otherwise have. According to TikTok, users are reportedly 1.5 times more likely to go out and buy something they discovered on the platform compared to other platform's users.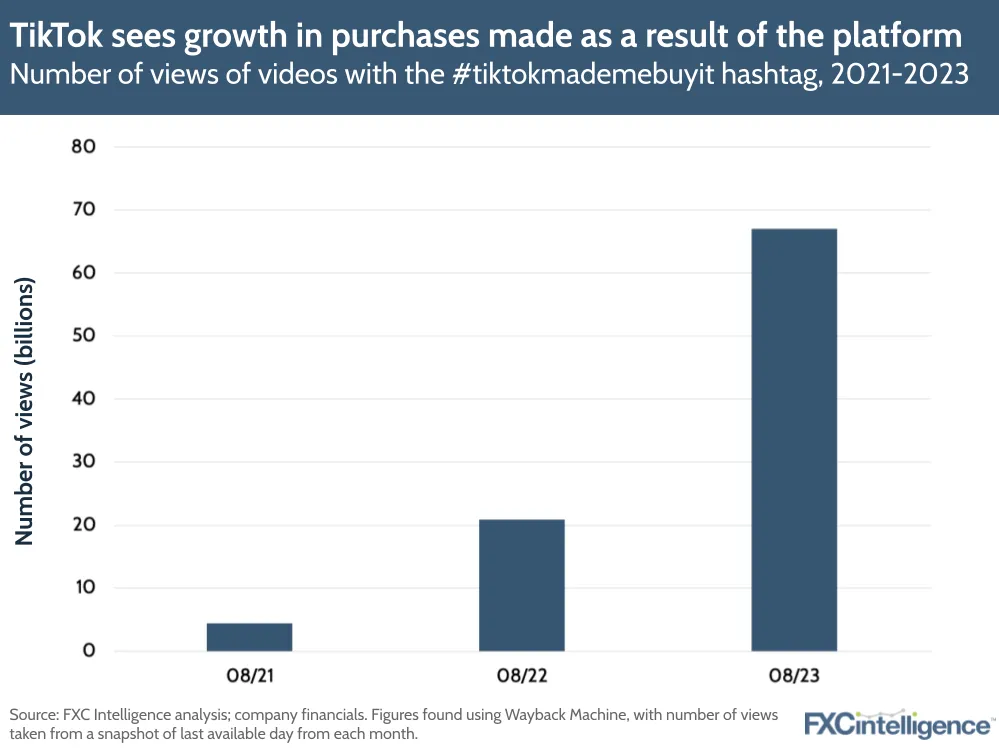 When looking at the use of the #TikTokmademebuyit hashtag, the number of views of videos grew by around 220% to 67 billion YoY in August 2023, indicating the increased use of this hashtag on videos and the extent to which TikTok is growing as a platform that actually drives purchases.
According to Jim McCarthy, EVP at UK-based payment processing company Thredd, "speed to purchase" will be incredibly important for the ecommerce experience on TikTok, a platform where users want to be entertained and not wasting time shopping.
"Introducing a utopian 'one-click' experience is the goal of most, if not all the social media platforms," he says. "[This means] having the ability to accept C2B payments in-app and remove the friction that customers currently experience. Thus, improving the customer experience and capturing a greater share of the wallet, introducing a new revenue stream for TikTok, which takes a percentage from the sale, as well as extending the merchant's digital shop window."
Where is TikTok looking to expand in ecommerce?
Now TikTok is looking to expand its reach in Southeast Asian countries even further, with these countries making up a large portion of TikTok's monthly audience (over 325 million monthly active users just in SE Asia, out of a global audience reportedly over one billion). TikTok Shop is being trialled in multiple countries in SE Asia, but it is facing stiff competition from other competitors in the region.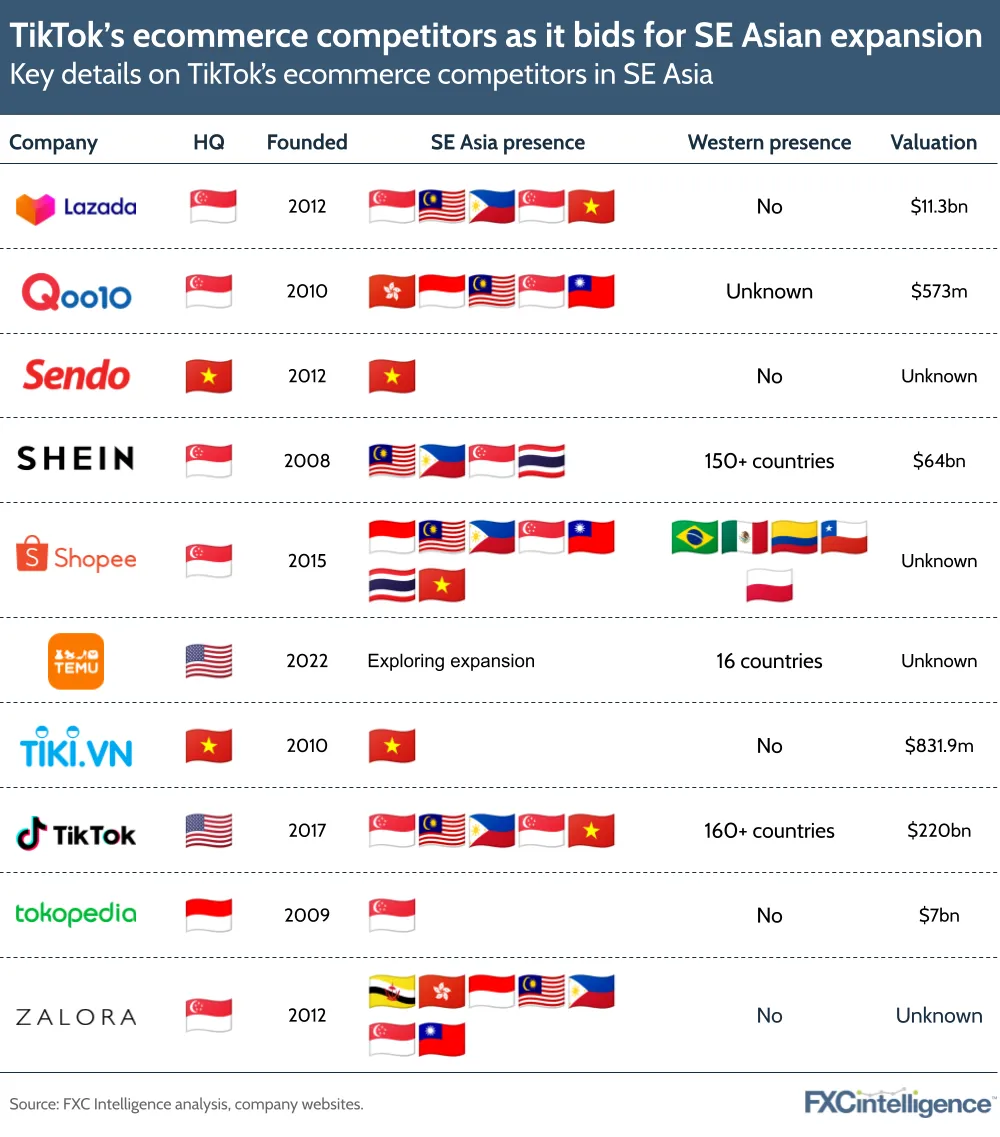 TikTok benefits from Shop by taking marketplace commission fees, which have steadily been creeping upwards for sellers. In March of this year, TikTok was taking a marketplace commission fee of 2% across sellers in seven regions across Asia, as well as the UK and the US, however in certain regions this has now changed to reflect the type of product. For example, in Indonesia, the commission fees on food and beverage products were equivalent to 2.7% of the price, whereas for fashion items (excluding jewellery) the fees were at 4.3%.
This June, TikTok announced a multi-million dollar investment plan in Southeast Asia to provide support to more than 120,000 small and medium-sized businesses. TikTok was also allegedly planning to gain a payments license in Indonesia, through which it would be able to benefit from transaction fees through the platform.
However, according to a Reuters report in July (citing people familiar with the matter), TikTok won't be seeking to launch a cross-border ecommerce business in Indonesia after the country's government expressed concerns that it could lead to an influx of Chinese goods that may harm small businesses in the country.
TikTok Shop in Western countries
TikTok has also been attempting to grow traction in the West, specifically with the reported development of an ecomerce business that will sell products made in China to Western audiences. The move could be seen to reflect moves by Shein and Temu, two other ecommerce platforms that were previously based in China but have since relocated in a bid to capture market share in the West.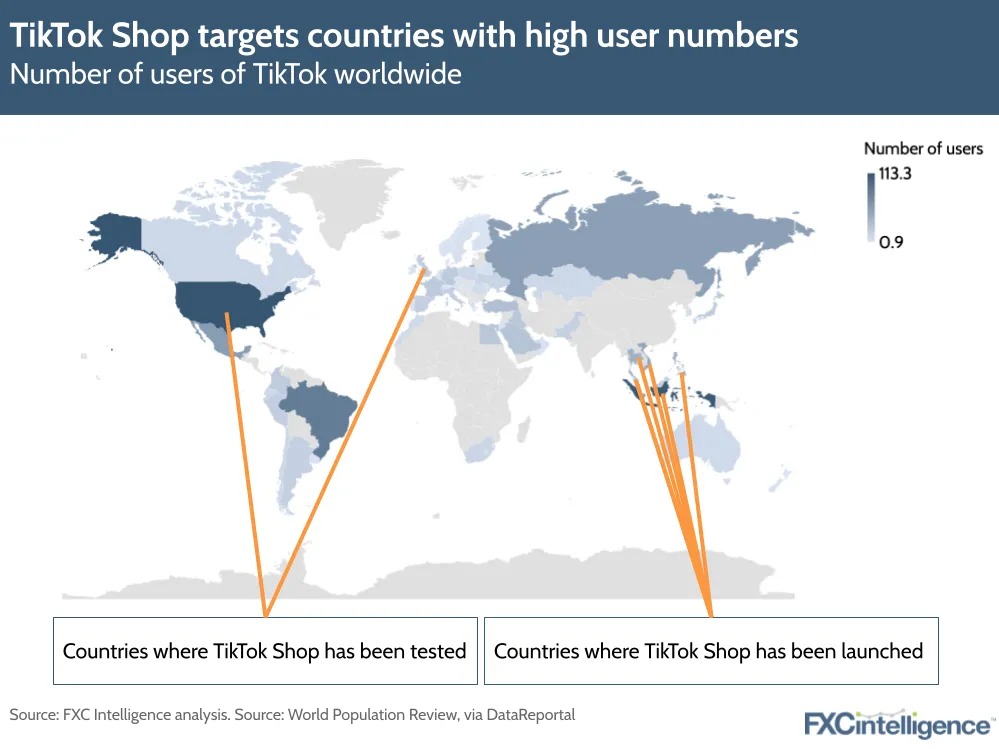 The initial plan to build traction through livestream shopping in Europe and the US was reportedly cancelled in July 2022 after TikTok failed to meet commerce targets and a number of influencers left the scheme. One of the reasons given for this failure to launch at the time was that consumers in Western countries are less culturally inclined to buy products from live streams than in Asian countries.
However, a muted response to TikTok Shop in the West has not stopped TikTok from launching a 'Trendy Beat' shopping feature in the UK, which showcases products made in China and sold by a Singapore-based company owned by ByteDance.
In addition, having launched TikTok Shop in the US last November, TikTok is now reportedly planning to launch a new programme to help Chinese merchants sell goods in the US. This would expand its existing programme so that TikTok could be purchasing, storing and distributing items, rather than just being a storefront (the same way Amazon now sells its own products). However, a date for this has not yet been suggested.
Growing scrutiny of TikTok in the West
As mentioned, TikTok is attempting to capitalise on a Western ecommerce opportunity that has already been jumped upon by other Chinese companies. Online retail platform Shein, for example, purchases hundreds of thousands of products from wholesalers before selling them for a profit across more than 150 countries. Temu, which only launched in 2022, has swiftly become one of the most popular ecommerce apps in the US, driven again by low product prices and regular flash deals.
Having said this, both Shein and Temu have faced accusations from a number of US states of using forced labour, as well as concerns over data privacy (Shein's owner was fined $1.9m in October 2022 for not notifying its users of a data breach). Both companies, though having their roots in China, have relocated to new headquarters in different countries.
In a similar way, TikTok still struggles with its association with China, and while the move to sell Chinese-made products at lower prices has been successful for other ecommerce companies, it would be for nought if countries decided to ban the app. A number of countries – including the US, Australia and Canada – have banned the use of TikTok on government devices, while India banned the app entirely in 2020, saying that it aimed to "protect the data and privacy of its 1.3 billion citizens".
McCarthy says that for TikTok or any app to succeed in ecommerce and become mainstream, it needs to tap into the cultural DNA of the country and earn the right to be trusted – similar to how mobile wallet WeChat is intrinsically trusted in China.
"What works in China does not work in the UK, the US, or Australia, and vice versa," he says. "Shopping behaviours differ from country to country, as do social media consumption habits.
"Then, of course, there is understanding the financial and digital regulatory regimes of each country and ensuring TikTok is compliant. That's a complex and often expensive endeavour for any company, and TikTok is no exception."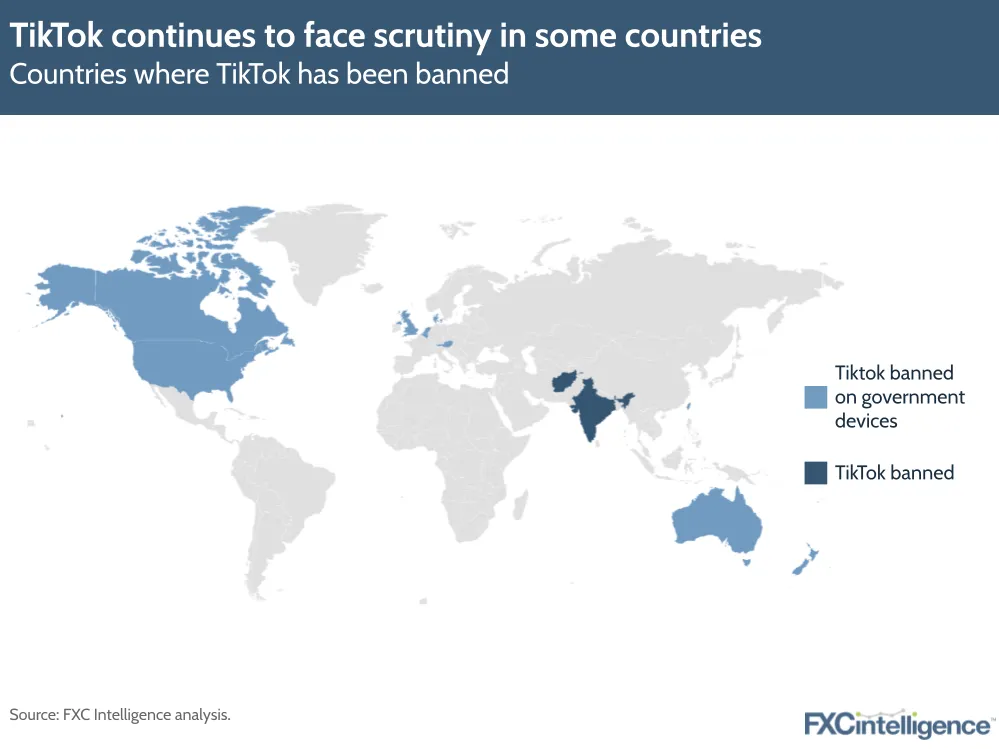 Conclusion
From a payments perspective, the volume of consumer spending and the sheer number of ways that TikTok users are paying into the platform currently means there are major benefits to developing its own payments technology – particularly if it can make payments more streamlined, faster and more convenient for creators and merchants.
As it continues to grow, TikTok's ongoing ecommerce strategy and popularity make payments an important aspect of the platform. However, TikTok still has a number of challenges to contend with, namely increased scrutiny and concerns over data privacy in the West: continued competition from other ecommerce and social media platforms; and the regulatory challenges that are facing other ecommerce companies with a link to China.
McCarthy says that aside from creating a a fast payment experience on TikTok, security is one of the most important topics for consumers. This spans both protecting consumers from risk, ensuring merchants are genuine and having protections in place for customers who have been defrauded.
"Ensuring TikTok incorporates world-class fraud security around its payments processes will be paramount, as will be how they vet the retailers who are allowed to sell on their platform, either through direct advertising and website links, or the TikTok Shop," says McCarthy. "TikTok could develop the best shopping user interface, but if their platform has a reputation for fraud, consumers will not trust it, and that goes for any social media platform."
TikTok's move into ecommerce could lead to a growing share of business from commissions, while moving into payments would allow it to take a share of transaction fees. However, the cultural divide over some aspects of its model – e.g. people making purchases through livestreaming/videos – could make it harder to get off the ground in some countries.