The hottest trends in cross-border payments and Money20/20
We've just left Money20/20 in Las Vegas, the biggest payments conference of the year. We spoke with a lot of CEOs, bankers and industry leaders and some clear trends are emerging. We hosted the only cross-border workshop at the conference with some great feedback and learnings too.
And finally, this week we'll cover Visa, Mastercard and PayPal, which all reported decent quarterly earnings as relates to cross-border.
What's hot and what is definitely not
Money20/20 in Las Vegas brings together more leaders in payments than any other event globally. I've attended it for many years as have many of the people I spoke to. In summary…
What's hot

Partnerships between fintech and banking
Banks have switched from selling to buying and partnering. This was clearest seen from the fact that this was the first time no bank had a stand at the conference. The banks were there but they were out meeting and talking to potential partners.
A steady stream of big bank and fintech partnerships continues to be unveiled. Flywire integrating its receivables platform with Bank of America was one of the biggest announced (similar to Transfermate's recent deal with Wells Fargo).
Platform Platform Platform
If I had a dollar for every time someone said the word platform at the event…
Without a doubt, the platform play is back. It's hard (and often expensive) to acquire customers. Selling access to your infrastructure or white-labelling quickly brings access to a whole set of someone else's customers instead.
And don't forget the investors. Investors love a platform play.
Lots of identity verification
This was probably the fastest growing segment on show.
Speeding up and simplifying the on-boarding process remains a constant challenge. More and more companies are emerging that offer data and technology for a quicker verification of a client or trade.
What's not
Crypto & blockchain
Sorry guys. This one was a big thumbs down at the conference. No stands, no buzz and while testing and PR continues, very little meat is being put on the bone.
Disruption
Once the favourite word of the fintech world, it's no longer appropriate when you're trying to find a partner. I didn't hear the word disrupt once.
Challenges in cross-border user journeys
Thank you to everyone who attended our cross-border workshop at Money20/20, to Money20/20 and especially to our panelists who had to put up with all my requests and calls in preparation of the panel!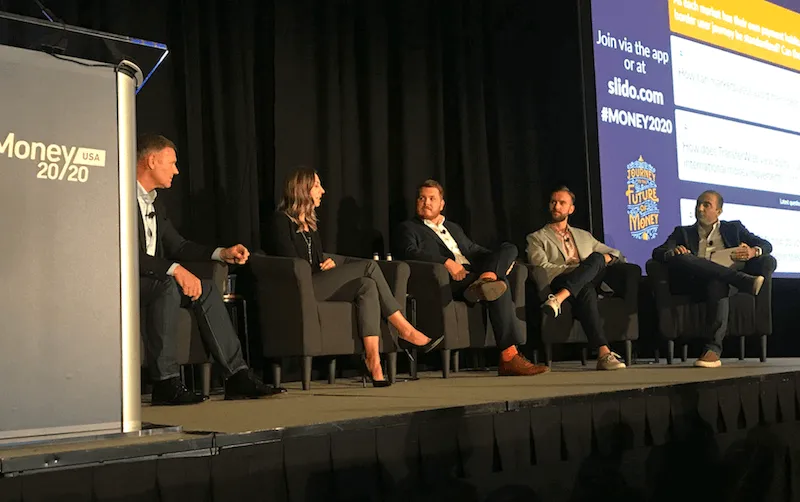 Left to right: Ronnie D'Arienzo, PPRO; Rebecca Loevenguth, Western Union; TJ Hyland, Payoneer; Nick Catino, TransferWise; Daniel Webber, FXC Intelligence
Some takeaways from the panel:
Balancing a smooth and fast on-boarding process with AML/KYC requirements remains a challenge, especially on marketplaces.
Transparency is moving more and more to the core of user journeys, whether driven by regulation or marketing messaging to drive customer acquisition.
An omni-channel experience remains relevant for large segments of users.
The increase in local and multiple pay-in options (in cash or digital) is helping to significantly improve the customer journey.
How Visa, Mastercard and PayPal are faring
All three global players reported their latest quarterly earnings over the past week.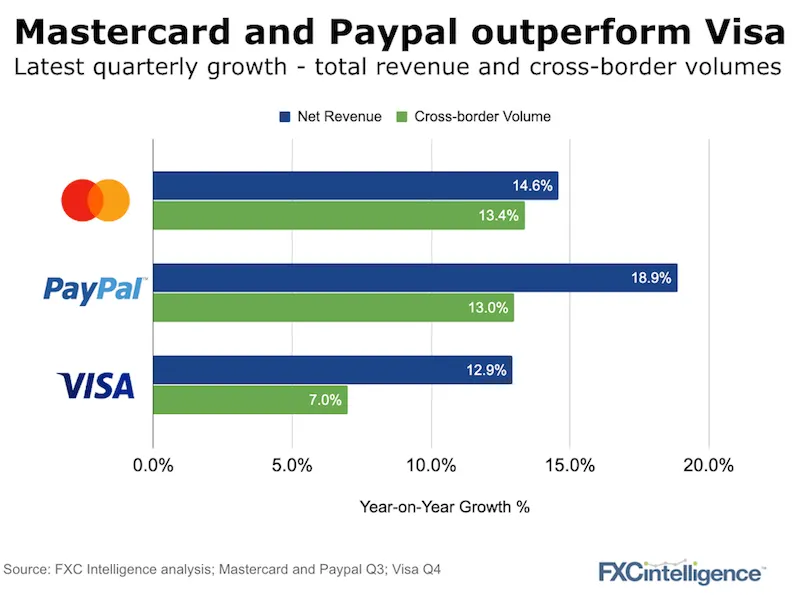 What's driving cross-border growth at each company?
Mastercard:
Growth has been driven by fintech partnerships in the UK and Europe and commercial travel programs. China cross-border volumes also continue to grow in the low double-digits range.
Visa:
Visa hopes to complete the Earthport integration with Visa Direct by the end of the year. This will open up their platform (see that word again from their CEO) for virtually all cards and account to account transfers globally. Once that's done, expect their cross-border growth rate to improve. Segment-wise, Visa highlighted travel as slower but e-commerce saw an uptick.
PayPal:
Compared to the same quarter last year, cross-border trade's growth decelerated this year. This was driven by the strengthening of the US dollar and the decline in the payment volumes generated on eBay marketplaces. Cross-border as a share of total PayPal flow continued to decline due to the strong growth in volumes at Venmo.