The state of e-wallets: Africa and the Middle East
Continuing our series on e-wallets, we examine the market in Africa and the Middle East. With a large unbanked population, but growing mobile phone penetration, the region presents significant opportunities and challenges for e-wallet providers.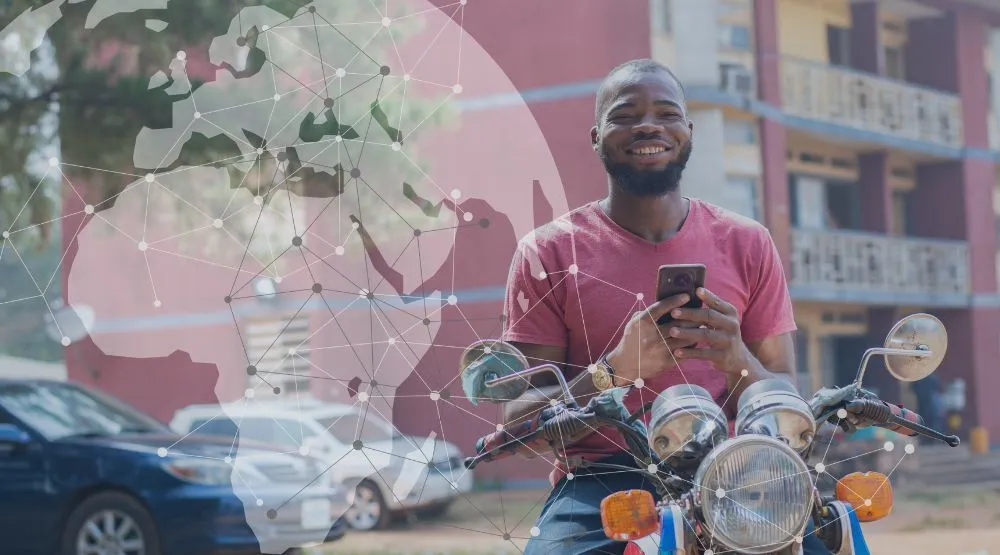 Having looked at the history of the e-wallet market and some of the key providers in our previous report, we now focus on the Africa and Middle East region. A large percentage of Africa's population is unbanked, with account ownership estimated at 54% by the World Bank, and while mobile phone ownership is growing steadily, having increased by 7% since 2019, it is still at just 61%. For the Middle East, mobile phone use is much more promising, at 81%, but bank account ownership is even less mature than in Africa, at 38%.
As mobile phone ownership far outpaces bank account ownership in this region, the uptake of e-wallets is expected to keep growing thanks to their improved accessibility when compared to traditional bank accounts. In 2007, M-Pesa led the way in improving financial accessibility in Africa by making it feasible to send transfers through standard messaging on a mobile phone. Some of the subsequent entrants, including MTN Mobile Money and Orange Money, were discussed in our previous report.
The e-wallet market in the Africa and the Middle East region continues to be favourable for mobile money e-wallets, and in recent years fintechs have also begun to offer e-wallets. GSMA figures show that the region accounted for approximately 68% of the global mobile money transaction value in 2022 and although this includes non e-wallet methods, it does reflect the appetite for alternative payment methods.
In this report, we highlight twelve e-wallet providers in this region; four are available in multiple countries across the market, while eight are solely national providers. These were selected based on their reach and significance.
All are staged e-wallets, most of which were launched by telecom providers and are available for use on mobile phones without need for additional applications. The e-wallet providers range from the likes of M-Pesa and MTN Mobile Money to newer providers like Klip and e& money.
Contents: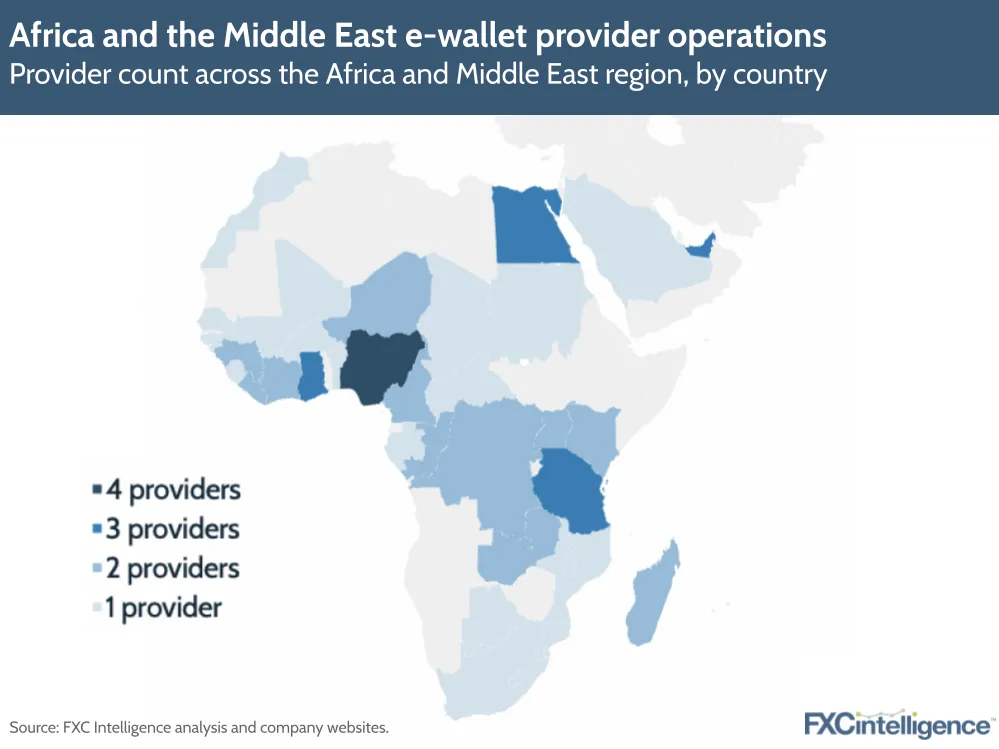 Key national staged e-wallet providers
Each of the following e-wallets are available only in a single country in the Middle East and Africa region, but have been selected due to their user numbers and importance to their respective markets. These e-wallets have varying features depending on the needs of the specific market they are operating in.
Egypt
Vodafone Cash
Launched in 2019 by Vodafone, the e-wallet allows consumers to make domestic money transfers to other Vodafone numbers, top up mobile phones, pay bills and make purchases online. Users register with their national ID at a Vodafone store or dealer and can load money via local agents or using bank cards. Vodafone Cash currently has around 10.7 million users.
Nigeria
OPay
Launched in 2018 by software company Opera, OPay allows users to pay for goods and services via app, or alternatively by text for users that do not have smartphones. Created with a phone number only, users can send money to other e-wallets or to bank accounts. OPay is thought to be Niger's largest national e-wallet provider, with around 35 million users.
Paga
Paga was launched in 2009 and allows users to send money locally with a phone number, email address or bank account and receive international money transfers. The e-wallet can also be used to pay bills, top up airtime and data, make in-store purchases and for cashless ATM withdrawals. Its latest user estimates stand at 19 million.
Saudi Arabia
STC Pay
Launched by Saudi Telecom Co in 2018, STC Pay offers a suite of financial services via its mobile application. These include domestic and international transfers to bank accounts, e-wallets and to Western Union agents worldwide. STC Pay currently has eight million users.
Tanzania
Tigo Pesa
Tigo Pesa was launched by telecom provider Millicom in 2019. With the app, users can send money to other East African countries and receive international remittance. As of 2014, users are also able to receive quarterly interest on money held in their e-wallet. It currently has 12 million users.
United Arab Emirates
e& money
Launched by United Arab Emirates telecom provider Etisalat by e& in 2020, e& money facilitates sending and receiving money, bill payment and in-store payments with a UAE mobile number and without a bank account. The e-wallet currently has 1.2 million users.
Klip
Klip was launched by Emirates Digital Wallet LLC in 2020 as a result of a partnership between 16 United Arab Emirates national banks, as part of the country's initiative to reduce the use of cash. It is available to UAE residents with SIM cards, allowing them to spend, receive, hold and send money digitally. At present, it has 1.1 million users.
Payit
Payit was launched by First Abu Dhabi Bank in 2018, in line with the UAE's cashless payments priorities. Users are able to top up in-app and transfer money from bank accounts. They can also make bill payments. Payit has an estimated 0.5 million users.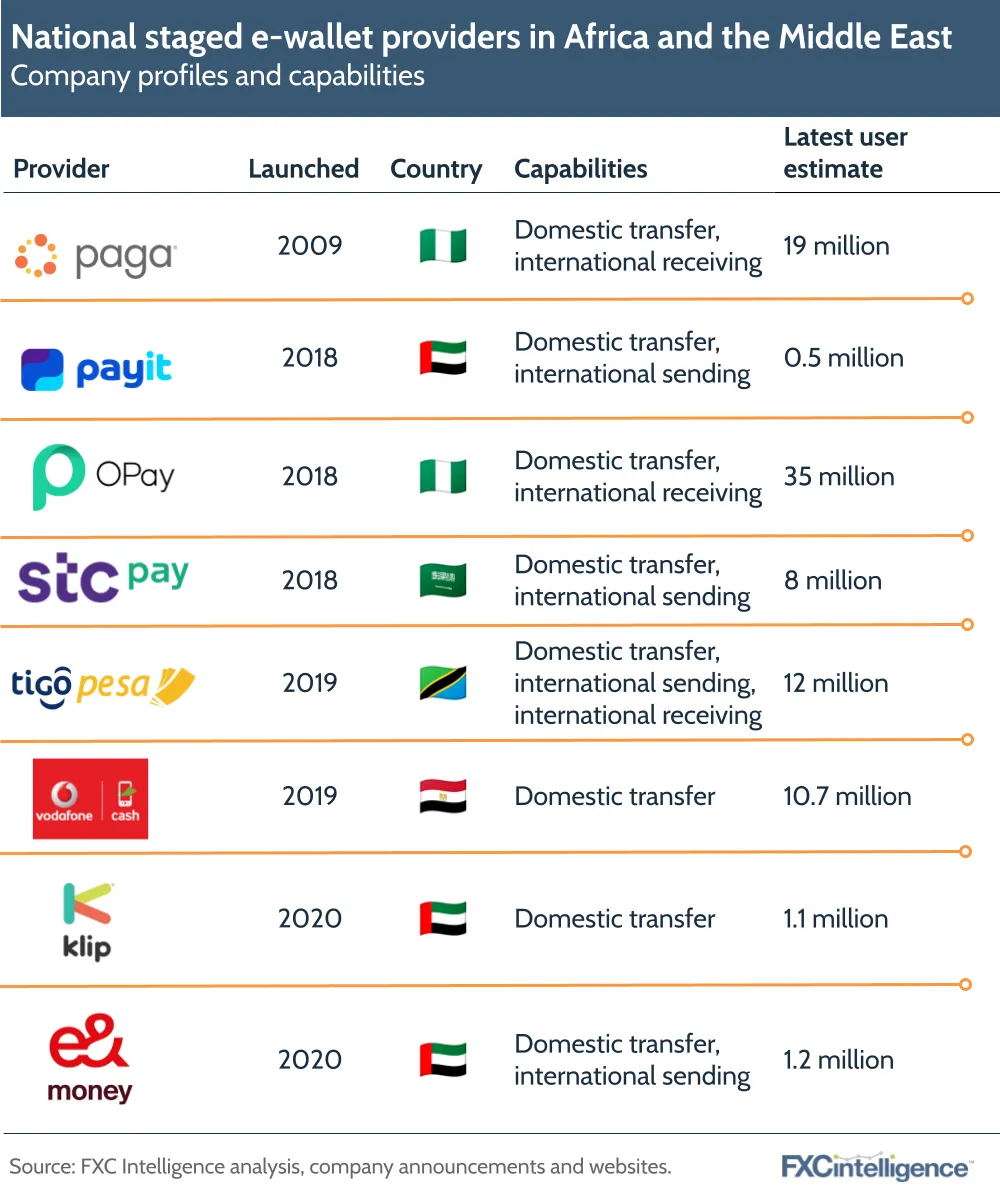 E-wallet providers with multi-country coverage
These are the four main e-wallet providers with a multi-country presence in the Middle East and Africa, which together represent the bulk of the e-wallet market in the region.
Airtel Money
Airtel Money was launched in Kenya by telecom provider Airtel in 2017 and has since grown to have a significant presence across Central, Eastern and Western Africa. With the service, users can make transfers, pay online or offline in stores, pay bills and top up mobile phones. They are also able to receive international remittances from across the world through partnerships with money transfer operators.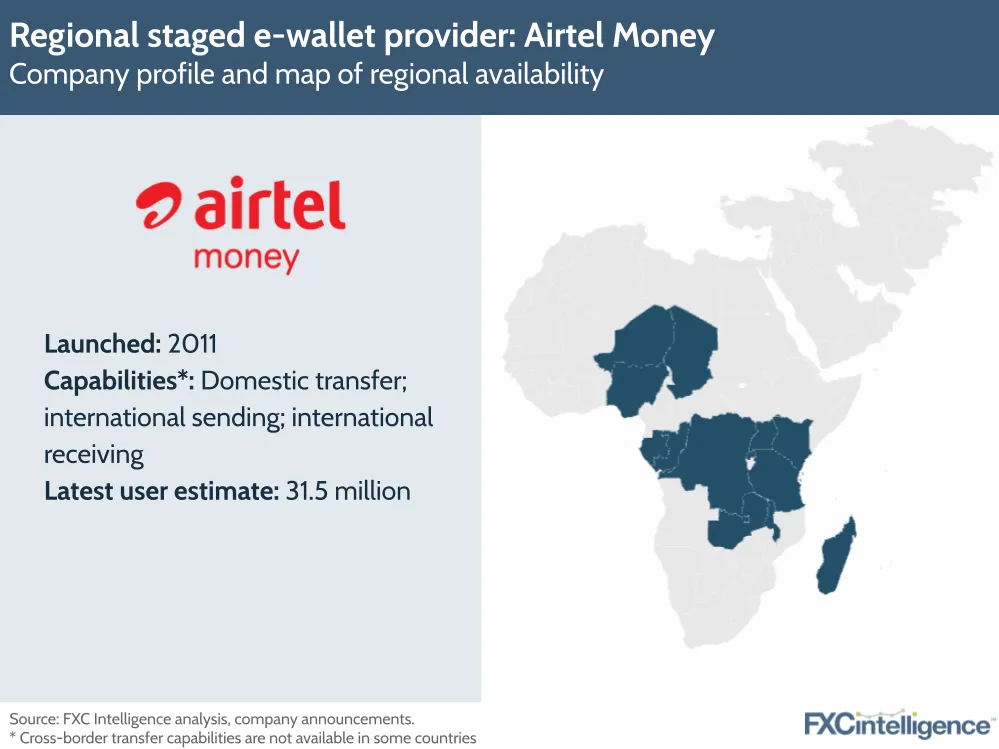 M-Pesa
Initially launched by telecom provider Safaricom in Kenya, M-Pesa allows users with standard mobile phones to send and receive money by text. Users can send money globally from their e-wallets through Western Union and with M-Pesa GlobalPay Virtual VISA Card, a partnership with Visa, users can make payments to international merchants' sites for goods and services.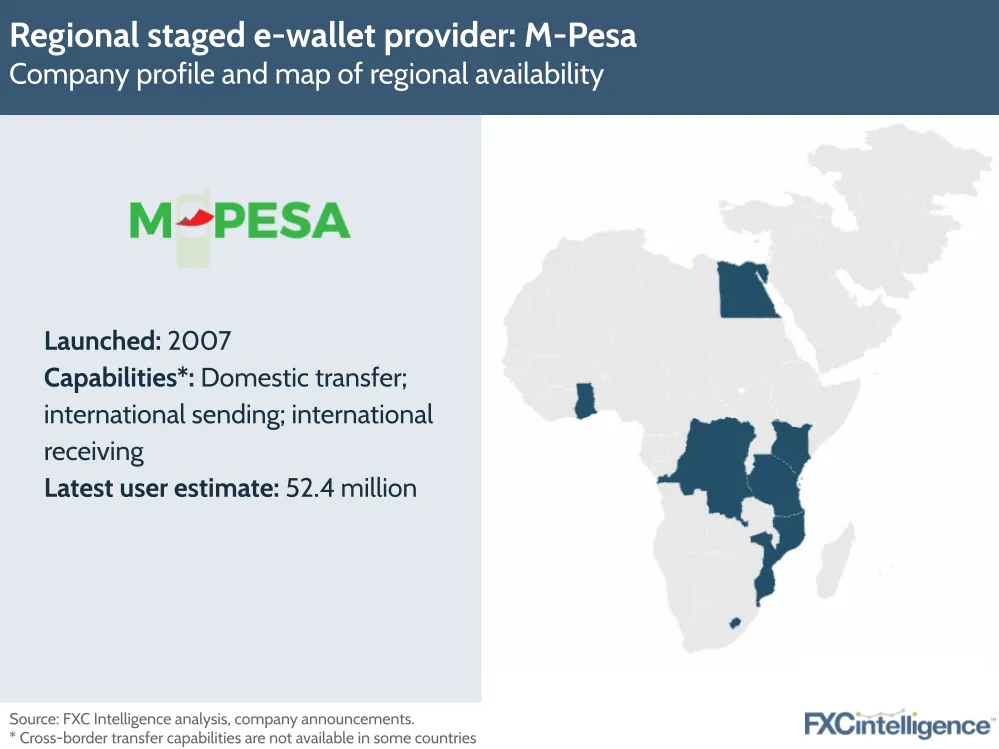 MTN Mobile Money
Launched by telecom provider MTN, users can load money into their e-wallet accounts from bank accounts or with cash via local agents. Users are also able to make domestic and international transfers, top up mobile phones, make in-store purchases and pay bills.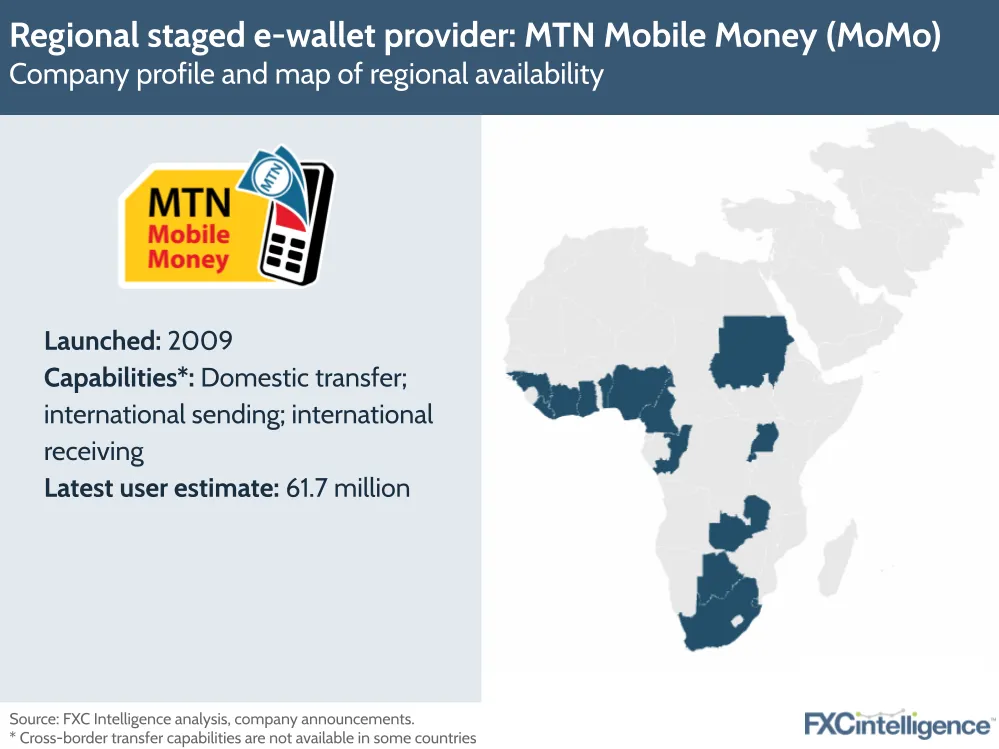 Orange Money
First launched in Côte d'Ivoire by telecom provider Orange SA, Orange Money allows users to add money into an e-wallet account linked to their mobile phone number and make transfers, pay bills and receive their salaries. They are also able to receive international remittance into their e-wallets.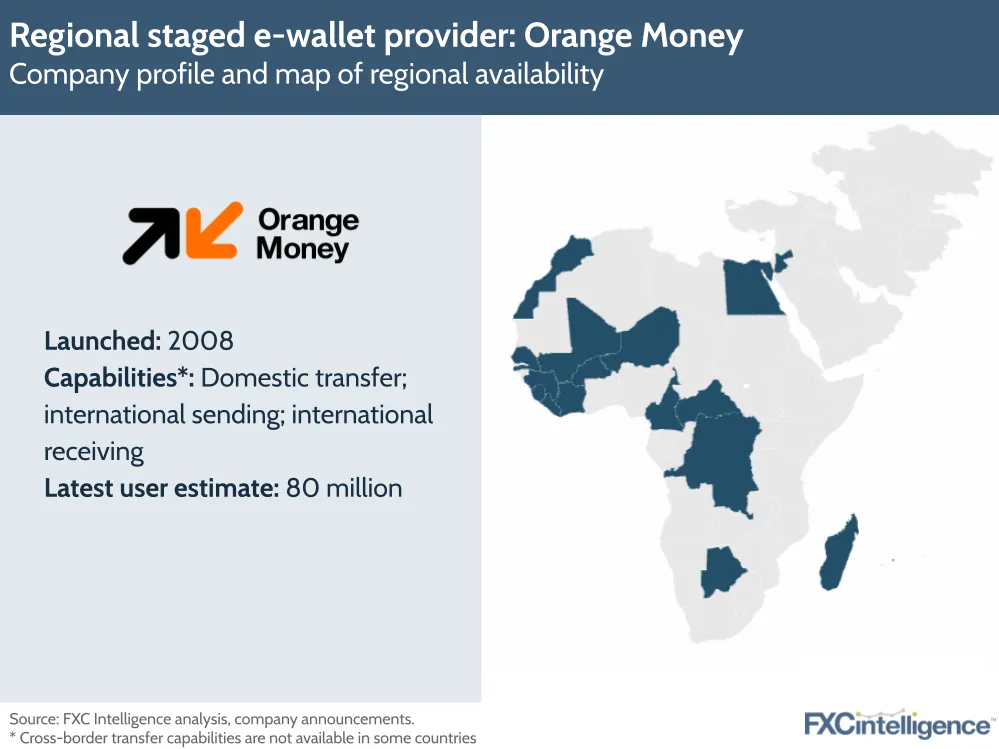 E-wallet capabilities: Gaining international reach through partnership
The provider summaries above include information on international sending and receiving capabilities. We consider this worth highlighting because of the strong relationship between remittances and improved economic growth, along with the accompanying poverty alleviation, in developing countries.
This link is most relevant for countries where providers support receiving capabilities, since this leads to inward remittance flows. This represents, for example, transfers made by individuals working abroad to friends and family back home.
The importance of this inward remittance channel is reflected in the fact that six of the 12 e-wallet providers that operate mostly in Africa support international receiving in at least some of the developing countries they have users in.
The Middle Eastern e-wallets primarily provide international sending facilities. This is consistent with the developed nation status of their operating countries, Saudi Arabia and United Arab Emirates, and the sizeable remittance flows from these countries to developing countries such as India and Bangladesh.
Given that these national and regional e-wallet providers do not have cross-border reach, offering international sending and receiving capabilities involves cultivating strategic partnerships with relevant money transfer operators that can provide these networks.
The key money transfer operators that providers have established such relationships with include legacy operators such as Western Union and MoneyGram, as well as newer operators such as WorldRemit, Remitly and Ria Money Transfer.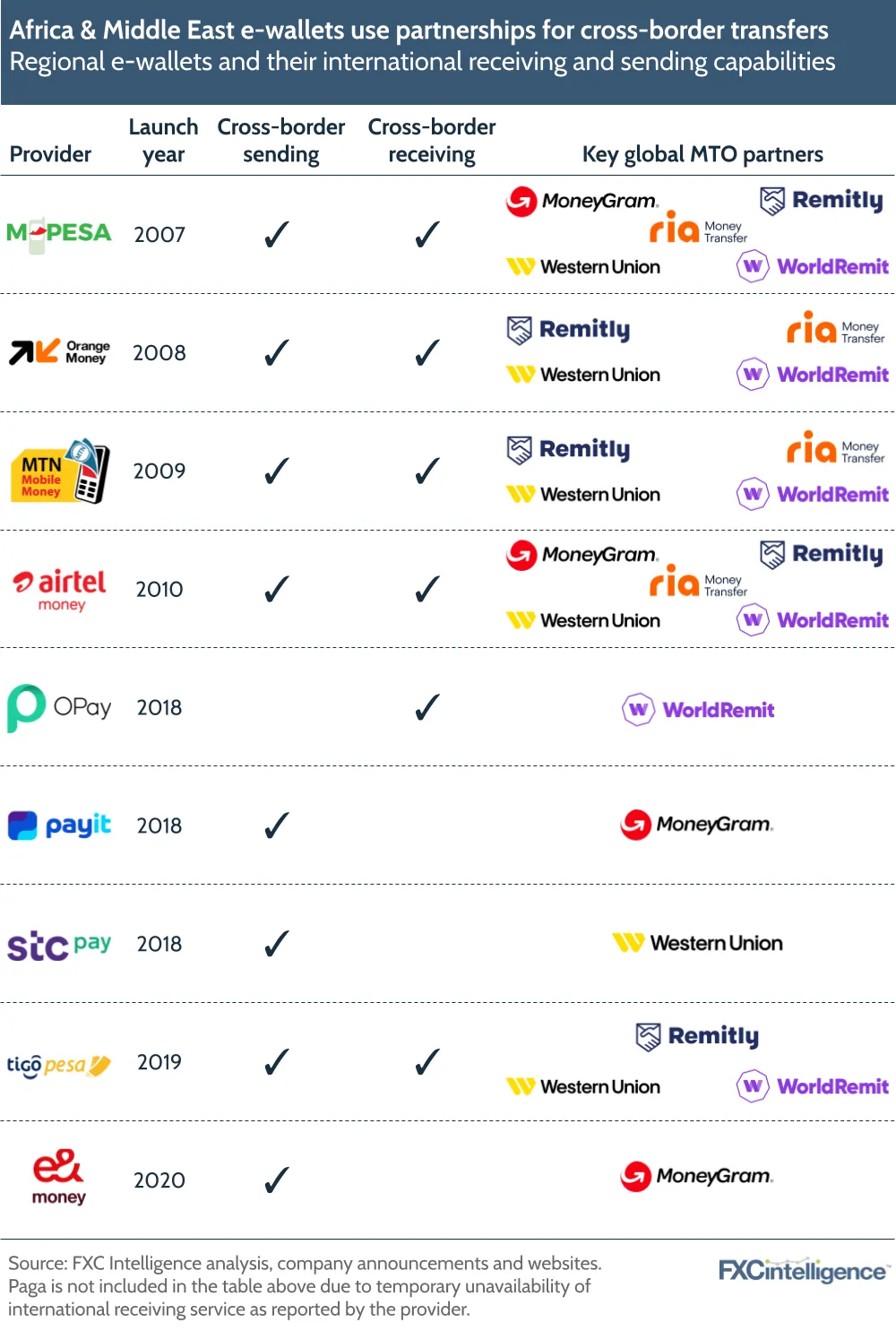 Conclusion
The e-wallet market in Africa and the Middle East has been developing since the late 2000s, with a mix of provider types including mobile network operators (MNOs), banks and fintech companies. A number of the MNO-backed providers offer their mobile money e-wallet services across countries where they have a pre-existing presence.
These MNOs have proved important as e-wallet providers because of their ability to extend financial inclusion to the region's population who have mobile phones but do not find traditional financial systems accessible. Non-MNO providers such as fintechs or banks, meanwhile, typically provide their service in just one country by providing a mobile application.
There has also been a proliferation in partnerships between e-wallet providers and money transfer operators that is widening the access to remittance within the Africa and Middle East region and beyond, by allowing people to more easily receive and send money abroad.
As we continue to report on further regions and their payment environments, we will see more of how e-wallet providers differentiate themselves through their reach and capabilities.