The status of CBDC projects in 2023
Countries worldwide continue to develop central bank digital currencies (CBDCs), which proponents say could make cross-border payments cheaper and more secure. Recent projects in this area suggest that the desire to develop CBDCs remain strong in 2023, though progress varies considerably across the board.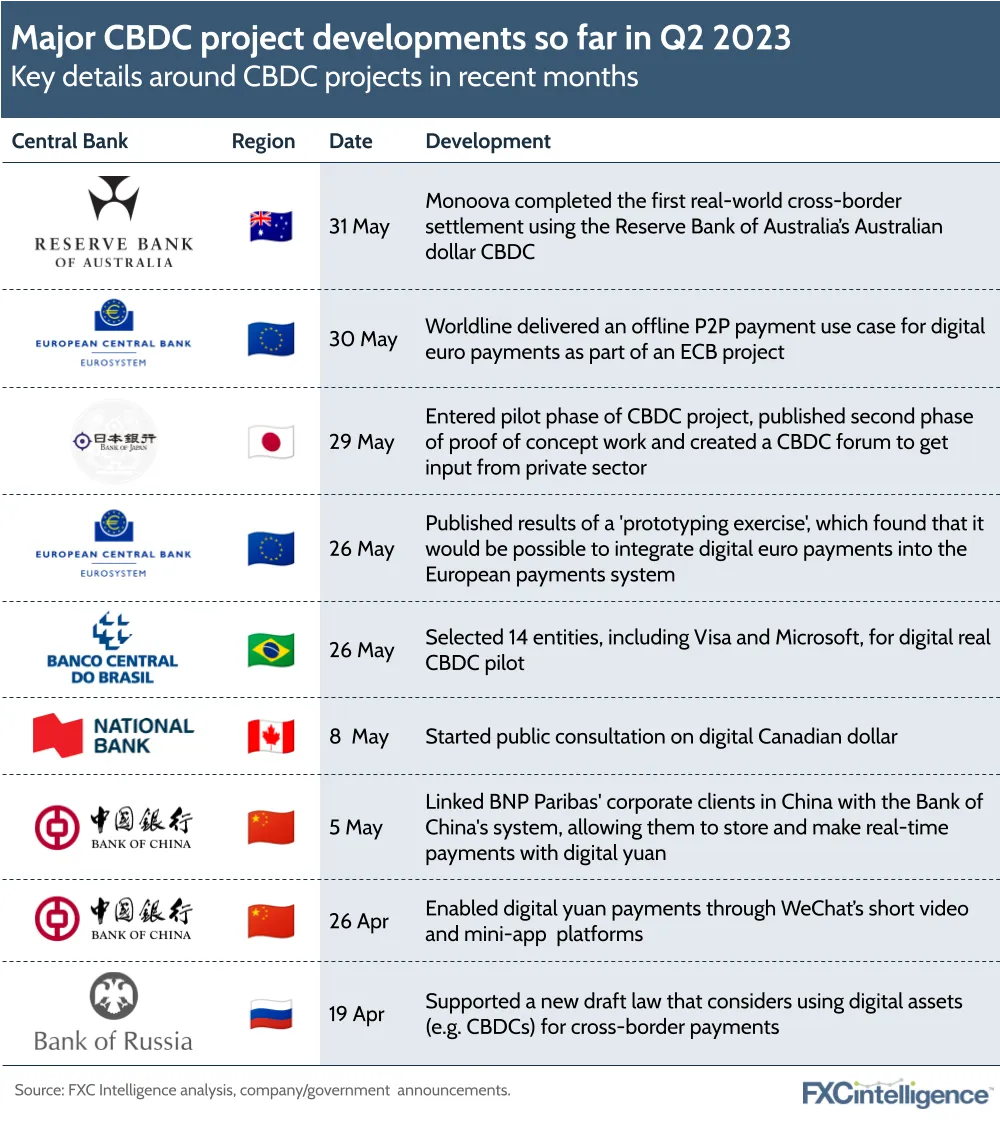 CBDCs are coming under increased scrutiny in 2023, with EU lawmakers recently questioning whether there is enough of a use case for a digital euro. Others argue that CBDCs will be necessary to fill a potential gap for cashless payments that could otherwise be occupied by privatised digital currencies, particularly those backed by large tech companies.
Aside from the ongoing debate, the projects above highlight a number of key trends around CBDC development in 2023:
Countries are at varying stages of their CBDC process, with some still consulting the public while others are engaging in practical use cases. While Canada has just launched a public consultation on its CBDC, Australia has just seen the first real-world, cross-border settlement of an inbound remittance payment using an Australian CBDC, highlighting that the technology does work for this purpose.
CBDC projects continue to feature heavy involvement from private companies and organisations external to central banks. Five companies, including Worldline and Nexi, have produced prototype user interfaces for the ECB's digital euro, while Brazil's central bank is working with 14 companies, including Visa, on its pilot project.
Research from central banks shows that there are different ways to approach a CBDC system. For example, the Bank of Japan examined the difference between account-based CBDCs and token-based CBDCs. The latter may make it easier to make payments across different geographies but could be more costly for central banks to adapt.
Countries have cited various reasons as to why they are pursuing CBDCs. Financial inclusion and security are big themes, as well as having sovereignty over money in an increasingly digital era of payments. Meanwhile, Russia has been forced to consider digital assets such as CBDCs for cross-border payments, as it isn't currently able to use euros and dollars for this purpose.