FedNow: Inside the US's next payment rails
Last week, the US Federal Reserve announced that its FedNow instant payment system is expected to launch in mid-2023. At launch, the system will be focused on domestic payments made within the US, but the addition of this brand new payment rail is still important news from a cross-border perspective.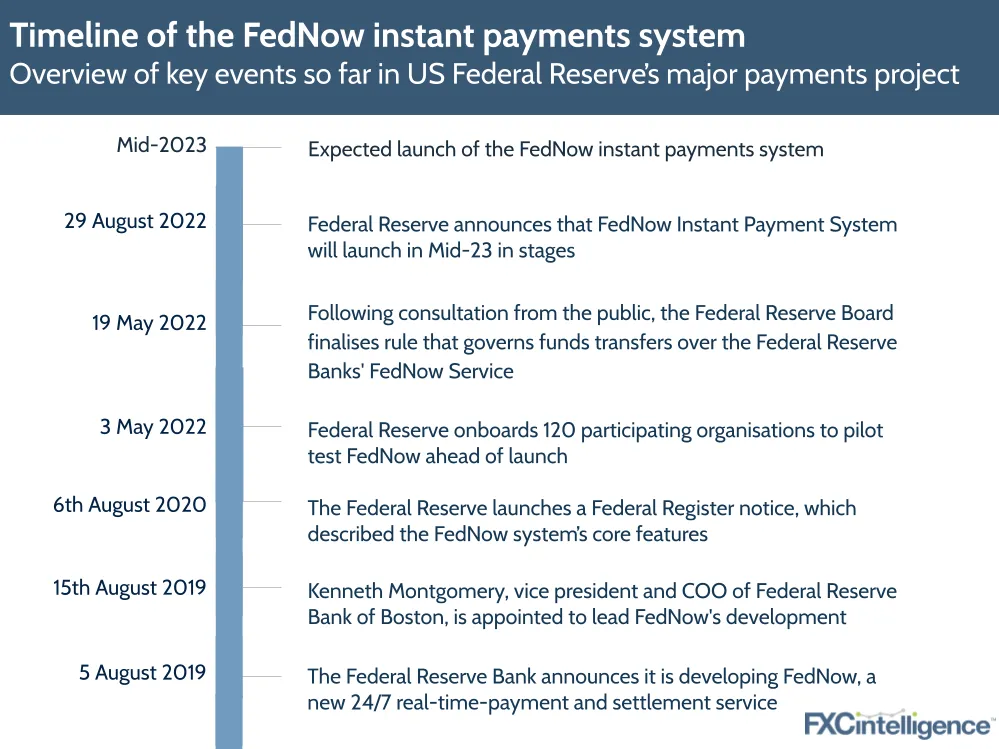 Developing real-time payment rails
Unlike several existing payment rails in the US, which can take days to settle payments, the Federal Reserve's FedNow system will be a real-time gross settlement system, allowing instant payments between bank accounts 24/7, 365 days a year. It will do this by including clearing functionality in the process of settling payments, meaning both happen simultaneously.
Banks and financial institutions can use the FedNow infrastructure to offer instant payment services, unlock new revenue streams and reduce risks involved with settlement. Ultimately, individuals and businesses using these services will benefit from being able to receive and pay money instantly, giving them more control of their cashflow and allowing them to make time-sensitive payments.
It's not the first time that a real-time payments system has been introduced in the US. Payment infrastructure owner The Clearing House established the existing real-time payments network, RTP, in 2017 and it is currently being used by many (but not all) financial institutions across the country.
FedNow will, according to the Federal Reserve, make instant payments available to more banks in the country than ever before, but its success depends on how fast banks in the US adapt to the new system. At the moment, more than 120 organisations are signed up to the FedNow Pilot Program, which began its onboarding stage earlier this year.
FedNow and RTP serve as a reminder of how far behind the US is in terms of payment rails when compared to other countries, some of which have established instant payment systems that are moving towards cross-border functionality. For example, Australia's New Payment Platform processes billions of transactions every year, with more than 100 financial institutions offering NPP payment services. The Reserve Bank of Australia has said that it is committed to delivering international payments on the platform by 2023.
Meanwhile, countries in southeast Asia are taking the next step by linking instant payment systems to others in the region, removing the need for correspondent banking systems. An example is the Monetary Authority of Singapore and the Reserve Bank of India linking their real-time payments systems to enable cheap, instant transfers (you can read more about how projects like this could improve cross-border payments in our recently published report).
FedNow, meanwhile, represents the US playing catch-up with other developed countries when it comes to instant payments. That said, many questions remain. Will the system be interoperable with the existing RTP network? How fast will banks adapt to the new system? And will it eventually have cross-border functionality? We'll be tracking the progress of the new payment system as it develops.
How are countries working to improve cross-border payments worldwide?