Ecommerce giants embrace NFTs
If CryptoPunk or Bored Ape Yacht Club mean nothing to you, then you probably aren't deep into the NFT market right now.
Non-fungible tokens (NFTs) have enjoyed growing prominence for some time, and in the last few months increasing numbers of ecommerce majors have entered the space, adding support for NFTs to their suite of products. However, with crypto support among such companies remaining intermittent, how do they enable their customers to pay for NFTs?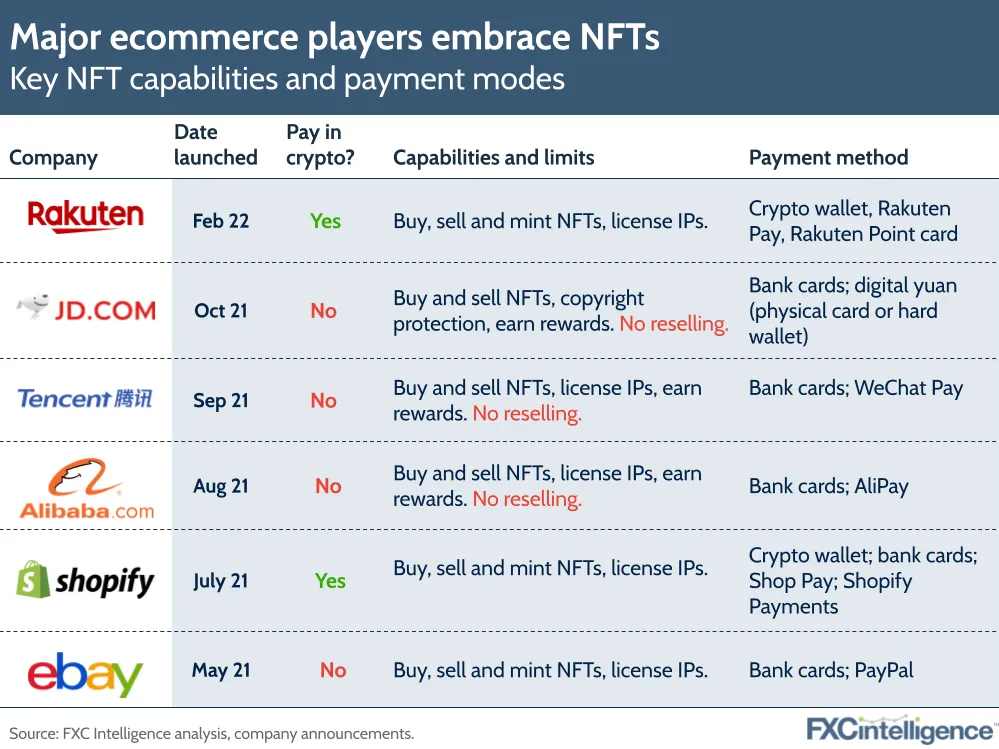 NFTs are digital assets represented on blockchains that can track the ownership of digital items such as artwork. Potential applications include authenticated transaction records, which show prior ownership and therefore enable supply chain transparency, as well as loyalty programs.
Sales of NFTs reached $25bn in 2021, although their accessibility remains limited – on the biggest NFT platforms, such as OpenSea, users have to make purchases in cryptocurrency such as Ethereum, creating a barrier to entry. As a result, support from mainstream ecommerce platforms such as eBay, Shopify and Alibaba is significant in increasing access to NFTs.
Uptake is particularly strong in China, with Alibaba, Tencent and JD getting into NFTs. However, support on those platforms is not without issues. All three do not allow NFTs to be resold, and as Chinese NFT marketplaces are mostly built on non-public blockchains, there is a risk that users will lose the ability to access their digital purchases without recourse.
On non-Chinese platforms, meanwhile, reselling is allowed and there is a growing range of ways in which users can pay. eBay, for example, does not currently offer cryptocurrency support, although the company did tease a digital wallet at its investor presentation in March, which it plans to release in Q2 2022.
However, there are still challenges within the space that companies need to ensure they have adequate protections against. For example, NFTs have previously been linked to fraud, making effective KYC critical. Nevertheless, with such a significant level of public interest, NFTs could present a lucrative opportunity for ecommerce.
How can FXC Intelligence's crypto payments data can help my business?