Competition in cross-border education payments heats up
Nigerian fintech Flutterwave launched a new tuition payments offering last week, making it the latest entrant in a recovering education payments market. Below are some of the main players in the space with either a specific focus on, or product enabling, cross-border payments for international students.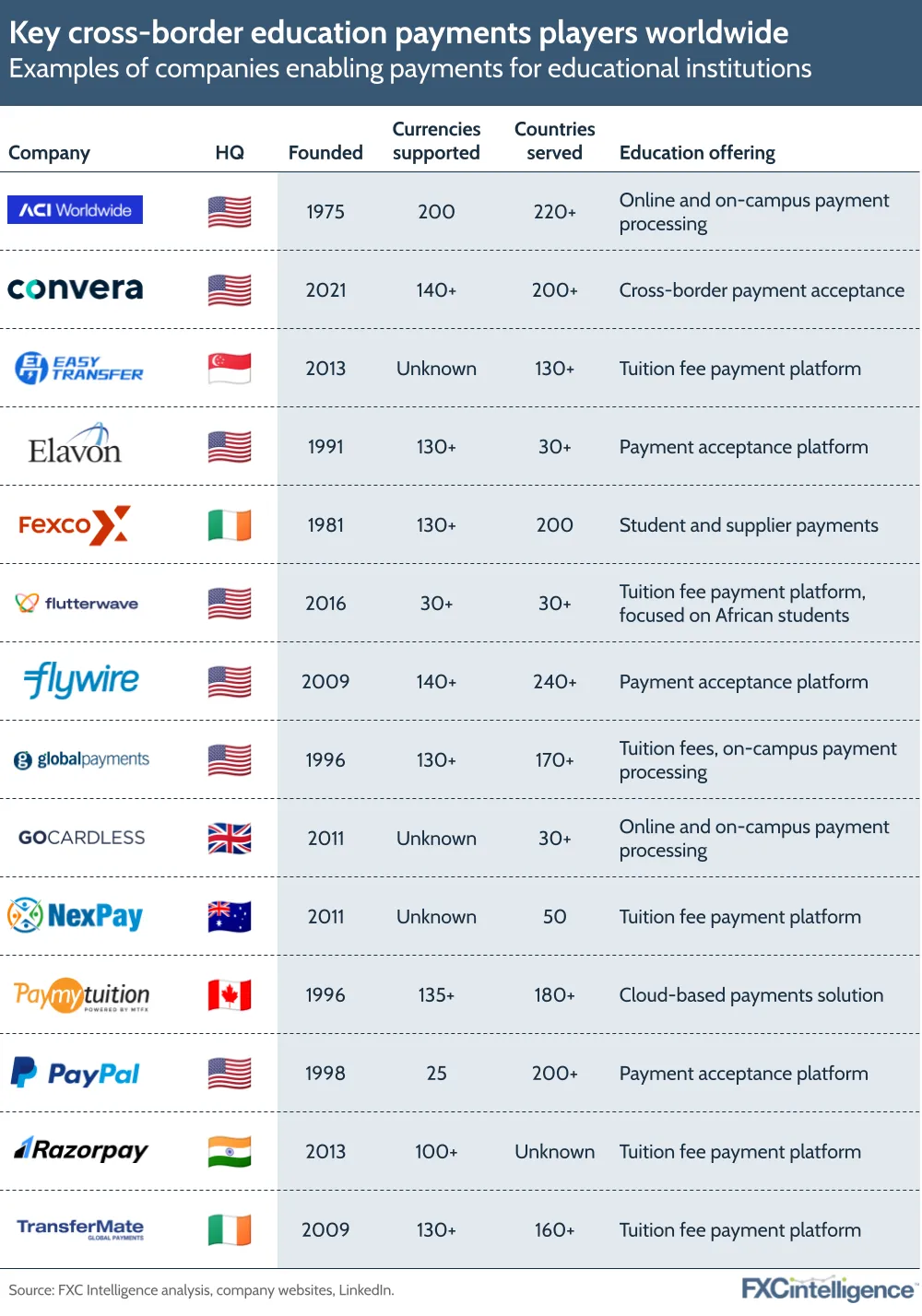 These companies aim to make it easier and less costly for international students to pay schools and universities. Some focus on student remittances, such as EasyTransfer, while others such as TransferMate, Convera and Flywire offer payment acceptance platforms. Global Payments and ACI Worldwide also provide PoS systems for on-campus payments.
Many education payments companies have their headquarters in the US, which last year saw an intake of 1,362,157 international students – 10.1% higher than 2021, but 11.9% lower than 2019. International students are predominantly of Chinese and Indian origin, according to US Immigration and Customs Enforcement figures.
After Covid-19 restrictions on China loosened in January, Flywire has been capitalising on the opportunity (as we discussed with CEO Mike Massaro). Last week, the company signed a deal with Tencent that will allow Chinese students to pay universities through WeChat Pay. Flywire also partnered with recruitment company DISCO in Japan, which is currently trying to increase international student numbers by nearly 90,000 to 400,000 by 2033.
Meanwhile, Flutterwave's 'Tuition' platform is initially launching in Nigeria, a country which has historically struggled with FX scarcity driving up exchange rates, as well as payment security issues and financial exclusion. The new platform aims to make it easy for African students to pay tuition fees to African and international schools, adding to a growing trend of fintechs working to improve payments on the continent. After initially enabling payments to 40 UK institutions, the solution is expected to spread to more schools across Africa, the US, Canada and several European countries.
New innovations are continuing the trend for more secure, convenient and less costly cross-border education payments. Canada-based PayMyTuition has incorporated open banking tech to enable instantly authenticated payments, while Australia-based NexPay recently helped deliver the first settlement of a cross-border payment using the Australian central bank digital currency (CBDC) eAUD. The jury is out on CBDCs globally, but an international education remittance makes sense as a use case, as the large size of tuition payments would make better traceability a clear benefit.
How big is the global cross-border payments education market?