China showcases digital currency e-CNY at Winter Olympics
The launch of the Beijing 2022 Winter Olympics has brought the opportunity for China to showcase its central bank digital currency, e-CNY, to the world.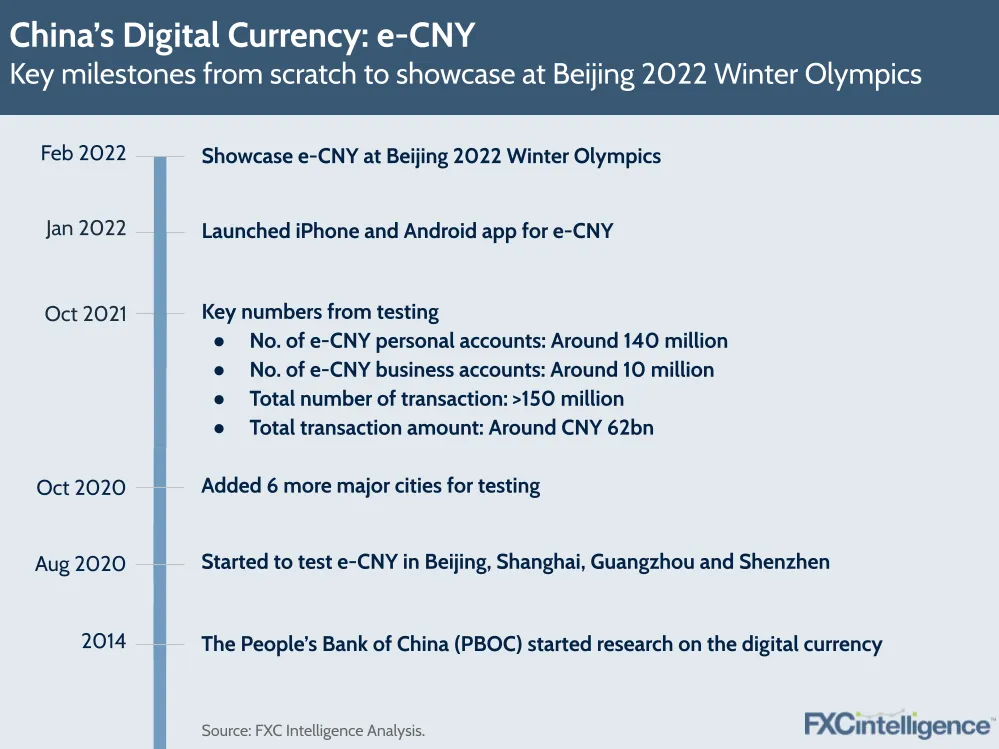 Unlike cryptocurrencies such as bitcoin, e-CNY is a centralised currency that is fully backed by China's Central Bank, the People's Bank of China (PBOC). PBOC has been working on the e-CNY since 2014 and began testing it in major cities in 2020. According to PBOC, there are 140 million e-CNY personal accounts and 10 million business accounts, as well as more than 1.5 million merchants accepting e-CNY as of October 2021. The total number of transactions has now exceeded 150 million, with the total transaction amount topping CNY 62bn ($9.75bn).
The Olympics will provide foreign visitors (which due to Covid-19 restrictions will almost exclusively be athletes, coaches and their support staff) with the opportunity to make use of the digital currency, and in doing so will provide one of the first major tests of such a currency in a real-world cross-border setting. Within the Olympic Village, the digital currency will sit alongside CNY cash and Visa cards as a supported way to pay for goods and services.
According to the Bank of China, visitors can make use of it by downloading the supporting Android or iPhone app, get a physical card that stores e-CNY or convert foreign bank notes into e-CNY via self-service machines at the Beijing Winter Olympics. Athletes and coaches can also obtain a special wristband and use it as a digital wallet for payments in the Olympic Village. However, Tencent's WeChat Pay and Ant Group's Alipay, the two biggest digital payment services in China, will not be available in the Olympic Village, even though both of them support e-CNY.
How visitors respond to the digital currency, and how it compares to other methods of payment for foreign visitors, will provide some of the first set of insights into CBDCs' future potential. We'll be looking how easy (and costly) it be to convert e-CNY from fiat, spend it and then convert it back to fiat.