Canadian cross-border payments partnerships
Canada has many traits of an attractive cross-border payments and FX market. It is large, understands FX and has its own currency, meaning most international trade requires foreign exchange.
The Canadian banking sector has a number of players competing with the big banking five incumbents. There are 88 total banks in Canada and over 250 credit unions. This makes it an interesting landscape for partnerships to compete with the big banks.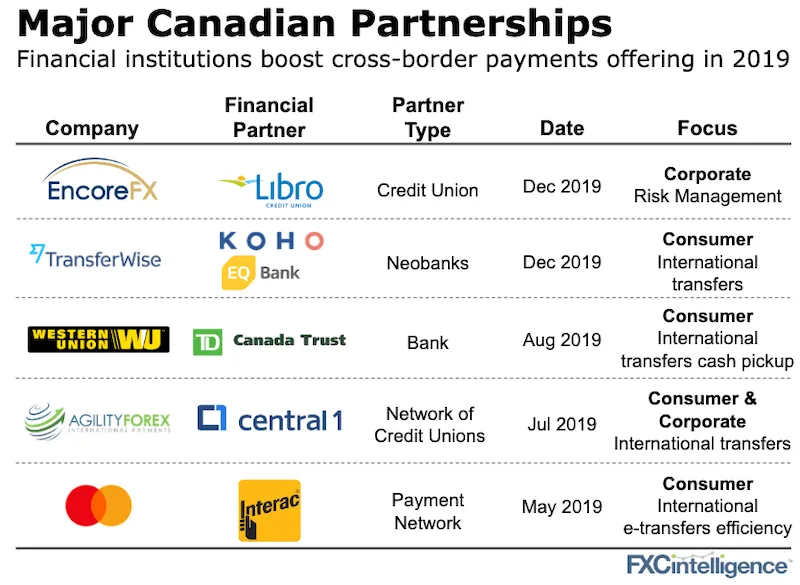 EncoreFX is the latest FX company to announce a major partnership. We spoke this week with Peter Gustavson, Founder and CEO of Encore. Peter is an industry stalwart, having successfully built and sold Custom House to Western Union in 2009, very much at the beginning of the modern era for challengers in the space.
Credit unions typically do not have the online products and expertise and as their clients grow, they start to lose them to the bigger Canadian banks. By partnering just with an FX specialist, the credit unions can retain the clients and still keep all their other business.
EncoreFX (alongside other FX specialists) has been investing in its technology. In particular, EncoreFX has focused on payment processing and risk management platform.
Many financial institutions want to work with a partner who is based in Canada. EncoreFX has its back office and treasury department all in Victoria, Canada. As our table above shows though, this isn't always the case as capabilities and fit can trump a desire to stay local.
Our expectation is that Canada will mirror the US market. More financial institution partnerships will follow now that others can see major players taking this step forward.