Banks form AI partnerships in 2023
Generative AI remains a hot topic for banks and financial services and was one of the biggest categories across sessions at this year's SIBOS event. Banks are continuing to develop AI payment solutions through partnerships, investment and, in some cases, acquisitions in 2023, with some of the most recent examples below.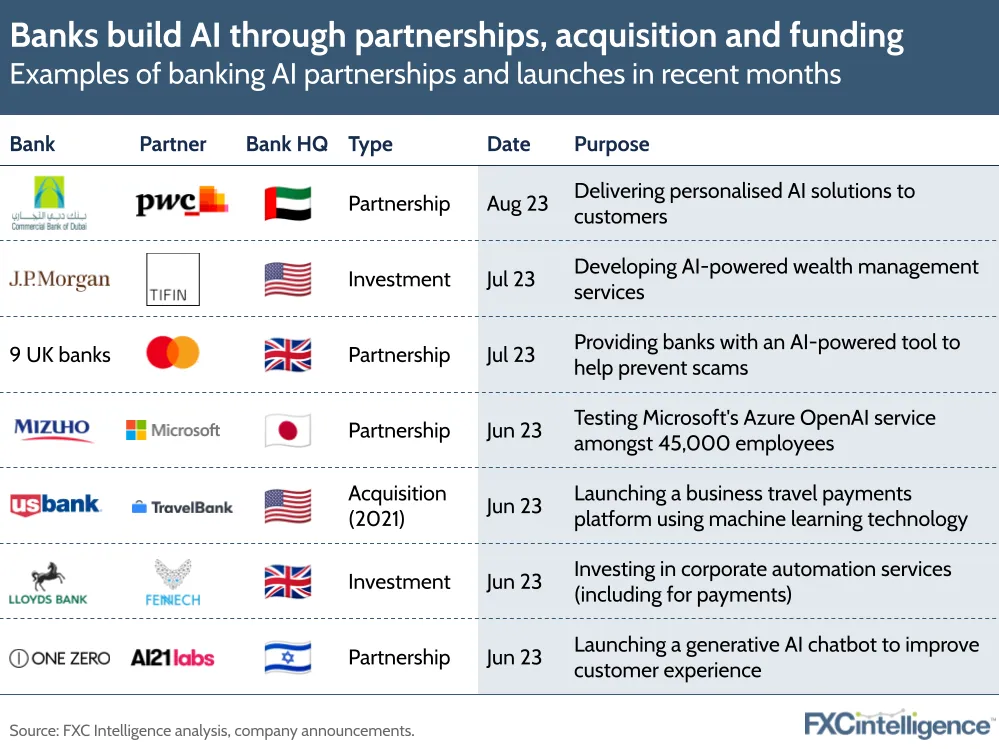 From a payments perspective, recent developments have shown there hasn't been one specific focus for AI but several, from fraud detection and prevention to automating routing operations and improving customer service. Mastercard, for example, has been working with NatWest, Monzo and several other UK banks to develop an AI tool that detects how likely it is that a given transaction is fraudulent. It does this by analysing previous behaviours from so-called 'mule' accounts, used to hide money transfers by cyber criminals.
On the frontend, U.S. Bank has launched a new travel payments platform on the back of its 2021 acquisition of TravelBank, which uses machine learning to help predict budgets for business trips. The Commercial Bank of Dubai and One Zero are joining a number of banks that have already launched personalised customer service solutions with the technology.
Banks are partnering with tech companies for their knowledge to help build AI solutions. Some are also saying that AI could boost open banking, which relies heavily on sharing financial data with other companies and is thus dependent on said companies having better processing capabilities for this data.
Having said this, as discussed in our piece on voice technology payments, there are still challenges around AI in banking, with one of the biggest being data privacy. As more sensitive data is fed into generative AI systems, banks will need to be more transparent about how they are using and safeguarding it.
Uncover FXC's data on how bank offerings compare for cross-border payments