PagoNxt revenues rise but profits remain elusive in Q1 23
Santander has released its Q1 23 results, including an update on its cross-border payments hub PagoNxt. Revenues increased 50% to €244m for the digital payments brand but it continues to operate at a loss, with pre-tax losses growing to €43m in the quarter, compared to €32m in Q1 22.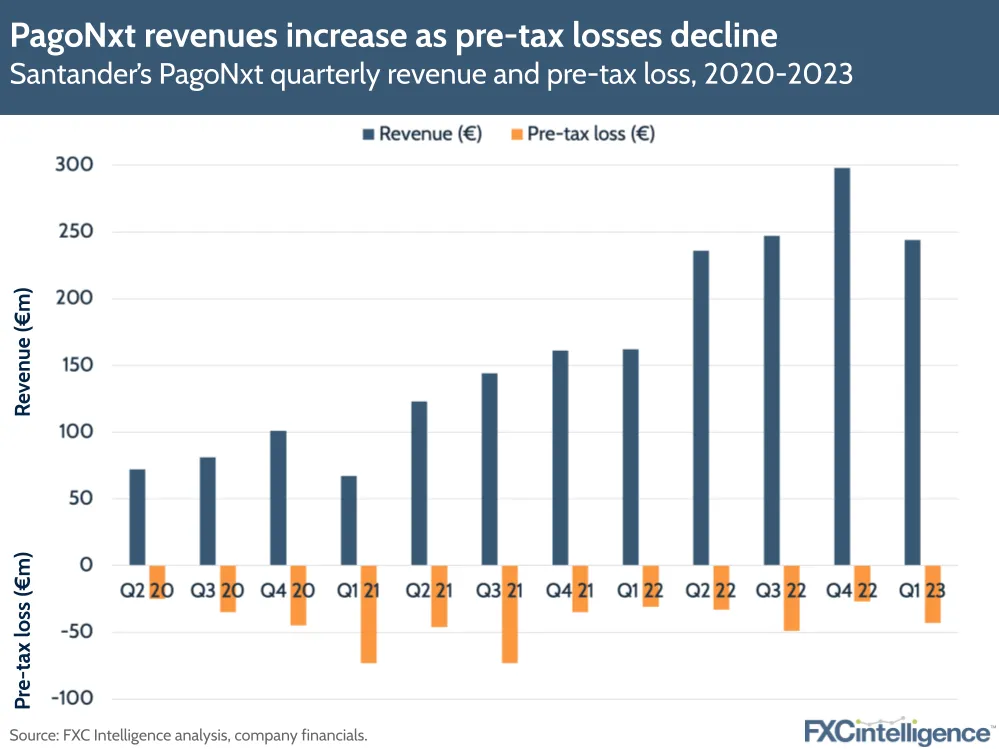 Revenues were driven by 27% growth in total payment volume to €45.8bn. Key contributors were PagoNxt's merchant services provider GetNet, which saw volume growth across Brazil (+16%), Europe (+35%) and Mexico (+39%); and Ebury, which saw 30% volume growth – driven by FX payments. Meanwhile, Payments Hub is now facilitating one billion transactions annually across Europe, North America and APAC.
GetNet's Mexican division was fuelled by volumes from merchant provider Elavon (acquired in 2020), as well as a new partnership with Pacto, which creates PoS systems for Mexican restaurants. Having launched go-to-market strategies in Portugal and Argentina, GetNet is looking to further penetrate Latin American countries, including Chile and Uruguay. Overall, the number of merchant transactions has increased 32% to 2.1 billion in Q1 23.
Across the wider picture, PagoNxt is contributing to Santander's net fee income but losing out to other segments on profitability, having yielded an attributable loss of €55m (€54m last year). Having said this, the business is still in growth mode, and Santander has said its losses in Q1 are the result of ongoing investments. For example, the company is expanding its One Trade payments platform to all Santander corporate customers, having already allowed an initial group of customers to receive instant pay-in and pay-out capabilities.
Santander had previously forecast that PagoNxt would reach €2bn in annual revenue in the first two to three years, and the company continues to make progress towards this, having seen a 93% rise to €953m last year. The question remains as to when the bank will begin to see the profits from its move away from consumer money transfers and towards B2B payments.