PagoNxt moves closer to profitability in FY 22
Santander's FY report for 2022 included an update on PagoNxt, its global payments subsidiary offering merchant acceptance (via Getnet), B2B payments (Ebury and One Trade) and processing (Payments Hub). Though the platform is still making a pre-tax loss, it is closing the gap while substantially increasing revenues.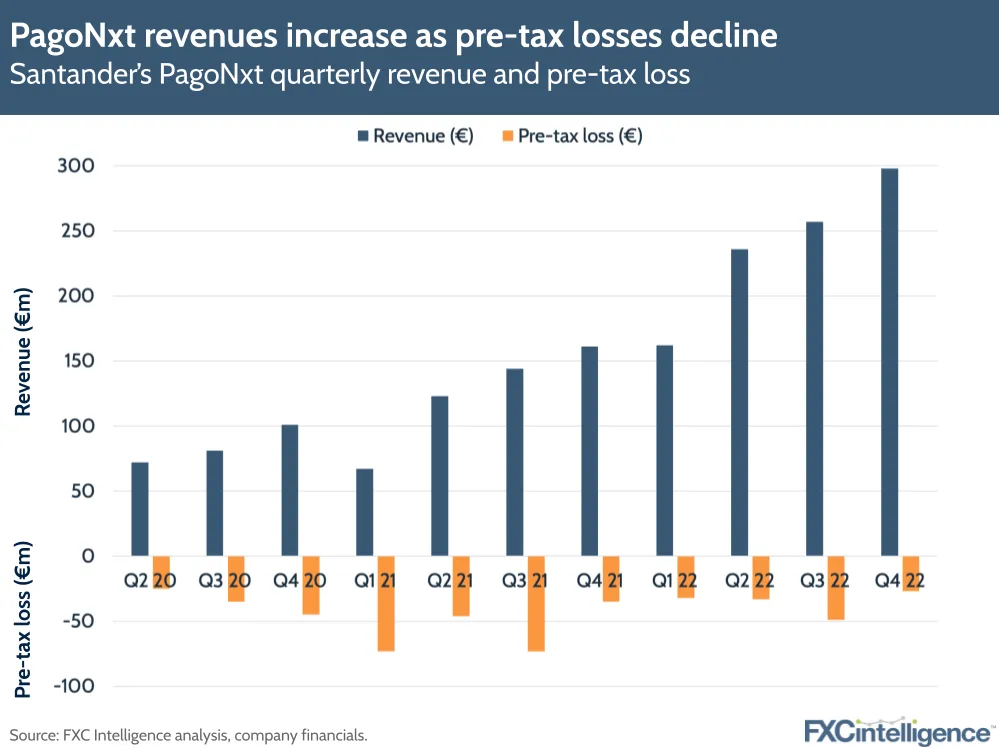 PagoNxt saw revenues rise 93% to €953m in 2022 (a 72% increase in constant euros), while underlying attributable losses decreased by 15% to €215m in 2022. The company comfortably beat its 50% target for the year, which it rounded out with a successful quarter. Q4 revenues rose 85% to €298m, while underlying attributable profits were -€42m in Q4 22 (a 39% increase from -€69m in Q3 22).
Merchant acquiring platform Getnet was key to growth in 2022, seeing total payments volume grow 27% YoY to €165bn. Across its core focus regions, Getnet saw strong growth in Brazil (16%), Europe (39%) and Mexico (35%). Drivers included new payment methods; market distribution channels; the company's continued penetration of the SME market; and the transfer of the Santander Portugal acquiring business to Getnet Europe.
Latin America remains a core focus for PagoNxt. Getnet launched its acquiring business in Argentina and Uruguay in 2022, while continuing to target penetration in Chile. Superdigital, another PagoNxt payments platform, is now being rolled out across Argentina, Colombia and Peru.
On the business side, B2B payments platforms One Trade and Ebury saw a huge increase in active users to over 30,000. Ebury saw 16% YoY active customer growth, while One Trade expanded its reach to nine Santander countries and is now enabling new digital services, such as instant payments to Europe or Brazil. Meanwhile, instant payments provider Payments Hub increased the number of currencies processed to more than 30, through five different clearing schemes.
PagoNxt is continuing on the path to becoming Santander's wholesale processor across non-card payments. The platform reiterated the three main tenets of its strategy: scaling up its platforms; accelerating its commercial growth globally with a focus on SMEs; and penetrating markets across Europe, South America and North America.