How do people in Hong Kong choose their payment provider?
In 2021, the Hong Kong government announced that each Hong Kong resident would be eligible to receive a HK$5,000 (US$640) consumption voucher via one of four stored value facilities: AlipayHK, WeChat Pay HK, Octopus and Tap & Go. The scheme was designed to boost spending in the local economy, as part of wider pandemic recovery funding. People could only spend the money by using one of these payment providers, creating a unique opportunity to examine 6.6 million people's choice of provider.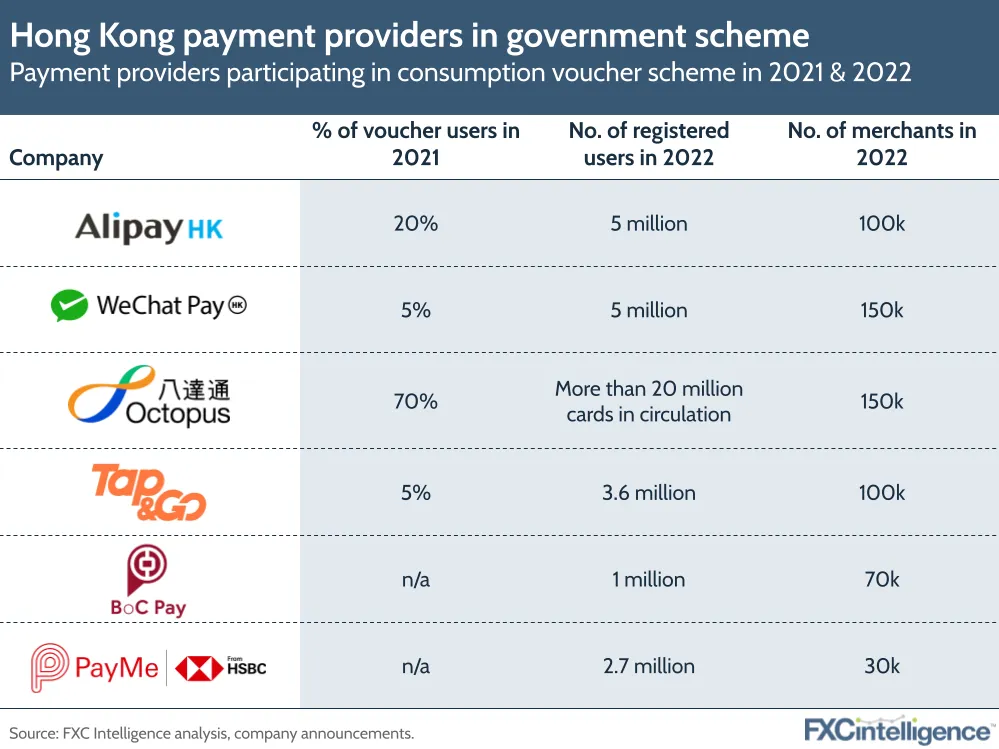 According to Financial Secretary Paul Chan, around 70% of those who collected their voucher in 2021 chose Octopus, 20% opted for AlipayHK and the remaining 10% were equally split between WeChat Pay HK and Tap & Go. It was unsurprising that Octopus took the lead as it was the first contactless payment card in Hong Kong, launching in 1997; on average, each person in Hong Kong owns more than three Octopus cards.
This year, the Hong Kong government repeated the policy and doubled the amount of the consumption voucher to HK$10,000. Along with the original four providers, PayMe from HSBC and BoC Pay from Bank of China were attracted to capture the potential HK$66bn spending (approximately $8.4bn) and the increase of new users.
For this round, the voucher would be released in three phases for most providers (four phases for Octopus). The first two phases were in August and October and the third will be in December. It will be interesting to see how the two biggest banks in Hong Kong challenge the position of the original players, especially given there is still a gap between them in terms of the number of merchants, which is one of the main factors influencing consumer's choice.
How can I compare cross-border card pricing between providers?